Aldi Shoppers Can't Wait To Get Their Hands On These Organic Tortillas
There is no shortage of tasty dishes you can make using tortillas. From standards like burritos, quesadillas, and enchiladas, to more creative dishes like breakfast tacos, pizza, pinwheels, and healthy sandwich wraps, they offer endless possibilities for crafting delicious and innovative entrees and snacks, via Taste of Home. And although the humble tortilla might not get a lot of credit as the star of these meals, many of our favorite dishes just wouldn't be possible without this essential ingredient.
Now, Aldi has just released new organic tortillas that not only serve as a great base for delicious fillings, but are also stars in their own right. These Simply Nature tortillas are completely USDA-certified organic and GMO-free, and they come in two delicious varieties: olive oil, and garlic & herb. Each garlic & herb tortilla is flavored with a blend of organic herbs and spices, while the other variety is crafted with organic, heart-healthy extra virgin olive oil.
Aldi shoppers raved about the new tortillas online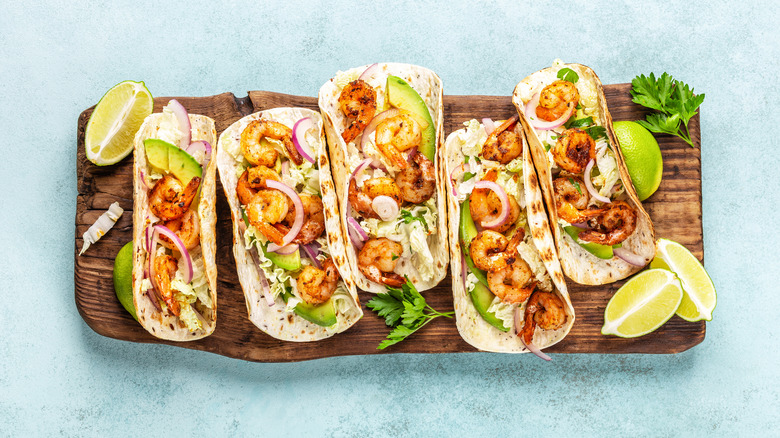 Sunny Forest/Shutterstock
The addition of these flavorful new organic tortillas to Aldi shelves has been turning the heads of Aldi fans online. One excited Aldi shopper couldn't help but share the news of these tasty new tortillas with their Instagram followers, many of whom couldn't wait to get their hands on the new item. "Am I late to the party here?! I haven't seen these organic tortillas at Aldi until today! I'm sooo excited about them!! We got the garlic & herb ones to try with tortilla pizzas! Have y'all tried these yet?! They were found in the regular tortilla area!! Let me know how they are if you've tried them," posted @adventuresinaldi. Quite a few of their followers were just as delighted by this new find. "Ooo these look great," replied one user, while another raved: "Have to try the garlic and herb with the tortilla pizzas!!!!" So if you've been looking for ways to add something extra to your next tortilla-based meal, then you won't want to miss out on these great new flavored organic tortillas the next time you head to your local Aldi.