Crumbl's Festive Thanksgiving Flavor Is Only Available For One Week
The holidays are always an interesting time for food. They bring a wild mix of old and new foods. There are holiday classics like stuffing and sweet potatoes for Thanksgiving as well as fun, nontraditional takes on food such as the Thanksgiving pizza topped turkey, mashed potatoes, stuffing, corn, gravy, and cranberry drizzle. You can also find an assortment of Thanksgiving ice cream flavors, including sweet potato pie and one designed to taste like turkey & cranberry sauce.
In a world of such rich options and possibilities, naturally, a creative cookie company would want to jump on the bandwagon. You may have heard of Crumbl Cookies, whose popularity has erupted like a taste volcano this year (via The Takeout). If you're hungry for a holiday cookie, Crumbl is thankfully coming out with its very own Thanksgiving-inspired option, according to a statement shared with Mashed. And based on the description, this item just might entice you to get you into the holiday spirit. 
Just a spritz of cranberry, please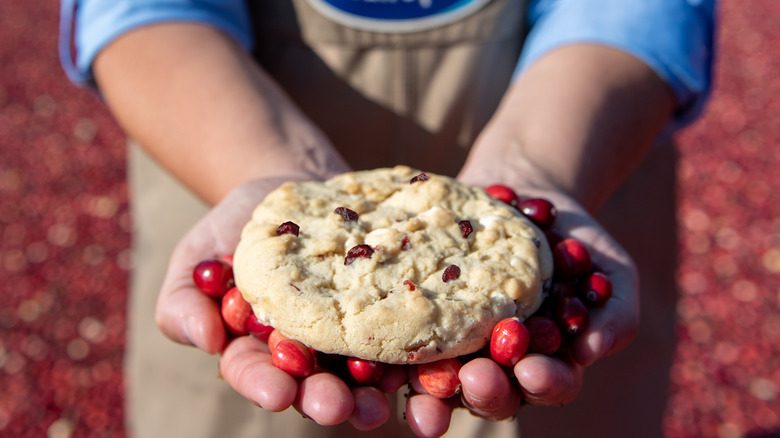 JONESWORKS COMPANY
Crumbl Cookies is known for its rotation of flavors that are so new and intriguing that TikTok users have lined up at locations to collect and rank cookies weekly, according to Fox 13 Now. And just for the week of Thanksgiving, one of those flavors will come courtesy of a limited edition collab with Ocean Spray: a Cranberry White Chip Cookie ft. Ocean Spray. As explained in a statement received by Mashed, this treat features "a warm buttery base" married with a touch of vanilla, Ocean Spray Craisins Dried Cranberries, and white chocolate chips. This sounds like an absolute flavor bomb of buttery, sweet, and tart tastes that will probably knock your socks off.
The cookies make their official debut at 6 p.m. Mountain Time on Sunday, November 21. You can buy them in-store, through crumblcookies.com, or through social platforms. Also important to note is that people who want them shipped for Thanksgiving catering have to put in orders by Monday, November 22! It's not a bad idea to try some of Crumbl's other fun flavors while you're at it.