Amanda Freitag's Hack Will Change The Way You Prepare Your Turkey - Exclusive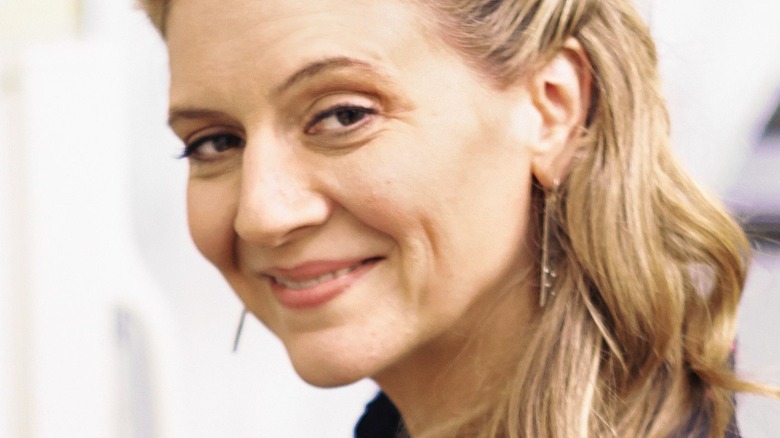 Butterball Hotline, move aside. This Thanksgiving, Amanda Freitag has you covered — unless you're planning on air frying your bird. While Taste of Home assures us that air frying a turkey is truly possible, Freitag told Mashed that she "can't even imagine how that goes." Plus, as the celebrity chef observed in an exclusive interview with Mashed, "You'd have to have a pretty damn big air fryer to make that happen." (Challenge accepted, Eitan Bernath?) 
When Turkey Day rolls around every November, Freitag is a woman after our own hearts. She's a self-professed "traditional roasting girl with a lot of butter and a lot of basting." (Butter may go on her bird, but it's olive oil that goes into Freitag's mashed potatoes. If you need help with a perfectly creamy mash, check out Freitag's Instagram post.) But Freitag is not done dolling out Thanksgiving wisdom yet. Butterball expert Rebecca Welch suggested using a meat thermometer to ensure you don't overcook your turkey and end up with a dry main course during an exclusive interview with Mashed. Not to knock the meat thermometer — which is undoubtedly important advice — Freitag has another hack for guaranteed turkey glory. 
Amanda Freitag's hack will give you a juicy turkey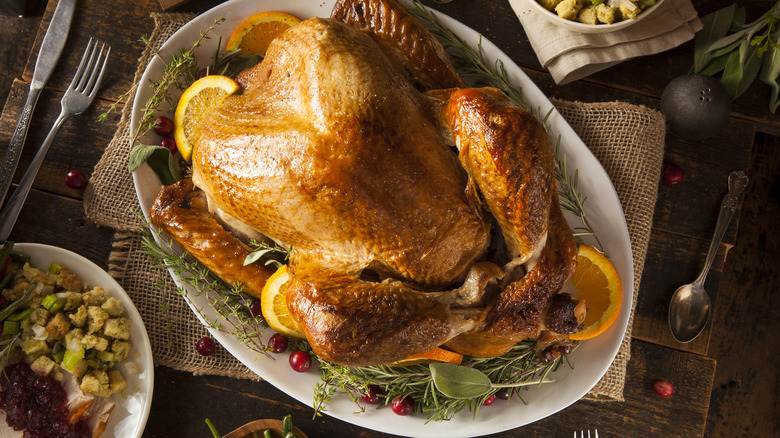 Brent Hofacker/Shutterstock
A Butterball expert explained in an exclusive interview that a turkey should cook at "170 [degrees Fahrenheit] in the breast and 180 in the thigh" to keep it from drying out. Those different cooking temperatures are the exact reason chef Amanda Freitag doesn't cook her entire turkey in one fell swoop. "What I do is, I usually separate my legs from the breast and I will braise the legs," Freitag advised Mashed. "Honestly, the dark meat is my favorite and they cook at such a different time and such a different rate," the "Chopped" judge and diner food queen continued. "You're never going to have a juicy turkey breast and really well-cooked legs if you cook the bird altogether."
There's another reason to cook your turkey á la Freitag. "Guess what?" Freitag told Mashed. "When you braise the legs and you braise them in delicious stock, then you have even more gravy." 
Still struggling to come up with all your Thanksgiving day sides? Freitag's got tips for you in that department, too. Learn how she makes crispy Brussels sprouts with bacon on Instagram. The celebrity chef's new spice line AF Spice Blends might be the extra kick you were looking for to brighten up your holiday meals. Also, be sure to tune into new episodes of "EasyAF" every Monday on IGTV. For everyday Freitag inspiration, give the chef a follow on Twitter and YouTube.