TikTok Is Divided Over This Dog Entering A Starbucks Drive-Thru Window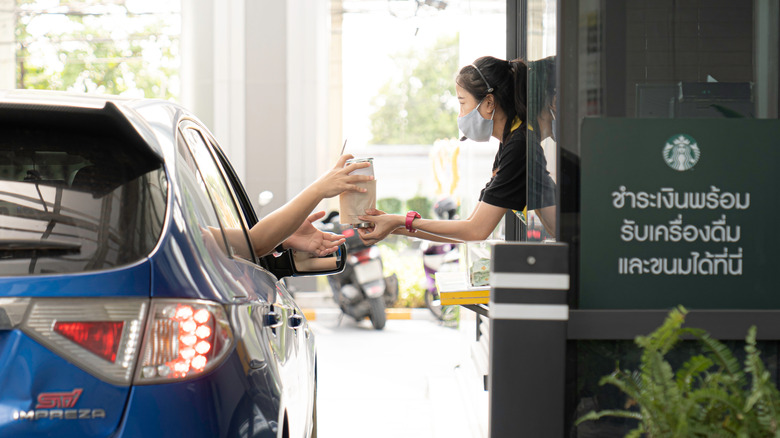 HIPHUB/Shutterstock
Last week, TikTok users couldn't get enough of a viral video that was shot at Starbucks drive-thru and featured a giant friendly dog. Shot by a customer in line, the clip shows the dog in the car ahead climbing into a Starbucks store through the drive-thru window. "when the puppocino calls to you...," the caption reads, referring to Starbucks' whipped cream treat for pets. 
The dog, named BooBoo, was apparently in its owner's car when curiosity got the best of the pup and it decided to explore the coffee shop further. A staff member at the Starbucks helped pull the dog inside, and witnesses couldn't get enough of the cute moment. Many fellow customers made "aww" sounds in line when they saw what the dog was trying to do. Needless to say, those who have seen the TikTok have a lot to say about it, and their reactions are fairly diverse. While some viewers are quite amused, others aren't very pleased with the pet owner's behavior.
The responses are varied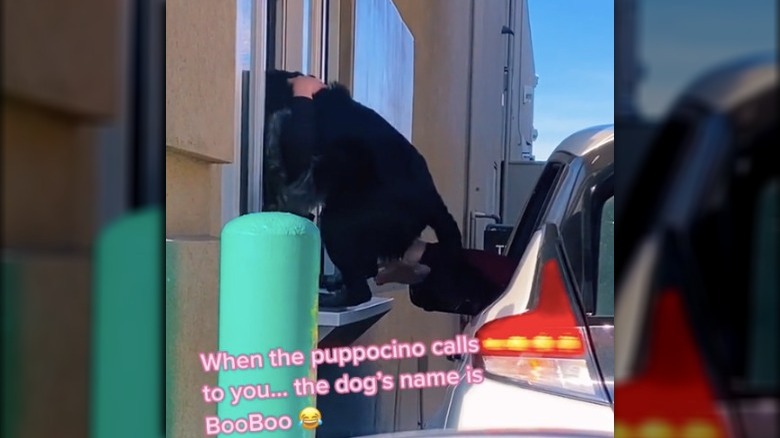 TikTok
The TikTok video already has more than 7.5 million views. Based on the thousands of comments, some feel that the idea of a dog crawling into a Starbucks window is totally sweet, while others apparently aren't too comfortable with it. The Starbucks staff member definitely seemed to be in the former camp, though. As one commenter wrote, "the employee's giggle as she guides him to the window ledge is everything." Another TikTok user couldn't help but voice their appreciation for the employee for being so open to the customer's pet.
However, a different TikTok user couldn't help but question why the dog's owner didn't stop this from happening. Someone wrote, "what in the health violation." Others voiced their concerns and wondered whether the scene was even acceptable. One user said, "as cute as this is, please remember that having a dog in the kitchen is a huge potential health code violation." Consider this just another day in the life of controversial TikTok videos.