Twitter Is Loving This Sesame Street Thanksgiving Feast Throwback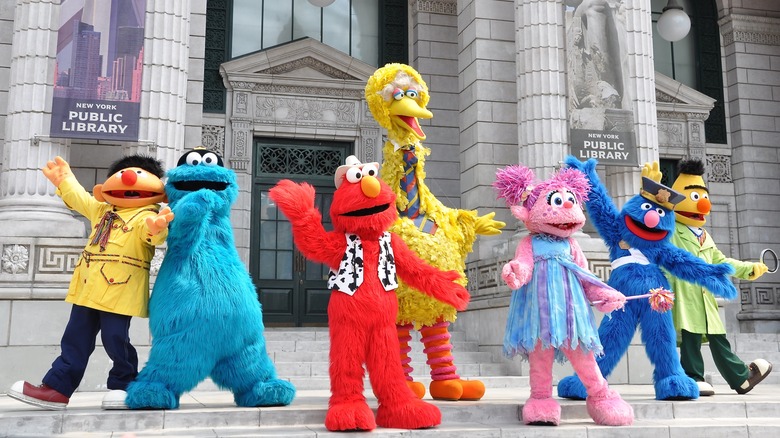 Lester Balajadia/Shutterstock
Fans of "Sesame Street" (and really, who isn't?) have something very special to look forward to this Thanksgiving. The beloved children's show will debut a new character during its Thanksgiving special. According to the Washington Post, the new cast member, Ji-Young, is a 7-year-old Korean American Muppet and the series' very first Asian American character. "See Us Coming Together: A Sesame Street Special" will have some familiar guests, including "Top Chef" host Padma Lakshmi and will be available beginning November 25 on HBO Max, PBSKids, Facebook, Instagram, and even Youtube according to the Sesame Street Workshop.
While we eagerly await the new special, the internet has gifted us a blast from the past involving some of the lovable Muppets. Twitter user Muppet History recently posted a picture of Big Bird and the crew gathered around a table with the caption, "A Sesame Street Thanksgiving, 1974." According to Instagram user @hornbakelibrary the lively photo is a part of a 1974 calendar from the Children's Workshop Records and kept in the library's National Public Broadcasting Archives. Naturally, it captures the Muppets' dinner choices, and they were far from traditional.
If you're curious what the residents of one of the country's most famous streets enjoy for Thanksgiving dinner, then you'll be happy to learn a recent post from Twitter user Muppet History provides some clues with a photo of the gang seated for the holiday feast.
The food served at a Sesame Street Thanksgiving is sure to make you smile
Of course, the picture got Twitter's attention, and there was room for a little comedy in the responses. User @Gommster was quick to make a request: "Please tell me Big Bird isn't eating turkey..." Of course, not! As you can clearly identify, there is a giant bag of birdseed in front of the show's charming protagonist in the picture and as Muppet History points out, "He has an alternate meal that meets his dietary needs...now that's the kind of consideration for our friends we should all strive for."
Followers also noticed the plate in front of Cookie Monster looked a lot more appetizing than Big Bird's seed dinner. User @DerinDenham drew attention to the insatiable monster's plate: "I want what Cookie Monster is having." As if there was any doubt, Cookie Monster is dining on a bowlful of his favorite food. One notable dish that's missing from the Muppets' dining table is turkey. As @Turkeylson observed, "I notice it's all fruits, vegetables, and baked goods – no meat anywhere." But, the most baffling food choice might be corn on the cob, which there is plenty of, and as @HistoryMuppet observed, could be a tough combo for Muppets who don't have any teeth!