Taco John's Colorful Nachos Will Help Get You In The Holiday Spirit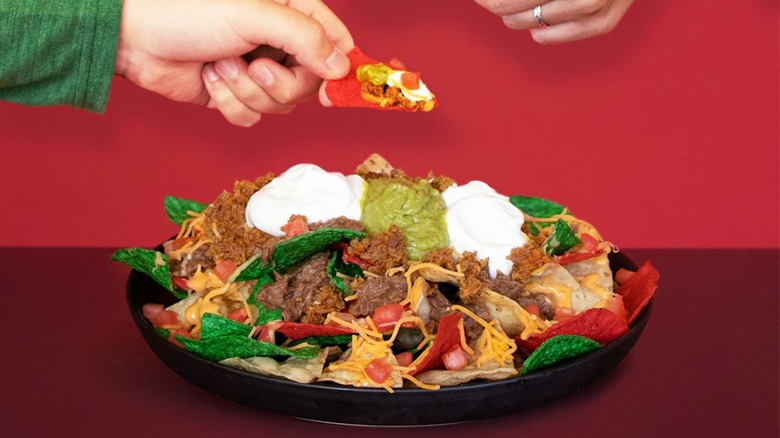 Taco John's
When you imagine traditional winter meals, certain menu items may spring to mind. For some, gingerbread, glazed ham, sticky toffee pudding, and eggnog have come to define the holidays, per Good Housekeeping. Taco John's plans to change all of that with their latest nacho creations that might have you start associating this chip plate with Christmas.
In a statement sent to Mashed, Taco John's is offering a limited-time twist on its Super Nachos in the form of Nachos Navidad. This new offering comes with red, green, and yellow chips loaded with beef, nacho cheese, refried beans, cheddar cheese, tomatoes, guacamole, and sour cream. If the new color combination can't get you excited about this menu offering, the chain wants to ensure everyone has a great winter by donating some of the proceeds from every order of Nachos Navidad to local charities selected by each franchisee. The chain has been serving up these festive holiday tacos for 26 years and charities supported have included the Cystic Fibrosis Foundation, Friday Food Bag Foundation, United Way of Western Nebraska, and Yellowstone County Boys and Girls Club, among others. Thanks to the partnership and charity drive, Taco John's has raised millions of dollars over the years for local organizations and have supported their local communities.
Nachos in the spirit of giving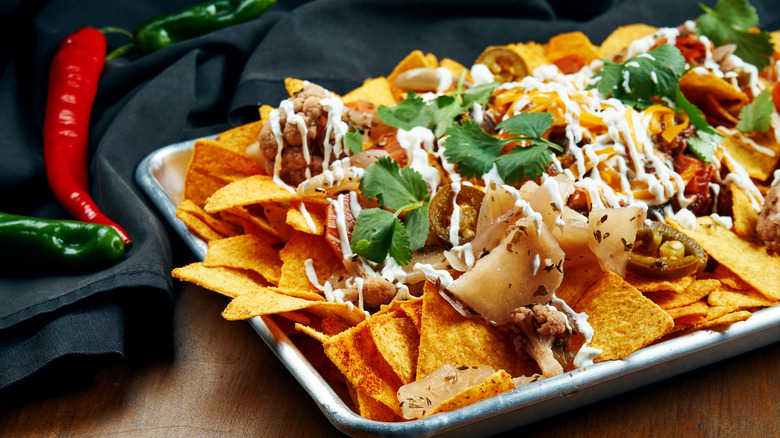 Ismishko/Shutterstock
If this deal sounds tempting, make sure to make your way to Taco John's soon and enjoy some nachos while knowing that your purchase helps make a difference. If the idea of charitable giving through nachos can't get you in the door, Taco John's has more in store for you. According to the statement sent to Mashed, guests have the chance to rack up some savings if they choose to buy a gift card. Every $25 gift card that gets purchased lands guests with a $5 bonus card they can use between January 1 and February 28, 2022. If you want to feel extra charitable, you can use these extra dollars for more Nachos Navidad and keep the spirit of giving alive and well.
If you want to warm up this winter over a hot plate of nachos, look no further than this returning seasonal item at your local Taco John's. With any luck, the chain can continue to raise some serious funds for good causes everywhere and make some real positive change this holiday season.