The Annual Marshmallow Fluff Festival You Never Knew Existed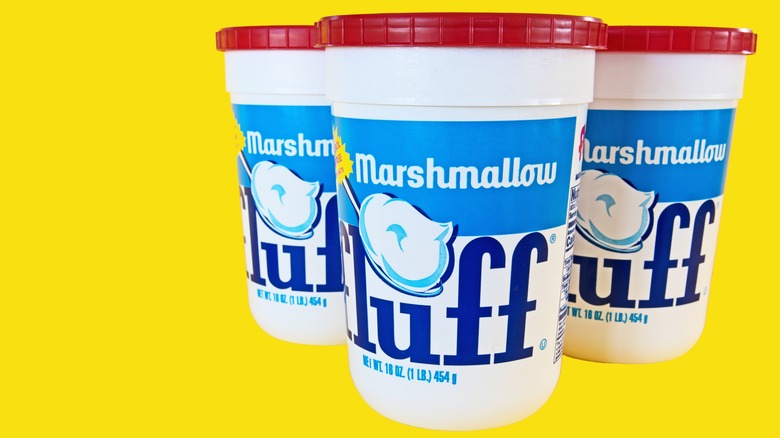 Mystic Stock Photography/Shutterstock
Marshmallow Fluff is a ubiquitous and nostalgic childhood favorite that has been part of America's pantry for more than 100 years. A staple in packed lunches, after-school Fluffernutter sandwiches, and cups of hot cocoa, Marshmallow Fluff has carved out a place for itself in confectionary history. It's easy to see why an overly sugary, gooey spread is popular with children, but fluff is surprisingly popular with adults as well. It creates loyal, lifelong fans who keep coming back for more, long after their youthful years are over. Its versatility as an ingredient — plus the fun of eating a sticky spoonful right out of the jar — makes it a sweet treat for everyone.
People have been creatively showing their love for Marshmallow Fluff for years. Back in the 1930s, Durkee-Mower, the company behind the iconic branded condiment, hosted a radio show dedicated to Marshmallow Fluff called "Flufferettes," according to the product's website. NASA even shared a video in which the former commander of the International Space Station said she enjoyed eating Fluffernutters in outer space. What's more, did you know there's a Marshmallow Fluff festival?
The What the Fluff? Festival just celebrated its 16th year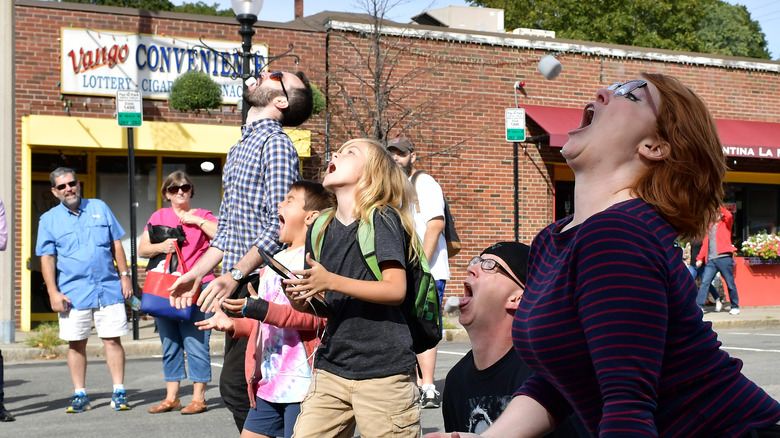 Paul Marotta/Getty Images
Marshmallow Fluff the brand was founded in 1920 (though the recipe for the corn syrup, sugar, egg white, and vanilla creme was created even earlier) in Somerville, Massachusetts, according to the company's website. Decades later, some "Fluffthusiasts" from the treat's hometown began taking their love for Marshmallow Fluff to the streets. Beginning in 2006 and continuing every year, a group of marshmallow lovers comes together in Somerville's Union Square for the What the Fluff Festival in September, which has its very own website. It celebrated its "Sweet 16" in 2021.
The special event can draw a crowd of up to 10,000, reports Eater. Boasting attractions like games (such as the one pictured above), music, cooking contests, and, of course, copious amounts of Marshmallow Fluff, it's easy to see why. Fans show their fluffy devotion with official merch like shirts, tote bags, and beer koozies from the festival's assortment of merchandise. There's also a festival Instagram page where organizers and attendees from all around can show their pride for Marshmallow Fluff. Undoubtedly, many of them are already looking forward to next year's What the Fluff.