Sour Patch Kids' Coal Will Make You Want To Be On The Naughty List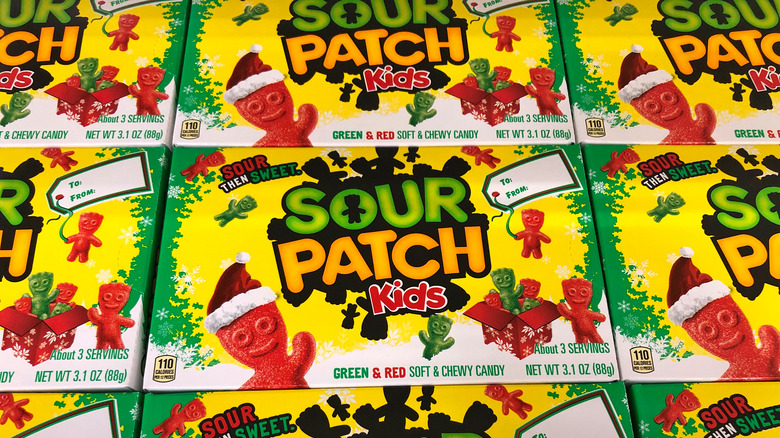 Sheila Fitzgerald/Shutterstock
Sour Patch Kids candies have a fascinating history attached to them. According to Mental Floss, they first made an appearance in the 1970s, introduced by candy giant Jaret International. The original plan was to sell the candy in an unconventional manner in a bid to appeal to consumers — in the beginning, they were referred to as Mars Men and were meant to be a product for those who were fascinated by UFOs. 
The candy was rebranded as Sour Patch Kids in 1985, around the same time Cabbage Patch Kids became a phenomenon — and the confectionary company wanted to see whether Sour Patch Kids would work in the market. It was, of course, a huge success.
If you are someone who can't get enough of the candy, there's some really good news for you. According to Brand Eating, Sour Patch Kids is getting a "naughty" update for the holidays.
"Coal" Sour Patch Kids actually sound pretty nice
As noted by Brand Eating, Sour Patch Kids is keen to offer its fans something new to look forward to this year. The new holiday-themed Coal Charbon gummies are black in color and designed to look like mini lumps of coal — though it seems like it would be a real treat for those on the naughty list with a flavor listed as black raspberry. The candies are now available for around $1 for a 3.1-ounce box. There are other special candies from the company to try as well this season, such as the Sour Patch Kids Holiday Candy Cane Tubes, Sour Patch Kids Holiday Red & Green Gummy Ornaments, and the Sour Patch Kids Holiday Xtreme Ski Chalet Cookie Kit.
As one Twitter user said, the coal gummies might be worth checking out. After posting photos of the candy, he wrote, "This is a real thing that exists so obviously I had to try it ... not bad!" Another reviewer on YouTube mentioned that the candies are a good mix of sweet and sour flavors and rated them a solid eight out of 10.