Twitter Is Loving The Buddy Vs. Duff Charlie Brown Christmas Special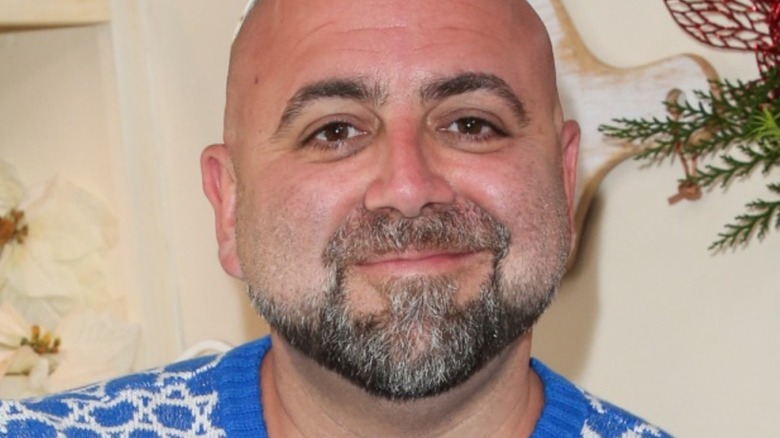 Paul Archuleta/Getty Images
Celebrity bakers Buddy Valastro and Duff Goldman have cake fans hooked with their Food Network show, "Buddy vs. Duff." Per USA Today, this is a challenging series to bring to life and requires lots of hard work from the entire team. Take it from Valastro, who said, "It's definitely the most grueling show I've ever filmed," adding that the whole crew works 15 hours a day, six days a week until filming is done. "You're just constantly going, and it's nonstop because you're really trying to do the best work you do — the biggest, the cleanest, the nicest."
Valastro and Goldman recently did something extra special on "Buddy vs. Duff" by paying homage to "A Charlie Brown Christmas" with larger-than-life holiday cake creations, as Goldman shared on Twitter. Following the episode's air date, Valastro wrote a tweet that he was extremely proud of his team's hard work, while Goldman's post to his baking crew said, "Y'all really knocked it out of the park. I love Charlie Brown Christmas and you guys really brought it to life." The cake bosses weren't the only ones who were impressed; fans of the show were, too.
Both Valastro and Goldman got compliments from fans
According to Food Network, the recent "Buddy vs. Duff" Season 4 episode was called "Holiday: Cartoon Christmas." It was filled with nostalgia as several cast members went down memory lane, recalling their childhood memories while crafting elegant and beautifully designed cakes as a tribute to the legendary holiday film, "A Charlie Brown Christmas." Valastro shared photos of his team's creation on Twitter, and it featured a spot-on Charlie Brown, Snoopy, and other iconic characters gathered around a frozen pond with festive trees. Goldman's cake, on the other hand, was a winter wonderland of snowy slopes and whimsical, colorful trees, complete with the cast of the film playing instruments (via Twitter).
One fan of the show took to Twitter to compliment both teams' creations. They told Valastro, "I loved your Charlie & Snoopy cake version looked so real. I also loved the ice rink too." Another fan shared a post for Goldman and said, "Excellent episode. Everything is wonderful. Y'all did a wonderful job with Charlie Brown Christmas."