Trader Joe's Just Started Carrying These Popular Tequila Seltzers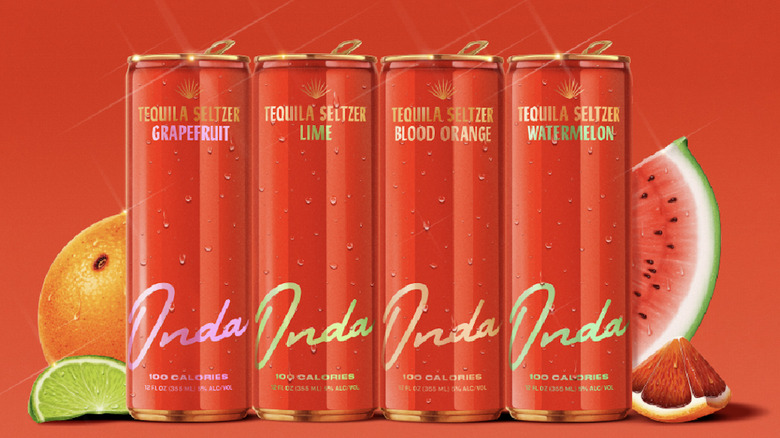 Onda Tequila Seltzer
The holiday season is upon us, which means a lot of us are eating, drinking, and shopping more than we usually are. There's absolutely no shame in any of it, it's a time for a little indulgence, a little relaxation, and more than a little fun, food, and drink. Trader Joe's is notorious for being pretty selective on what brands and foods they carry; Their small store sizes and selections mean that you probably won't find everything on your list there. But the things you do find will be amazing. 
In addition to their super fun wine lineup, Trader Joe's is adding a new seltzer to their shelves in some states, and we're pretty excited about it. Before you groan and ask, "Another seltzer?," hear us out: These are more than just a little different from your traditional low-calorie sparkling malt beverage — and we mean that in a good way.
Onda Tequila seltzers are now available at Trader Joe's
The much-hyped tequila seltzers by the brand Onda are now available at Trader Joe's locations across several states, including California, Arizona, Massachusetts, Illinois, and Florida, with more locations coming soon. These seltzers are made with real Blanco tequila that comes from a woman-owned distillery in Jalisco, Mexico (and if you didn't know, if it's not from Mexico, it's not tequila). The tequila is combined with fresh juices and other natural ingredients to produce a refreshingly light and sippable seltzer that contains 100 calories, no sugar, and 5% alcohol by volume. 
They come in a variety of different flavors, including watermelon, mango, blood orange, lime, passion fruit, and strawberry. If you're looking for a new easy-drinking beverage to get you through the holidays, or you are a tequila fan who is thrilled to find a sugar-free alternative to margaritas, these are for you. Next time you're browsing the aisles of Trader Joe's stocking up on cauliflower gnocchi and cookie butter, you might want to grab a case of these.