The Specialty Salt Padma Lakshmi Swears By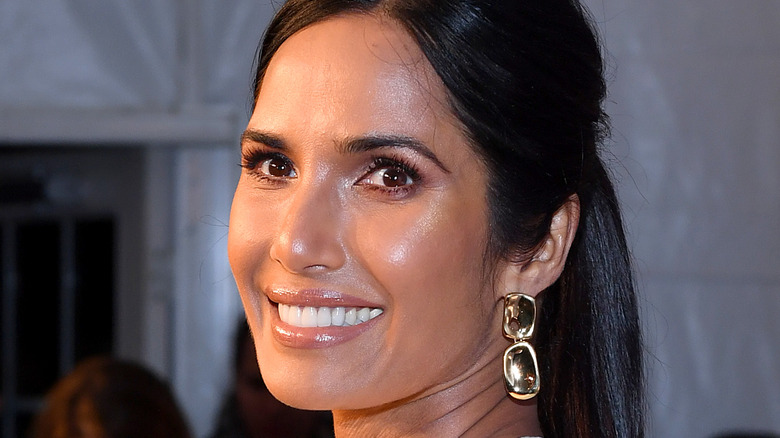 Ryan Emberley/amfar/Getty Images
When not appearing as a judge on "Top Chef" or engaging in thoughtful, proactive conversations on "Taste the Nation," chances are you'll find Padma Lakshmi cooking up something delicious in the kitchen. The accomplished television host, author, and activist has a wonderful way of always finding the right moment, in between chops and sears, to impart bits of knowledge that home cooks of any skill level can implement to enhance the caliber of their meals.
During her time as guest editor for the October issue of EatingWell, the food personality took to the magazine's Instagram Live to make a gorgeous tomato tart. True to form, Lakshmi let audience members in on her secret ingredient for boosting the flavor of tarts and more — salt. "Lately, I'm totally into smoked sea salt by Maldon," the television star says. But there's more to this specialty salt than meets the eye.
Lakshmi's favorite salt is big and flaky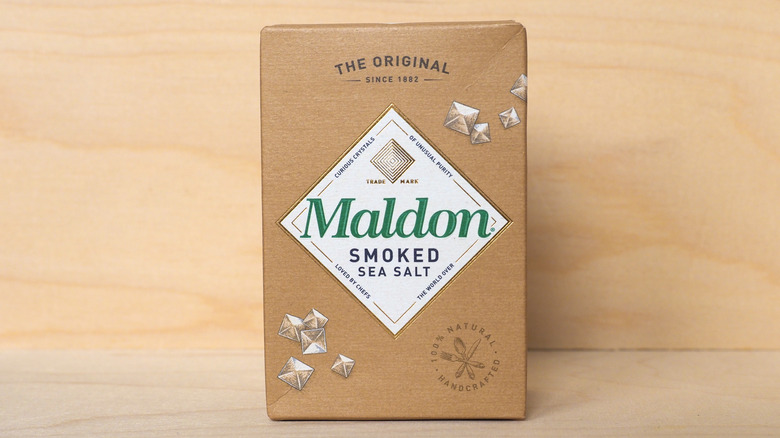 Claudio Divizia/Shutterstock
As Padma Lakshmi implies in the Eating Well Instagram Live, the food personality is a major proponent for salt's ability to amplify flavor in a dish — be it a simple tray of fresh tomatoes for a buttery tart (in which case, she says, also draws out excess moisture) or whipped into yogurt and drizzled onto roasted sweet potatoes (via Vogue). Of course different types of salt behave differently; while table salt works great when you need something that will dissolve easily, Lakshmi seeks out Maldon smoked sea salt for its unique smoky flavor and coarse, flaky granules. 
Manufactured in England, Bon Appétit shares that Maldon's classic sea salt is a beloved pantry staple for both professional chefs and aspirational home cooks. The salt is known for its large, pyramid-shaped crystals, making it a popular finishing salt for adding crunch and nuanced salinity to meat, vegetables, and desserts (via Rachael Ray). The type of salt that Lakshmi loves from Maldon is, as stated above, the smoked variety. This product has the same desirable traits as the classic sea salt, but, according to Serious Eats, has "a very gentle smoke flavor." We can see why Laskhmi is so in love with the product.