7-Eleven's Returning Holiday Drink Combines 2 Classic Winter Treats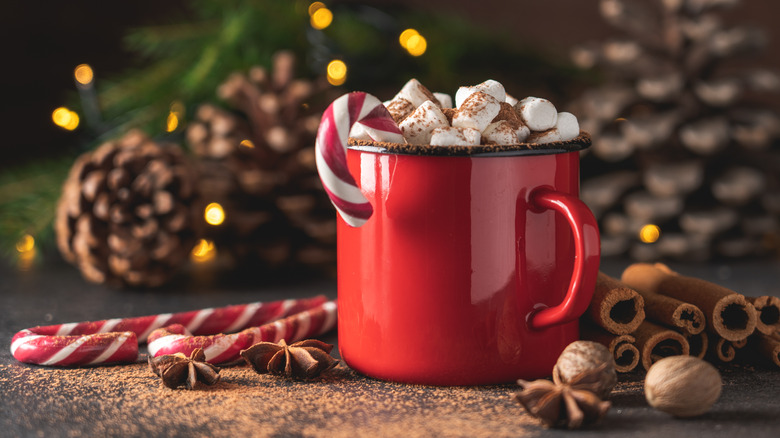 Anna Puzatykh/Shutterstock
Whether you have a hankering for a midnight snack or have just run out of toilet paper at 3 a.m., 7-Eleven is always there for you. There's often a location just a few blocks away, and, even better, you know that the 24-hour joint will always be open. What started out as a single icehouse in Texas in 1927, as the chain's website notes, is now the king of convenience stores, with over 70,000 locations across the globe (via Statista). And there's no sign of this almost 100-year-old chain slowing down anytime soon.
While 7-Eleven may be known for its famous Slurpees and grab-and-go hot food, this convenience store giant has been making moves to rebrand over the last couple of years. According to CNBC, in March of 2019, 7-Eleven launched its first ever Evolution Store, featuring healthier food options, a craft beer growler station, and a taqueria. To top it off, it has even upped its technology game by adding a Scan & Pay option for customers in these all-new stores. And now, because 7-Eleven is apparently on a lifelong mission to make all our dreams come true, it has also recently re-launched a fan-favorite holiday hot cocoa. What was previously known as Candy Cane Cocoa is back and better than ever, according to Chew Boom.
7-Eleven is celebrating the holiday season in the sweetest way possible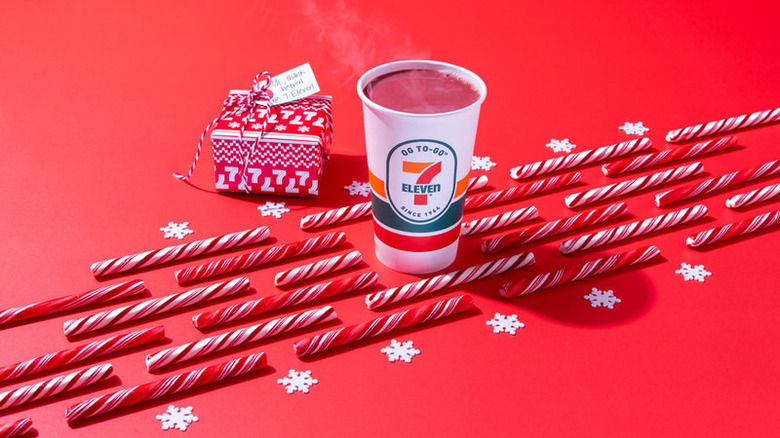 New Africa/Shutterstock
This year, 7-Eleven is debuting a masterful spin on a classic holiday beverage with its Winter Wonderland Cocoa, according to a press release by the company. This festive drink features hot, rich cocoa, but in this case, the cocoa will be blended with a "cool candy cane flavor" — because the only thing better than one holiday flavor is two, right? The seasonal treat, which even appears to have a reddish hue, costs the same amount as other hot drinks at 7-Eleven and will be available for a limited time at participating locations.
If you want to take it up a notch, 7-Eleven suggests pairing your comforting drink with chocolate sauce and creamer to put you in the perfect mood for holiday shopping and tree decorating. Plus, the convenience store chain is throwing in another gift: It's offering customers free customizations to any hot beverage, not only leading up to Christmas, but also year-round. This includes as much marshmallow, cinnamon, and caramel to pair with your warm winter drinks as your heart desires.