Trader Joe's Fans Are Unimpressed By Its Southwest Style Chicken Quesadillas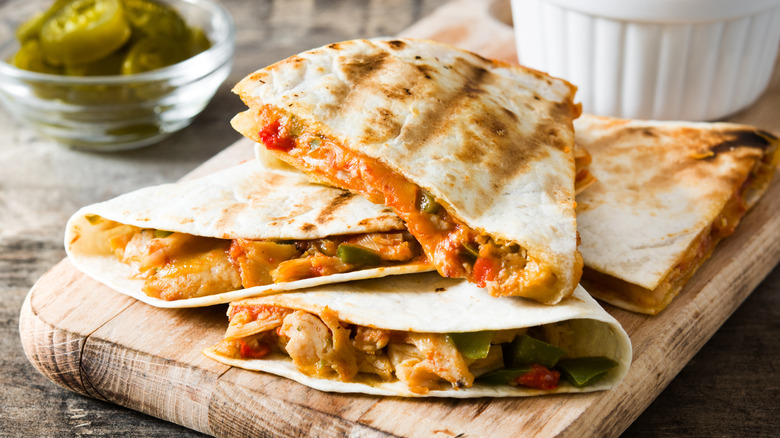 etorres/Shutterstock
Even if you're the biggest Trader Joe's fan, you may just want to leave the chicken quesadillas to Taco Bell. In a long review written by Instagram's Trader Joe's List, the frozen tortillas used in their Southwest Style Chicken Quesadillas are accused of not stacking up "to a fresh tortilla." In the post, the owner of the account labeled the product as "new" and still gave its insides a thumbs up, saying that it would make "a great dip." Some users in the comments agreed, with one person saying, "I rather make my own with a nice crunch crispy edge and seasoned food... these look sus." For $4.29 a box, you would think the reviews would be higher.
It's safe to say that the next time you're in Trader Joe's, you might want to give this item a pass. Instead, maybe head for the bread and dairy sections, and take the advice of one commenter who said, "Heat up tortillas and cheese."
This product appears familiar to some
A large amount of followers also commented on how similar this product looked to another chicken quesadilla the major grocer sold a while ago. The only major apparent difference appeared to be the packaging. Some fans actually expressed their love for the product, saying they've been enjoying this specialty item for years. However, not everyone is satisfied with the rebrand.
One user said in the comments section of the Instagram post, "If these are the same as the ones they used to have, the instructions are needlessly complicated AND completely useless. It was really difficult to cook for something that was mediocre to eat." Additionally, another user disagreed with Trader Joe's List and thought that the insides also tasted terrible. They wrote, "This is actually one of the only Trader Joe's products I would never buy again. The inside was horrible."
The reviewer did say that this dish is perfect as a quick and easy meal, but perhaps if you're looking for a crunchy, high-quality quesadilla, you might want to look elsewhere.