Dunkin's Festive New Sprinkles Will Get You Into The Holiday Spirit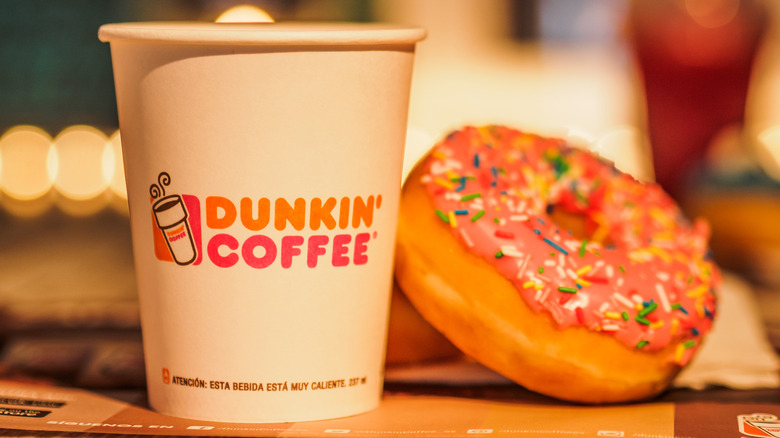 Pere Rubi/Shutterstock
One thing's for sure: Dunkin' is preparing for the holiday season in a big way and is leaving no mistletoe unturned to make their customers merry. According to the brand's website, fans will have plenty of festive products to look forward to this year. Not only has the Peppermint Mocha Signature Latte returned for those who swear by the holiday beverage (via Delish), but Dunkin' devotees can also opt for the Toasted White Chocolate Signature Latte, the Dunkin' Midnight dark roast coffee, and new food offerings like the Cranberry Orange Muffin and Pancake Minis (filled with maple bits), among other delicious options.
And here's the best part: According to Dunkin', Holly Berry sprinkles will be introduced at stores nationwide starting December 2. They're bound to make your donuts taste a lot sweeter and, with festive red and green colors in the shape of Christmas holly, they will offer a special upgrade to classic flavors like plain chocolate, vanilla, and strawberry. Additionally, the chain has a number of offers for customers to take advantage of to make celebrations sweeter and even more special.
December looks like an exciting time to get some Dunkin'
According to the official Dunkin' website, fans will soon be treated to the Holly Berry sprinkles that will convert regular donuts into something magical for the season. A description says, "Dunkin' guests who crave a little extra holly jolly will be jumping for joy with the new sprinkle blend of red berries and green leaves, adding a seasonal spin to donuts donning their holiday best." Great for adults and little ones alike, it even makes a festive option for picking up a dozen to bring to holiday meetings or gatherings.
To make it even easier to get some, Dunkin' has some special offers for customers. There's an option to order donuts via Uber Eats and get them delivered right to your front door. Through December 5, enjoy $5 off an order of at least $20 when ordering through the app. If you're a DD Perks Member, you can also score 2x points when you order the chain's special Holiday Blend coffee through Dunkin's app. So, get on your sleigh and head to the nearest location now to warm up with these tempting treats.