What Makes Subway Singapore's Plant-Based Chicken Sandwich Different
If there's one thing you can expect with chain restaurants, it's usually consistency — at least when it comes to what's on the menu. Service can vary, neighborhoods lend their own flair, and you may even find one location of your favorite chain has an inexplicably better atmosphere than another. But, in general, the food is going the same. Indeed, the whole point of going to a chain is to be able to get the same thing in one franchise that you'd get somewhere else. For this reason, the recipes and ingredients are all standardized.
For most people, this isn't anything new. However, you may be surprised to find that sometimes ingredients and recipes can vary across countries, even when they're from the same chain. That seems especially true when it comes to more unique signature options like plant-based meats.
Take Subway. In Singapore, its plant-based chicken is different from what you might snag at the sandwich shop's other locations. And though the change is subtle, vegans and vegetarians may still want to know the difference.
Plant-based chicken in Singapore contains eggs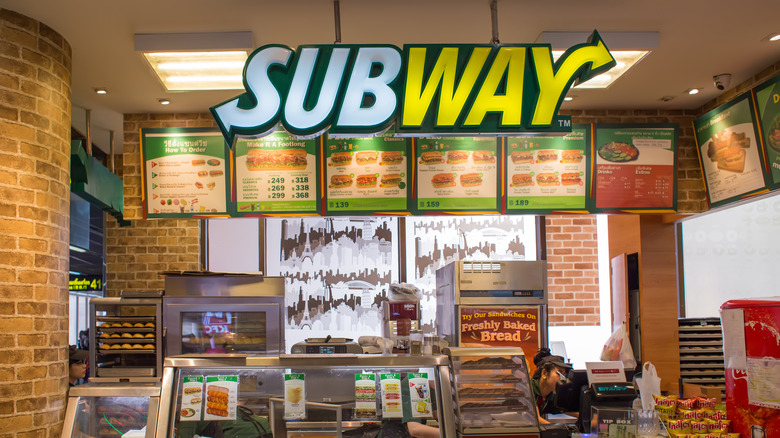 Settawat Udom/Shutterstock
Subway Singapore recently announced that from now until January 8th, 2022, Subway shops in Singapore will carry Plant-Based Chicken Schnitzel. It's the first time the sandwich shop has offered a veggie option in Singapore (via VegNews). However, it has released veggie-based chicken options in other countries and markets, namely, its T.L.C (Tastes Like Chicken) Sub previously rolled out across the United Kingdom.
Subway has also tested vegan meatball subs across the US and Canada and already offers a veggie patty to customers on the American side of the pond, according to The Beet. In all of these cases, the "meat" is vegan, which means that it's free from all animal byproducts. This is where the "chicken" schnitzel in Singapore is different from other plant-based offerings: it's not vegan. According to VegNews, this product contains egg whites, so it'd only be suitable for those who eat a vegetarian diet. Potential diners who want to ditch animal byproducts entirely will have to look elsewhere on the menu (they'll also have to avoid some surprising non-vegan products elsewhere, too).
Though it's not exactly a secret that Subway is hiding, this could be key information for some customers. After all, it wouldn't be unreasonable for someone to assume that all of the chain's meatless options are vegan. Now, vegetarian and vegan customers can make a more informed decision.