The Jacques Pepin Foundation's New Video Recipe Book Will Feature These Celeb Chefs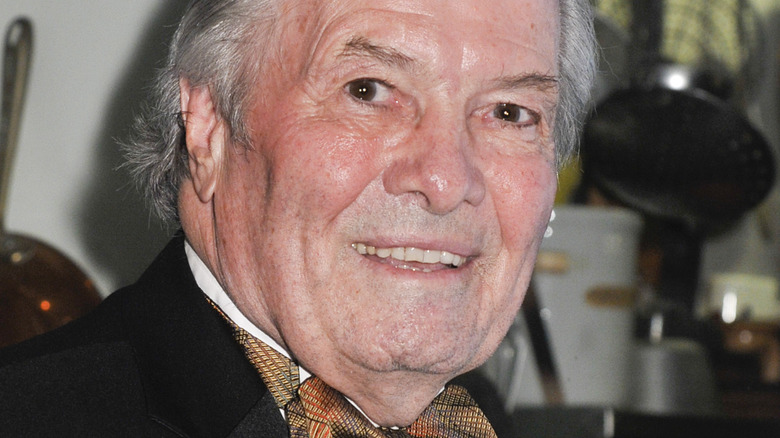 Kris Connor/Getty Images
There's nothing like pulling a physical cookbook out of the cupboards and leafing through the pages, before landing on the recipe you want to create for dinner. And what's even more gratifying is when you have a celebrity chef's cookbook. For one night, it's almost like you have the culinary prowess of someone like Jamie Oliver.
But what's even better is when you buy a cookbook to support a great cause. The Jacques Pépin Foundation, started by culinary legend Jacques Pépin, is releasing its third video recipe book, in a series titled, "Cook with Jacques Pépin & Friends." According to its website, the nonprofit organization aims to "improve lives and strengthen communities through culinary education and training." By paying an annual membership fee, members will be supporting efforts to teach those in the community how to cook. This includes people who were previously incarcerated and the homeless.
By getting any membership, you will receive access to this new volume of Pépin's cookbook, as well as the previous two volumes. 
Who are the celebrity chefs in Cook with Jacques Pépin & Friends Volume 3?
In an Instagram post shared by Food Network star Giada De Laurentiis, a multitude of celebrity chefs are seen to appear in Jacques Pépin's new video recipe book. The lineup of guests in the cookbook is quite diverse, ranging from restaurateurs to mixologists. This ranges from expert baker and Andrew Zimmern acolyte Zoë François, presenting a "chocolate ganache bundt cake," to James Beard Award Winner JJ Johnson teaching readers how to make "champagne fried chicken." Other notable appearances include "Top Chef" star Byron Gomez, award-winning restaurateur and cookbook author Katie Button, and master mixologist Meaghan Dorman, all of whom teach members different skills in the world of food.
New York culinary icons of Italian cuisine, Lidia Bastianich and Michele Casadei Massari, also make appearances to show off delicious pasta dishes. Recipe developer Molly Baz will teach members how to roast a chicken. Mŏkbar founder-turned-Food-Network-star Esther Choi also contributes to this cookbook, alongside SheChef Inc. founder, Elle Simone Scott, who declares the recipe book's guest line-up to be "the who's who of the culinary world." And, of course, De Laurentiis will also be featured in the video cookbook.
This list of world class experts included actually goes on, representing a jaw-dropping "over 18 hours of incredibly personal video content," according to the Jacques Pépin Foundation. So, if you're looking for a culinary master class and a philanthropic endeavor, consider your search over.