TikTok Is Divided Over This Starbucks Employee's Sandwich Tip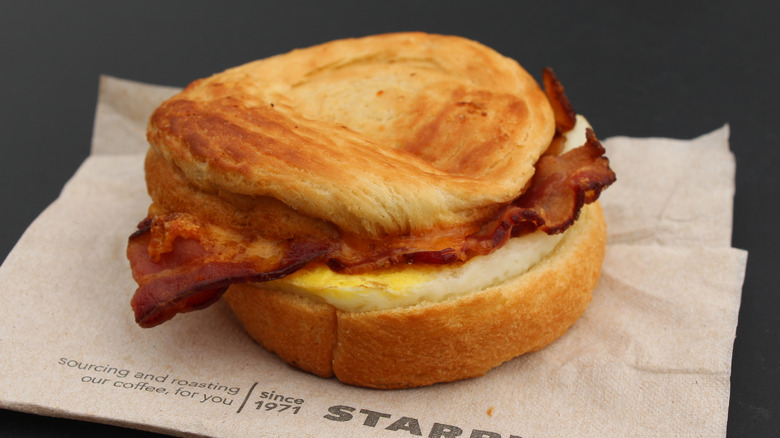 Deutschlandreform/Shutterstock
When Starbucks first started selling breakfast sandwiches, it was a boon for those who like to get their coffee and breakfast together on the go. But picky eaters might not have felt so lucky, mistakenly thinking that, since all of Starbucks' breakfast sandwiches come frozen and pre-assembled, those items couldn't be modified. A new TikTok from user messydirtyhair might put their minds at ease. She says that customers actually can customize the sandwiches.
The video shows her unwrapping a Starbucks egg, bacon, and cheese breakfast sandwich, then taking off the top bun and removing the slice of cheese inside. She puts the bun back on top and the sandwich is then bagged up and ready to go. The video seems to confirm that baristas can help customers modify their orders, at least to a certain extent. As another user clarified in the comments, "by modify we mean just take something off. We cannot swap breads or swap meats."
This is a great tip for customers who dislike any of the items found on the Starbucks sandwiches. Yet, not everyone is so happy about this particular hack.
Why Starbucks employees don't want you to customize your sandwich
If you hate cheese or eggs, then hearing that your barista can just remove them from your sandwich might just sound like breakfast heaven. But if you're a Starbucks employee who already has to deal with long lines, impatient customers, making drinks, and making food, then adding this task to your to-do list isn't ideal. "Why would you do this to us," "Don't tell people this," and "Bro why you telling them that!!!???? And right before the holidays," were just some of the comments left on the TikTok by Starbucks employees.
Other workers in the comment thread didn't see the point of the complaints. "It's literally not that hard to take one thing off a sandwich, why are y'all complaining?" one user said. Another noted that they've been customizing their order for a while now. "I like to have them remove the egg and blend it with my coffee for protein," they revealed.
The original poster stood up for her video in the comments. "I had no idea it would anger so many. It's like the easiest thing," she responded. And for those who say their baristas have refused to make modifications in the past, she only had this to say: "There is literally a button on the register for it."