Subway UK Is Testing A Vegan Spin On A Holiday Favorite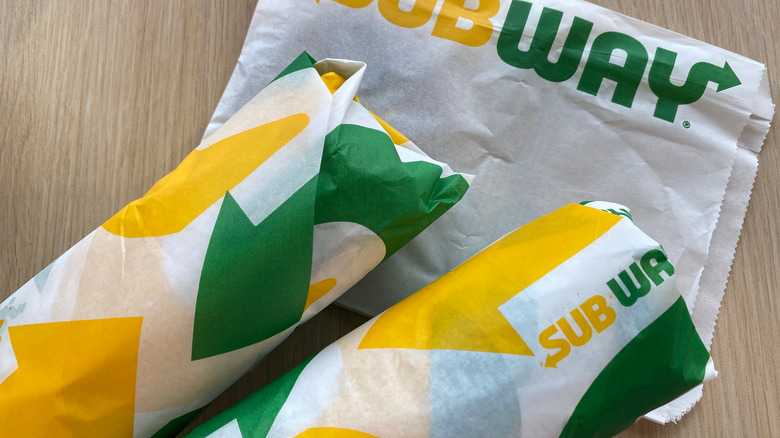 Prachana Thong-on/Shutterstock
If you want to eat vegan at Subway, you just have to know what to look for. According to Women's Health, avoid the croissants and English muffins and opt for breads like the Italian white bread or the tomato basil wrap. Naturally, all the raw vegetables on the menu can complete any vegan meal, and some locations even offer the Beyond Meatball Marinara Sub. As it stands, this fast food chain might not have a million options for anyone looking to pursue a vegan diet, but it can definitely offer up some accommodating meals in a pinch.
Anyone looking to eschew animal products this holiday season can find something new to celebrate if they find themself at a U.K. Subway. Vegan Food and Living reports that the sandwich chain now carries a signature vegan Pigs in Blanket sub. Anyone familiar with the Tiger Pig should easily come to love the flavor of this new meatless offering, and the vegan sub dubbed the P.I.B. comes with a maple syrup glaze, smokey flavor, and Heinz Tomato Ketchup, per Delish. While this new offering should tempt anyone who loves the classic Tiger Pig sandwich, don't expect to find this sandwich at every U.K. Subway location.
A new Subway vegan offering for the holidays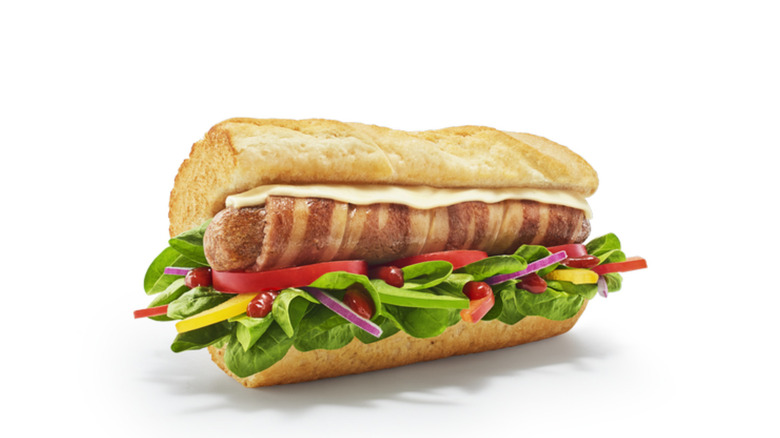 Subway
If you fall in love with the P.I.B.'s flavors, make sure to get your fill as quickly as possible. According to Daily Record, Subway only plans to keep the item around until December 28. Not every Subway plans to carry the item either — expect to spot the vegan sandwich only in the West Midlands, including Birmingham, Coventry, and Wolverhampton. It will be available in a 6-inch sub, footlong, salad, and wrap version. U.K. diners do have a selection of other vegan items, like the Meatless Meatball Marinara, Plant Patty, or Vegan CheeZe Toasted Bite if they want more options. With a bit of luck, this sandwich has the opportunity to catch on and some hope to see even more plant-based meals take off at the chain during Veganuary, per Vegan Food and Living.
If you find yourself in the U.K. this holiday season, make sure to try the Pigs in a Blanket Sub and see if it can match the classic Tiger Pig. If you need a quick pick-me-up that ditches meat, this item might just hit the spot and with any luck, you might even see it hit American markets one day.