Alton Brown Made A Hilarious Cocktail For Neil DeGrasse Tyson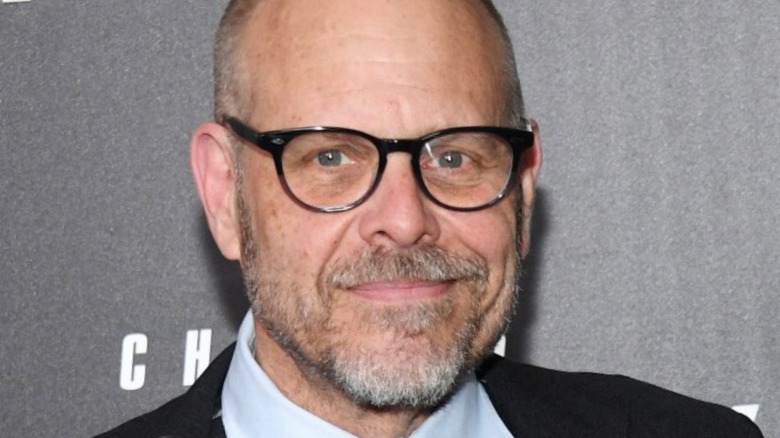 Dimitrios Kambouris/Getty
"If you were going to drink something with Neil deGrasse Tyson, what would it be?" celebrity chef Alton Brown recently wondered to himself. Why? He appeared in a recent episode of "Star Talk," which is famous astrophysicist Neil deGrasse Tyson's weekly science-themed talk show that has been airing on National Geographic since 2015 (via Space). His guests on the show have included a diverse crew of pop culture icons, including former U.S. President Jimmy Carter, television comedy scribe and legend, Norman Lear, and groundbreaking journalist Arianna Huffington. In a November episode titled, "Food in Space," available on StarTalk Radio, he hosted Brown.
The episode turned out to be a hoot, with Tyson, co-host and comedian Jordan Klepper, and Brown riffing on such topics as molecular gastronomy, the science behind our senses of taste and smell, what it's like to eat food in space, and the metaphorical and actual "limits" to which our palates will go, to name just a few. One of the most unforgettable moments, however, was when Brown concocted a hilarious cocktail for Tyson.
Brown invented the Tang and Tequila
"This happened," Brown shared on Twitter along with a video clip of his cocktail-making expedition with Tyson on "Space Talk." Evidently, Brown thought it would be an amazing idea to whip up a space-themed cocktail for his rocket scientist host. His recipe consisted of a generous hand-lick of the iconic space food, the fruit-flavored Tang drink powder, followed by a shot of Casamigos tequila. Yes, that's it. "Suck it and throw it," Brown instructed Tyson. After appearing highly grossed out by the drink, Tyson did just that — twice, in fact, before making the decision to cut himself off. Brown went on to help himself to a third, which he was welcome to do because he was just a guest and not the host, as he pointed out. 
Tyson's verdict? "It doesn't suck," he decided. The scientist is clearly a good sport, given that Brown admitted he hadn't had much time to finesse the cocktail recipe, which he called a tequila sunrise but will probably be known forevermore by the hashtag #TangandTequila. Perhaps more importantly, Tyson discovered that Tang tastes much better when mixed with tequila than when mixed with water. "Don't try this at home," Brown joked at the end of the segment.