Subway's $99 Mozzarella Add-On Has Reddit Confused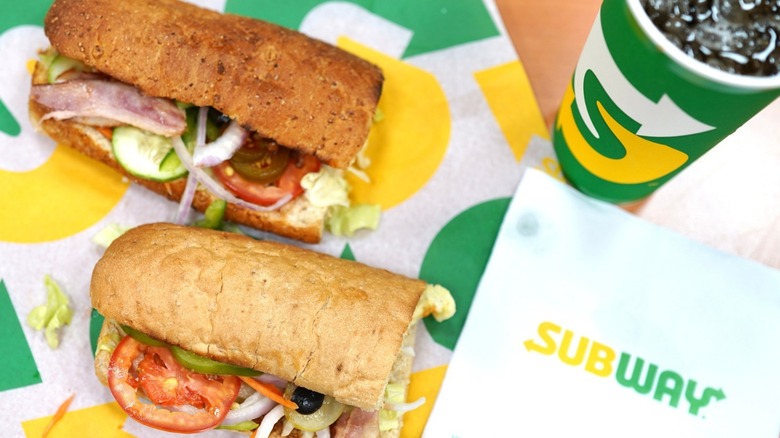 Prachana Thong-on/Shutterstock
We've heard stories of inflation, but this $99 mozzarella cheese option on the Subway app, shared on Reddit, seems pretty over the top. While Subway did introduce BelGioioso Fresh Mozzarella as part of it's recent menu revamp, describing the cheese as a "new and improved ingredient" (via Subway), it's hard to imagine the chain would be charging this much for cheese, no matter how many awards it has won.
To verify the quantity is not in question, the screenshot uploaded to Reddit clearly shows 170 calories worth of BelGioioso Fresh Mozzarella with a price tag of almost $100. This prompted one Reddit user to joke "Its [sic] just that good. Its [sic] made from unicorns." Another poster agreed sharing, "Those must be magical if they're costing you 99 bucks," followed by a slew of cry laughing emojis. In the comments, the original poster surmised, "a coworker of mine said 'well obviously it's because they keep a cow in the back and make it while you're in the store.'"
While all of these responses are comical, there may be an actual reason for the $99 price tag, and it's probably not what you think.
Software and staffing may be behind the high price
One Redditor offered up a serious suggestion for the source of this ridiculous price: "when a store lists a item as $99,, [sic] it's to let you know it is [temporarily] unavailable due to either stock or shortages." This answer prompted another user to shoot back, "They should just be a able to label it ... out of stock or unavailable." The thing is, it's not always as simple as updating those old 86 boards.
Subway's online ordering is processed through a software called Olo, or "Rails," which "integrate[s] digital food orders directly into their point of sale" (via Digital Food and Beverage). This system handles 3rd party online ordering for 20,000 Subway locations. To update this software, an employee would need both access and the knowledge of how to process out of stock items in the Olo system — a task that isn't necessarily simple without the right training (via Olo).
Add this requirement for knowledge and access to the current nationwide restaurant staffing issues (via Time) and the chances of having the right person on shift every hour the restaurant is open decreases. So what can the average sandwich maker do to prevent customers from ordering an item that isn't available? According to Reddit, shift the price so no one orders the missing item.
Perfect, no, but you've got to admire the innovation.