The 14 Best Gift Ideas For The Baker On Your Shopping List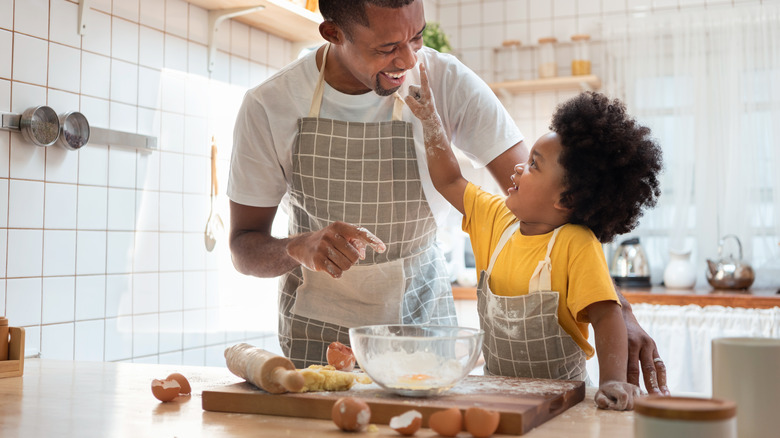 eggeegg/Shutterstock
We may receive a commission on purchases made from links.
The holidays are all about baking. From Christmas cookies to challah bread to cakes and pies aplenty to the Greek Vasilopita (New Year's Bread) to the German Grosse Neujahrs-Breze (that's the Big New Year's pretzel, FYI), no season is more closely associated with baked goods than that stretch of celebrations that runs from Thanksgiving all the way through the end of the year. (And even into the next year, for those "12 Days of Christmas" types.)
So this year, since your friends and loved one are sure to be baking away as it is, why not give them something that will take their efforts up a notch? We've put together a list of great gifts for bakers of all types, from unique pieces of hardware even experienced pros probably won't have to tools and accessories for novices just getting into the hobby. These gifts cover a wide range of price points, so whether you're looking for something that costs just a bit of dough or a something big that will be the season's proverbial icing on the cake, you're looking in the right place.
Got your thinking all pre-heated, so to speak? Then let's stop with the puns and start in on the best gifts for bakers.
Brownie Pan
Some people prefer to eat brownies cut from the center of the pan, those with the soft sides and without any of that lovely firmness of the edge pieces. And that's fine, this is America and people have every right to their opinions and preferences ... even if they are wrong. The rest of us, however, know that it's the edge pieces of the brownie sheet, and especially those corner pieces, that are far and away the best.
With this two-piece Brownie Pan Set from Pampered Chef, you can bake up to 24 little brownie squares and 12 larger squares at the same time, each with that lovely edge. And the pan with the larger squares is great for bite-sized meatloaf, lasagna, and on it goes. The pan set also comes with a test/release tool that lets you probe your baking goods to see whether or not they're done in the oven and helps free them from the pan once they're all good and baked.
Bakeware Bundle
You really can't go wrong gifting someone this four-piece bakeware bundle from The Pioneer Woman. That's because if they're just starting out their baking adventures, you'll be stocking them up with four versatile, durable nonstick baking pans. And if they've been baking for years, chances are good that their pans are pretty well pitted by now, so you'll be giving them a fresh start. It's hard to beat these handsome and perfectly proportioned pieces of bakeware.The set includes a 9-inch diameter round cake pan, an 8-inch square pan, a 9-by-13-inch pan, and a large cookie sheet.
This will come in handy for cookies, cakes, brownies, pretzels, and cinnamon rolls, as well as non-baked goods like roasted meats and veggies or casseroles (which The Pioneer Woman herself, Ree Drummond, swears by, FYI, especially during the holidays). The fact that the whole four-piece bundle is a great price? Well, that's just the cherry on top. 
Dutch Oven
Sure, Dutch ovens are usually associated with roasts, stews, and sauces but once you use one to bake bread, you will never think of them the same way — especially when said bread is sourdough. The shape and heat concentrating properties of a great Dutch oven like this one from Pampered Chef creates loaves that are perfectly baked with a wonderful crust and, of course, a perfectly round shape.
This Dutch oven, which is indeed great for all sorts of other cooking, too, is heat-resistant to temperatures just above 750 F, well above the heat your home oven will hit anyway. (Also note that the lid is only safe to 400 F.) It can be placed in the fridge or freezer; it can be placed right over a flame on the stove; it's microwave safe; and it can be cleaned out with soapy water and a sponge or even popped into the dishwasher.
Cookie Press
Got a baker on your list who is still making cookies by hand? How 20th century of them — or 19th, more like it, as cookie presses are hardly anything new, but using one will nonetheless be a revelation to your giftee. This Betty Bossi Cookie Press comes with attachments that allow for the creation of myriad different types of cookies, and the precise control it gives the user over their cookie dough will be a game changer.
In the hands of a decently competent user, this cookie press allows for cookies with two colors or even two totally different tastes when two separate dough chambers are used. And in the hands (or hand, rather, as it can be operated with a single hand) of a complete novice, it will still make charming cookies with a single squeeze and click. Anyone who wants to take their cookie décor to the next level, or who simply has a whole lot of cookies to bake and could use some help upping their efficiency, will appreciate this clever baking gadget.
Bistro Apron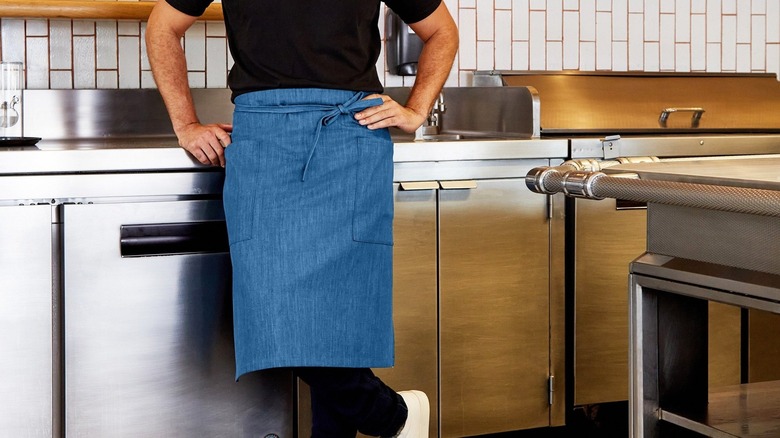 Rendall
Every baker needs a good apron. Why? Because flour dust. And buttery fingers. And those awful little squirts of egg white you get when cracking eggs sometimes. The Kenwood Bistro Apron from Rendall is rugged enough for use in a restaurant so it will more than stand up to the rigors of a home baking operation no matter how many times greasy, eggy fingers are wiped off on it, and no matter how many times it's washed and dried.
A pair of large pockets can be used for things like a phone, a dish towel, a folded up recipe, or perhaps a spatula and piping bag. Anything you need for your baking project will be close at hand while your garments from the waist down will be well protected. Or hitch it up a bit higher and protect part of your shirt or blouse, too. Another bonus: These aprons are made in America using fabric sourced from the States.
Mixing Bowl Set
Once someone has had a great set of mixing bowls, that someone will never again want to be without great mixing bowls. They just make life so much easier when you're working with doughs and batters, whisking up sauces, or beating eggs. And don't let the low price of this six-piece set of mixing bowls from FineDine fool you, they're pretty great. Why? Well, let's name six reasons in honor of the fact that there are, as noted, six bowls in the set.
First, the bowls nest into one another, so you can store six bowls in the space of one. Second, the bottoms of the bowls are flat, so they rest easily on the counter as you work. Third, their rims allow for easy grasping. Fourth, they are dishwasher and freezer safe. Fifth, capacity marks on the exterior of the bowls remove any guesswork. And sixth, hey, did we mention that price? This set currently costs less than $25. In fact, at that price, you'll be paying less than $3.85 per bowl. And that's a gift to you as you buy a gift for them.
Two-Tiered Server
This charming two-tiered glass server from The Pioneer Woman literally and figuratively elevates baked goods. In the former sense, it has two different levels, lifting cookies or cupcakes or biscuits up off the table or buffet and saving space. As for the latter sense, it adds an elegance to the display of the baked goods, making them a lovely part of the greater tableau and all the more tantalizing at that. 
And of course, the two-tiered tower can also be used for all sorts of non-baked goods, like fresh fruit, sandwich pieces, and candies. It will make a great addition to the décor during the holidays, but also may end up as a permanent countertop fixture in your home, keeping everyday eats like apples and bananas in easy reach. If you want to stash it away, the server can be easily disassembled and stored in a drawer or up on a shelf.
Decorating Syringe
If you have ever wondered how professional cake, cupcake, or cookie decorators make their baked treats look so amazing, the answer is likely that they use some good hardware. And a decorating syringe is surely in that category. This nifty tool will let your giftee do with icing what they had previously only dreamt of, namely not find decorating baked goods hair-tearing level of frustration as they use those darn disposable piping bags. (If you have ever used them, you know they basically equal a guaranteed mess.)
This decorating tool comes with seven different nozzles so you can make patterns of icing of all shapes and sizes, from thick ribbons which are perfect for big cakes to slender, finer bands or dots of icing great for use on cookies or cupcakes. It puts precision control into the hands of the user even if said user doesn't have all that much baked good decorating experience.
Vanilla Extract
What's the best gift you can give someone? Ultimately, in baking and beyond, it's something they really want but don't want to spend the money on. And thus, bringing it back to baking, a huge jar of high quality vanilla extract is a great gift. That might seem boring to the non bakers out there, but anyone who spends much time elbow deep in this or that batter will be thrilled by finding this jar wrapped up with a bow — and maybe some bubble wrap, also, because this stuff costs five dollars per ounce. 
Simply Organic pure vanilla extract is made using Madagascar Bourbon vanilla beans and it's simply bursting with flavor. In fact, you may even want to use slightly less of it than your recipes call for if you don't want the vanilla flavor to overpower the other ingredients. It's 100% natural, it's kosher, and it's worth it.
Kids Chef Tools
Getting kids involved in the cooking process is a great way to share some meaningful family time, to teach the young ones some self-reliance as they take on responsibilities, and, depending on the age and competence of the junior chefs, to get some actual help and speed things up a bit. But too often, kids are relegated to mixing or measuring or stirring and are barred from many of the essential cooking activities.
With the Opinel Le Petit Chef Set, your kids can get right in there and chop, slice, dice, and peel, because the knife, peeler, and finger guard in this set are designed to keep little fingers safe. So don't just have your kid measure out the flour, then sit back and watch; have them peel and mince the ginger, chop the walnuts, and slice the brownies after they come out of the oven (assuming you passed on the brownie pan from earlier, that is). These are completely functional and legitimate kitchen tools, but they just happen to be sized for smaller hands and have some safety features.
Hand Blender and Whisk
If you have never used a hand blender, then there is no easy way to say this, but ... you're missing out. And you're wasting your time. And you're probably making a mess, too. Because without a hand blender, all sorts of soups and sauces and smoothies and such have to be processed in a regular blender, often in multiple batches, and it's just a whole big deal. With a hand blender, you can pulse or puree whatever needs blending right there in the pot, pan or bowl.
And with this versatile Cuisinart Smart Stick Variable Speed Hand Blender, you can also affix a whisk attachment that will make just about the shortest work ever of whipping eggs into foamy, peaky perfection for meringues, mixing batter into perfect smoothness, blending butter and sugar, and whatever else you were going to do with that antiquated egg beater or — gasp! — handheld whisk.
Spatula Set
Are spatulas the most exciting gift in the world? No. No, they're not. But are they a kitchen tool most of us will use nearly every day of our lives, especially when baking? Yep, that's a pretty accurate way to think of them. So why not give the thoughtful (and affordable) gift of a kitchen tool your recipient will use all the time? These versatile spatulas from U-Taste are made with durable, food-grade silicone that's heat proof up to 600 F, so don't worry about using them in a hot skillet or cake pan. Included is a narrow jar spatula, a compact spatula great for icing, and two larger spatulas ideal for everything from flipping omelets to freeing cakes from pans.
And if you're on the fence here, hey, don't take it from us. More than 22,575 people and counting have reviewed these spatulas on Amazon and the result is a stellar 4.8-star overall rating. Also, they come in five different charming colors.
Silicone Baking Mat
We can all use a little help in the kitchen, right? Well, why not a lot of help, actually? This Dania & Dean Silicone Baking Mat is covered with all sorts of helpful information, like a Fahrenheit to Celsius conversion chart, a grams to cups conversion chart, both metric and standard rulers around the edges, and a sizing chart with concentric circles that help you measure dough ball sizes right in the center of the mat. It's non-stick surface allows for easy kneading and rolling.  
And if all of that were all this mat did, that would be enough. But it's not. It's also an oven safe baking mat that you can use for baking up the very goods it helped you prep — no parchment paper needed and no messy baking pans to deal with afterward. When not in use, the mat rolls up or folds away for storage.
Mini Stand Mixer
Now, let's be clear: Just because KitchenAid named this the Artisan Mini Stand Mixer, it can still take on big baking tasks. While its mixing bowl may have only about 60% the capacity of a standard stand mixers, it is able to handle enough dough or batter to create a cake or batch of cookies or loaf of bread plenty big enough for you and the gang. (For example, the capacity is enough for between four and five dozen cookies at a time, depending on their size.) And it's got the same 10-speed settings as a classic KitchenAid stand mixer and plenty of power, which is why this smaller stand mixer can be outfitted with all the accessories diehard KitchenAid fans know and love, from prior tools to the slicing or shredding attachments to the, er, sausage stuffer, which is a bit less popular.
At nearly $300, this is a big gift despite the "Mini" name, but because it's a bit smaller than a standard stand mixer overall, it's a great choice for apartment dwellers or anyone who loves baking but just doesn't have all that much storage space in the kitchen.