Garlic Roasted Broccoli Recipe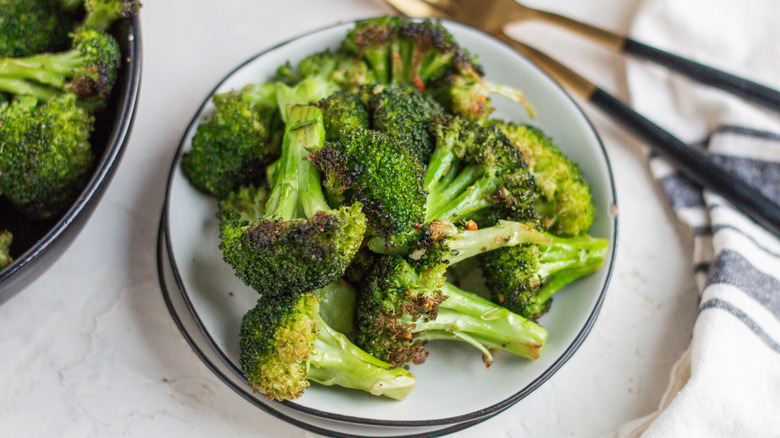 Jaime Shelbert/Mashed
Are you looking for a healthy side that doesn't skimp on flavor? If so, then we have the perfect recipe for you! Broccoli lovers rejoice because this dish is right up your alley. The garlic roasted broccoli provides a blast of garlicky flavor, salt, pepper, Parmesan, and chili flakes. It serves as a great side dish to just about any protein, and it would also make a great main course if you're looking for something on the lighter side.
Recipe developer Jaime Shelbert of Wholly Nourished came up with this fantastic recipe that looks, smells, and tastes amazing. "I love this recipe as an easy side that is popular with the entire family. Plus you can't beat the nutritional benefits of broccoli," Shelbert shares. "Broccoli is a cruciferous vegetable, a class of veggies supercharged with nutritional benefits. Broccoli contains sulforaphane, a compound that has been studied and found to fight/prevent cancer, decrease inflammation, and improve gut health," Shelbert says. Keep reading to find out how to make this tasty broccoli.
Gather the ingredients for this garlic roasted broccoli recipe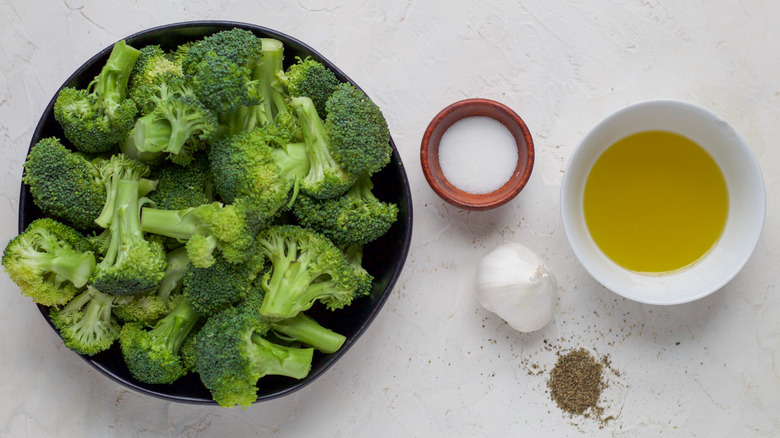 Jaime Shelbert/Mashed
Once you are ready to begin, a trip to the store is in order. Grab all of the necessary items that you will need, starting with 18 ounces of broccoli florets, which we also like to refer to as the star of the dish. In addition, you will need some extra-virgin olive oil, salt, and pepper which you likely have at home already.
Then, pick up a few cloves of garlic because let's be honest ... what's not better with garlic? To complete your list, swing by the spice aisle for a few optional ingredients including Parmesan, chili flakes, and sesame seeds.
Preheat the oven and mince the garlic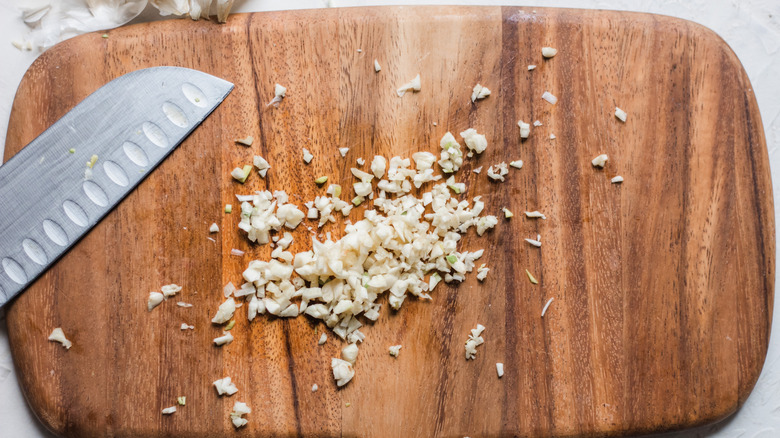 Jaime Shelbert/Mashed
Now that you have gathered all of your ingredients in front of you, it's time to begin cooking! Start by setting your oven temperature to 425 F. That way, it has time to get nice and hot while you finish the rest of the prep work. Make sure to mince your garlic so that it is easier to combine with the broccoli.
Next, take out a sheet pan and coat it with 1 tablespoon of olive oil. The layer of olive oil ensures nothing sticks to the bottom of the pan. If you don't have any oil or need an alternative, that's fine. "You could use parchment or foil," Shelbert notes. 
Spread the broccoli and add the spices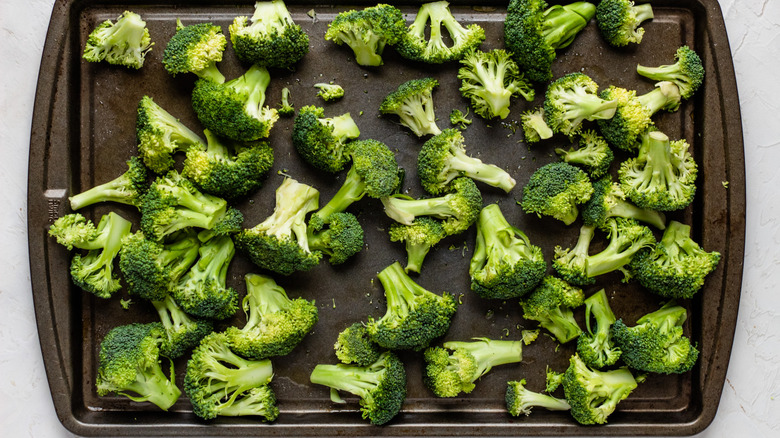 Jaime Shelbert/Mashed
Now, take the broccoli and spread it uniformly across the sheet pan. It's important to place the broccoli in an even layer without overlapping the pieces so that they cook at the same pace. Or else, you could end up with some florets being more well-done than others. Then, drizzle the remaining 2 tablespoons of olive oil over the broccoli as this will help it brown in the oven. After that, just add the salt, pepper, and minced garlic on top. Toss the broccoli to distribute the ingredients throughout.
Roast the broccoli in the oven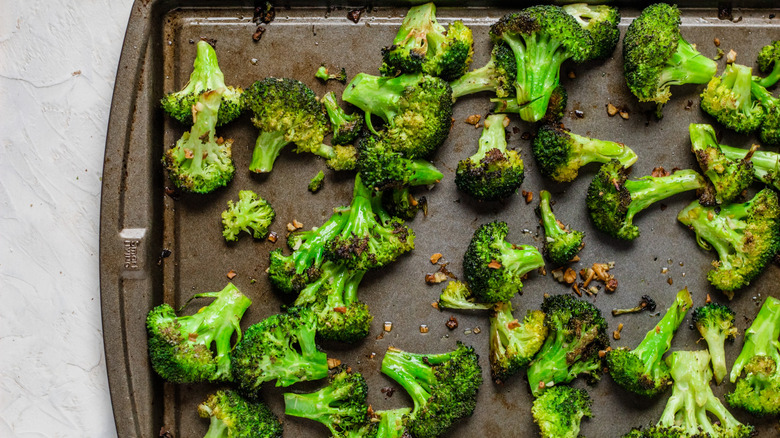 Jaime Shelbert/Mashed
Now, double-check to be sure that your oven has finished preheating. If it has, you can pop the broccoli onto a rack. Roast it for about 15 minutes until the florets get crisp and lightly charred.
When your timer goes off, the broccoli is good to go. Remove it from the oven and top it with a few of your favorite spices, such as chili flakes if you like a kick of heat. "Chili flakes are just a suggestion as a topping. You could do hemp seeds, or sesame seeds, or Parmesan," Shelbert shares. 
Garlic roasted broccoli serving suggestions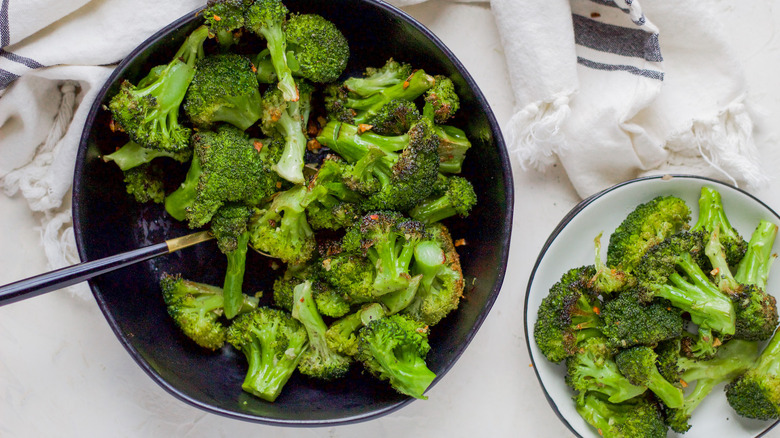 Jaime Shelbert/Mashed
This broccoli makes a great addition to any main course, or it would be great to serve by itself if you want to fill up on vegetables. You can serve it on a plate or in a bowl, and Shelbert gives a few good pairing suggestions: "This broccoli is an easy side to complement any protein and starch such as chicken and sweet potato, or tofu skewers and brown rice," she shares. We also think that it would be great in a stir fry or with a steak. 
Garlic Roasted Broccoli Recipe
This easy garlic roasted broccoli recipe is a delicious side packed with healthy nutrients. Enjoy it with your favorite protein or eat it solo.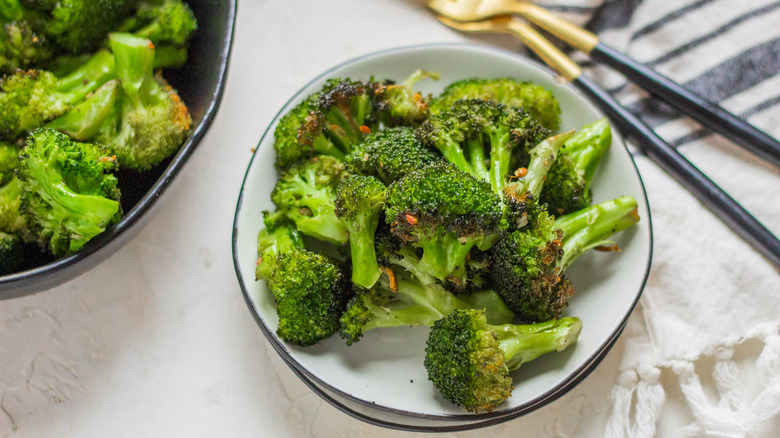 Ingredients
18 ounces broccoli florets, about 6 heaping cups
3 tablespoons extra-virgin olive oil, divided
½ teaspoon salt
¼ teaspoon pepper
4 cloves garlic, minced
Optional Ingredients
Parmesan
chili flakes
sesame seeds
Directions
Preheat the oven to 425 F.
Mince the garlic finely.
Coat a baking sheet with 1 tablespoon of olive oil.
Spread the broccoli in an even layer on the sheet pan.
Drizzle the broccoli with the remaining 2 tablespoons of olive oil.
Add the salt, pepper, and minced garlic and toss to cover the broccoli evenly.
Roast the broccoli in the preheated oven for 15 minutes until it just begins to turn crisp and lightly charred.
Remove the broccoli from the oven and serve.
Top it with Parmesan, sesame seeds, or chili flakes if desired.
Nutrition
| | |
| --- | --- |
| Calories per Serving | 104 |
| Total Fat | 8.5 g |
| Saturated Fat | 1.2 g |
| Trans Fat | 0.0 g |
| Cholesterol | 0.0 mg |
| | |
| --- | --- |
| Total Carbohydrates | 6.2 g |
| Dietary Fiber | 0.1 g |
| Total Sugars | 0.0 g |
| Sodium | 260.7 mg |
| Protein | 3.2 g |