What Whole Foods Is Saying About Its Policy On Black Lives Matter Masks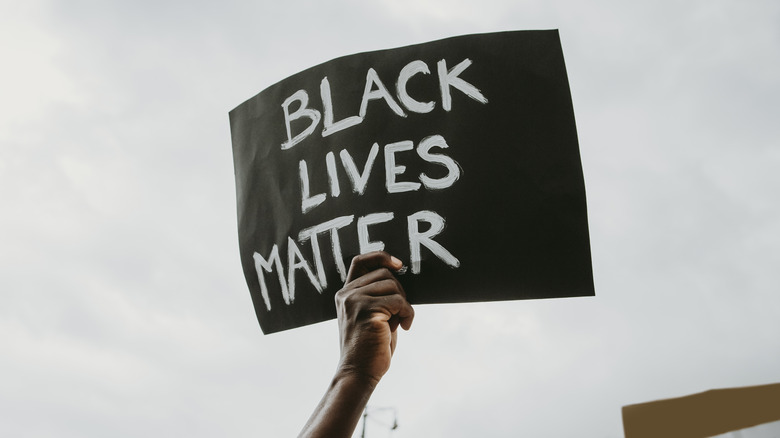 Eugenio Marongiu/Shutterstock
Over a year ago, Whole Foods rolled out a new dress code policy that prevents employees from wearing loud or busy patterns on their clothes or face masks and bans pins or clothing with messages or text, per Insider. Employees didn't take this change kindly, and a group of workers at the grocery chain ended up filing a lawsuit against Whole Foods over the fact that they couldn't wear Black Lives Matter face masks (via Reuters). The workers who wore these face coverings initially got reprimanded by Whole Foods before taking the company to court over claims of racial discrimination. A federal judge formally dismissed this case in February 2021, ruling that the business didn't engage in racial discrimination by forbidding the masks.
According to Bloomberg, U.S. labor board prosecutors intend to reopen this case and have made claims that Whole Foods' decision to ban clothing displaying Black Lives Matter messages and the subsequent punishment of employees who donned face masks by firing them or sending them home was unjust and illegal. Current federal labor laws safeguard any collective worker's actions in response to workplace issues or conditions, and prosecutors claim that Whole Foods' disciplinary actions infringed on the workers' rights. While a judge dismissed the initial ruling, it looks like this case, among many others, has the potential to reopen. In response, Whole Foods has recently given an updated statement about its policy. 
Whole Foods continues to stand by its actions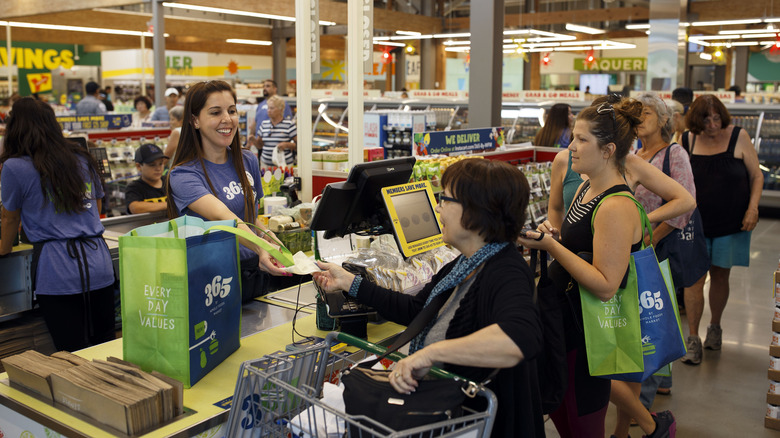 Bloomberg/Getty Images
As the legal case begins to reopen, Whole Foods has held its ground. "Our dress code policy is designed to ensure we are giving Team Members a workplace and customers a shopping experience focused entirely on excellent service and high-quality food," Whole Foods said in a statement, per Bloomberg. "We do not believe we should compromise that experience by introducing any messages on uniforms, regardless of the content, that shift the focus away from our mission." 
The new statement is very similar to the company's response after getting pushback when it first put the new dress code policy into effect in late 2020. In addition to Whole Foods, the National Labor Relations Board also plans to reexamine racism and discrimination cases previously put forward by employees at Apple, Google, and Netflix (via Insider).
The current Whole Foods action now consists of employees from store locations across California, Massachusetts, New Hampshire, Pennsylvania, New Jersey, Virginia, Maryland, Georgia, Washington, and Indiana. If a judge reaches a new ruling, the ramifications of the potential lawsuit might have ripple effects across businesses throughout America.