Domino's Introduced A 3-Course Meal Pizza, But Only In This Country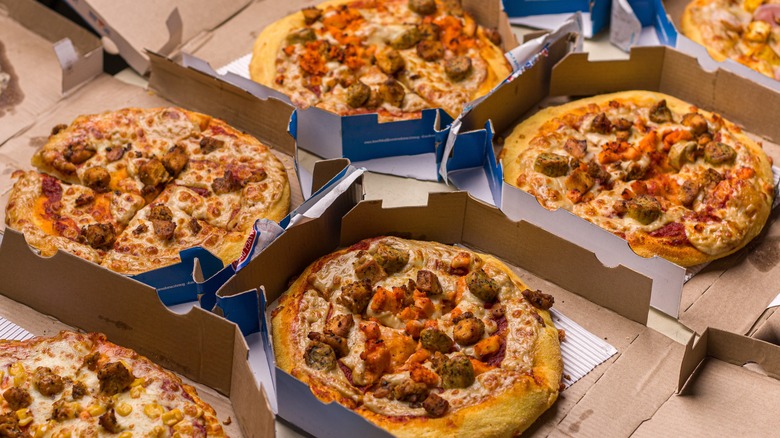 sdx15/Shutterstock
As a fixture in the fast food space, Domino's is a popular pizza pick for foodies in different parts of the world. Per Insider, the brand has been intent on perfecting its delivery services from the very beginning. Why? The first Domino's outlet in Ypsilanti, Michigan, was too tiny for customers to be able to eat inside — so the company hired local workers to deliver the pizzas instead.
Since then, the brand has gone to great lengths to build its international presence. Depending on where you are in the world, you can sample some super interesting Domino's pizza flavors, as reported by The Takeout. For instance, it's possible to buy an asparagus and Camembert pizza for yourself in Japan and a spicy plantain pizza in Nigeria. Domino's new giant pizza that's only available in one country, however, just might take the cake (or pie) for the brand's most unique offering yet. Per Chew Boom, this dish is as impactful as a three-course meal.
Domino's new South Korean pizza has surf and turf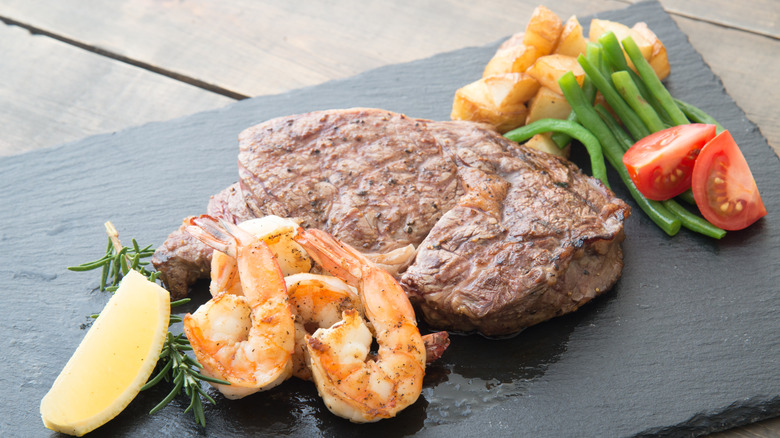 Atsushi Hirao/Shutterstock
As reported by Chew Boom, customers will now be able to order a new Domino's dish called the Master Triple Course Pizza — but only at participating locations in South Korea. As its name implies, the pizza is divided into three sections or "courses:" appetizer, main, and dessert. The meal begins with an Italian-inspired combo of tomato compote, white balsamic sauce, and ricotta — and then gets kicked up a notch with Korean barbecue-style beef, shrimp, and flower squid. The last and sweetest section has bits of cheesecake with sweet potatoes and fromage blanc cream cheese mousse. To top it all off, diners also get to enjoy some wasabi mayo sauce on the side.
The Master Triple Course Pizza is expected to be sold for a limited time only and is priced at the equivalent of $23.71 for a medium-sized pie or $28.70 for a large. Sounds like just the sort of dish you want at your next multi-course dinner party, no?