Instagram Is Loving Robert Irvine's Salute To Pearl Harbor Veterans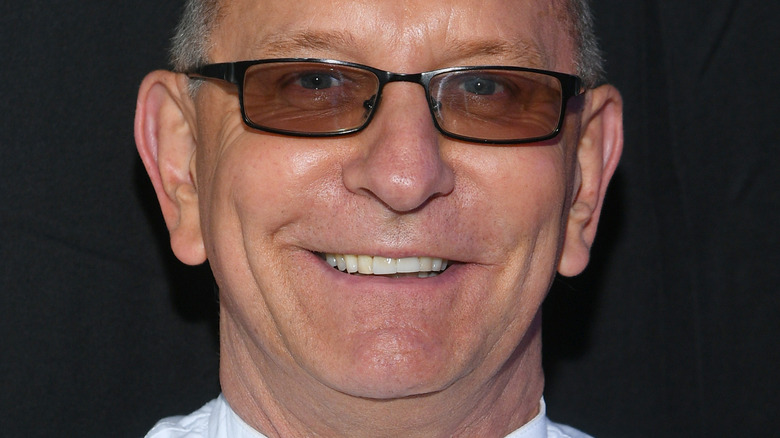 Dave Kotinsky/Getty Images
We already know Robert Irvine fairly well for his show Restaurant: Impossible, where he attempted to help failing restaurants get back on their feet. Sure, many of the restaurants featured on the show went out of business for various reasons within five years, but at least we know Irvine's heart is in the right place.
Irvine started his culinary career in England's Royal Navy, where he first learned to cook at the young age of 15. Since then, Irvine has opened two restaurants, started several food companies, written four books, and appeared on numerous Food Network shows.
More recently (and perhaps more importantly), this tough-love chef launched the Robert Irvine Foundation. According to the oragnization's website, Irvine created it in hopes of "giving back and supporting our military (active, retired, and veterans), first responders, their families, and those in need through resiliency, health, and wellness programs, in addition to the financial support of top-rated military and first responder organizations." One of the biggest fundraisers thrown by the foundation is its annual Beats 'N Eats Food + Music Event, which brings together top tier chefs and musicians for a one-night party of fabulous food and music. The 2019 event alone raised more than $255,000, per Cision PRWeb.
But raising money isn't the only way the Robert Irvine Foundation supports troops and vets. 
Gratitute and love filled the comments on Irvine's Pearl Harbor anniversary tribute video
In early December, Robert Irvine posted a video to his Instagram profile. The three-minute clip (screenshot above) shows Irvine and countless others cheering on as 63 WWII veterans make their way through the airport. Where were they headed? Well, for the 80th anniversary of the Pearl Harbor attack, Irvine partnered with American Airlines and Best Defense Foundation to organize a trip back to Pearl Harbor in Hawaii for the vets. And they're not just any vets. As Irvine described them, the group included "six remaining survivors of Pearl Harbor — 12 over 100 years old, one 103 years old."
The star chef also described a dinner he'd thrown the night before for 350 honorees, and teased a "big luau" that the 63 travelers would enjoy once they reached the Aloha State. "We're gonna have a lot of fun with these guys ... and I'm the hostess with the most-ess, so let's go!" Irvine said. Over 22,000 people viewed the clip, many of them dropping comments thanking Irvine for his generosity. Others extended thanks to the veterans and Pearl Harbor survivors. Still others reminisced about their own beloved veterans, with some even getting emotional.
"I'm not crying, you're crying," wrote chirishgirl74. This is great! I have tears in my eyes from watching," laremicupcakes commented, adding, "Thank you for doing this."