The Incredible Celebrity Chef That Cooked For Baking It's Maya Rudolph - Exclusive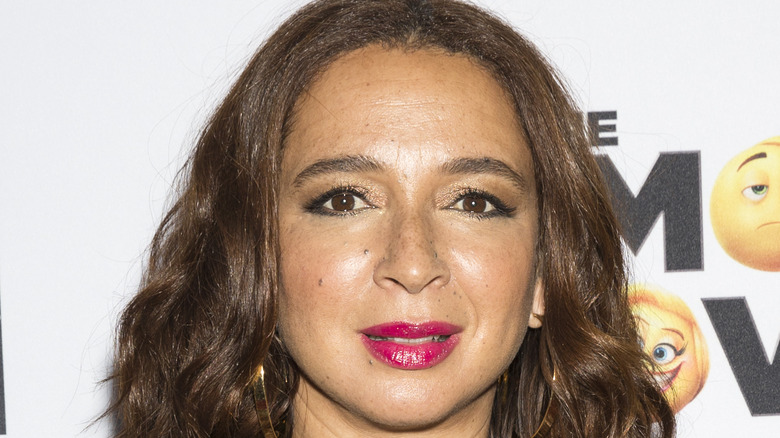 Ovidiu Hrubaru/Shutterstock
If you only had a few minutes to decide which celebrity chef you'd like to cook a meal for you, you might find yourself just as stumped as Andy Samberg and Maya Rudolph did when prompted with the question during an exclusive Mashed interview that quizzed the co-hosts and producers of Peacock's new "Baking It" series on all things food. Though the show is formatted as a competition between teams made up of two home bakers who are judged by grandmas with real culinary chops, both Rudolph and Samberg provide the comedic relief and extra entertainment that the contestants need to keep pushing through the competition. But, as for their own opinions on food, the former "Saturday Night Live" alums definitely needed time to consider the famous chef they would like to dine with if given the chance.
Samberg eventually gave up and said, "I don't have an answer." And Rudolph added, "It's ... too complicated," but also warned, "You are talking to somebody who is going to take this question really seriously. Damn, where do I begin? ... I mean, what day of the week do we want to start [with]?" But the pressure didn't keep the two from continuing to consider the possibilities. "I feel like as soon as this ends, I'm going to be like, 'Oh, I should have said them,'" Samberg explained before Rudolph frantically yelled, "Wolfgang Puck!" Though both struggled to make the ultimate choice, it turns out one of them already had an incredible meal prepared for them by a culinary star. 
The celebrity chef that wowed Maya Rudolph's taste buds was David Chang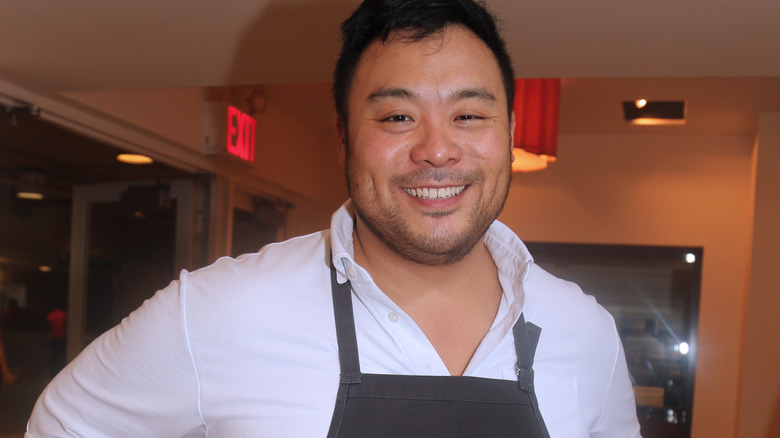 Leonard Zhukovsky/Shutterstock
Maya Rudolph did reveal to Mashed about how much she loved the food she had the chance to try from chef David Chang. For those unfamiliar with this incredible talent, Chang has received two Michelin Stars for his restaurant Ko, three James Beard Awards, and was nominated for the "Outstanding Chef" James Beard Award, according to Star Chefs. But, many people might also know him from his more recent hit restaurant group, Momofuku. 
It's no wonder Rudolph couldn't think of someone else she'd like to have cook for her when she has recently experienced the magic of Chang first-hand. "I'm not going to lie ... I just got to eat something that David Chang made, and it might have changed my life. ...I don't feel like I will ever be the same molecularly again." When Samberg heard that, he definitely agreed that Chang is a great pick. If we only get to experience dishes by our dream celebrity chef once in lifetime, consider it mission accomplished for Rudolph.
Watch all six episodes of "Baking It" streaming now on Peacock.