Things You Never Thought To Make On The Grill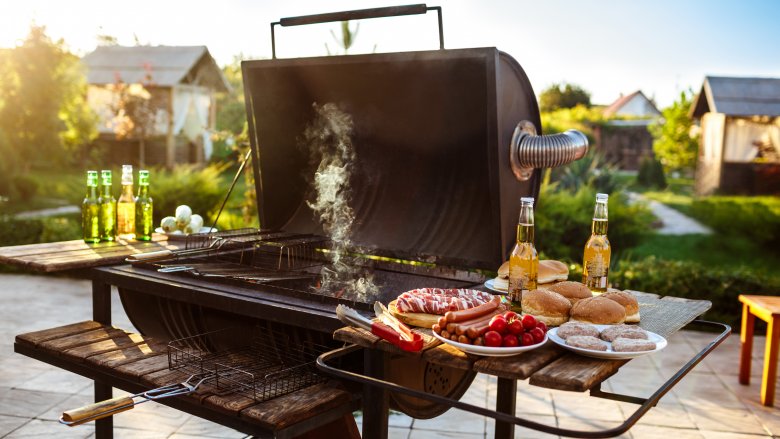 Shutterstock
What were you planning on making on the grill this weekend? Burgers and hot dogs? C'mon, that's so basic.
If you're planning on firing up the backyard kitchen this weekend, why not think outside the box, and throw some things on the grill that are deliciously unexpected? From appetizers, to salads, to the main course, you can create it all on your grill... as long as you use a little forethought and preparation. 
Pizza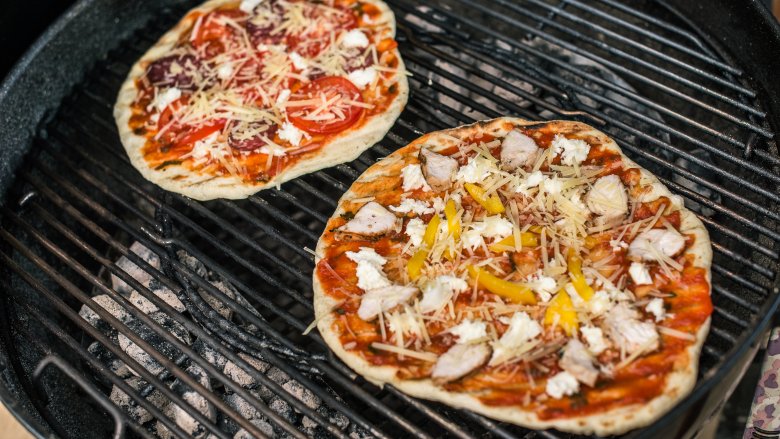 Shutterstock
If you love the blackened char a pizza crust gets when it's spent some time in an uber-hot coal or wood burning oven, then pizza grilling is for you!
Start out with your favorite homemade or store-bought pizza dough, or pick some up from your local pizzeria. Pound and stretch out the dough on a floured surface until you've created a round or oblong shape, and a thickness of about a half an inch. It doesn't have to be perfect! The key now is to cook the dough on a hot grill before adding any toppings. I like to drizzle the dough with some olive oil before grilling, and throw on a pinch of salt. Cook one side of the dough if you like a softer crust, and both sides if you like it very crusty and chewy, like me. Add the toppings of your choice to the side that's uncooked (or undercooked), and toss back on the grill until they melt. Helpful hint: it's going to take no time at all to melt the cheese on your pizza, so you may want to precook other toppings like veggies before adding them to your grilled pie. Mangia!
Tofu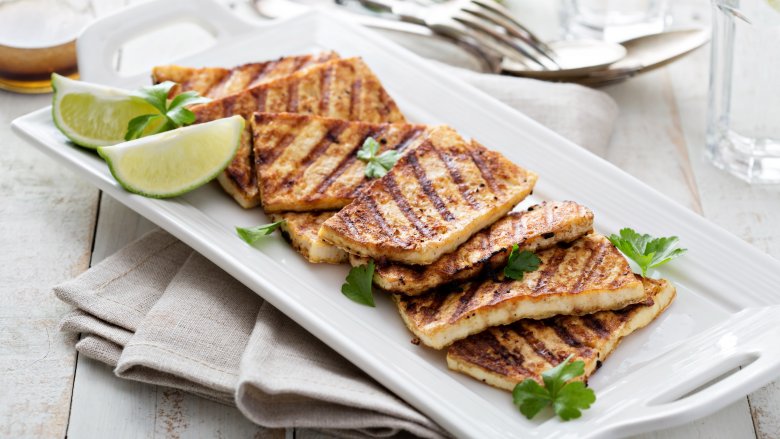 Shutterstock
You're bound to have some vegetarians visiting your backyard this BBQ season... don't they deserve something more tantalizing than a grilled frozen vegetable patty?
Tofu, when prepped and cooked correctly, makes for an entree-worthy backyard main dish that can proudly sit alongside steaks, ribs, and chops. To achieve awesomely grilled tofu, start out with the non-silken variety of firm tofu. Open up your tofu package, and dry very well.
Now you've gotta give that blah block of tofu some flavor. Marinating or heavily seasoning is crucial to developing a flavor that doesn't resemble eating pencil erasers, so be sure not to skip this step. You could soak the tofu in BBQ sauce, jerk seasoning, Italian dressing, or any combo of flavoring you like. Tofu doesn't taste like much on its own, so you can really go crazy here. Now cook the tofu slices low and slow on indirect heat, flipping for nice grill marks. Add some more marinade before serving, or else the tofu may be too dry.
Beer-can cabbage
Ok, so you have no doubt heard of beer-can chicken... but what about beer-can cabbage?
As seen in this Epicurious video, you prep a head of cabbage by cutting out its core, and making a large hole. The extra cabbage you removed doesn't go to waste — instead, you'll use it to make a zippy, fresh cole slaw. The head of cabbage is fastened over a half-full can of beer, doused with BBQ sauce, and placed upright on a hot grill. Keep the grill covered, and baste the cabbage with more sauce every 15 minutes or so. Add some sliced onions to the grill the last time you baste. After 45 — 50 minutes, remove everything carefully from the grill, and chop the cabbage and onion, stirring in some more BBQ sauce for good measure. Use the cabbage creation as the topper, or star attraction in some fantastic sandwiches.
Fruit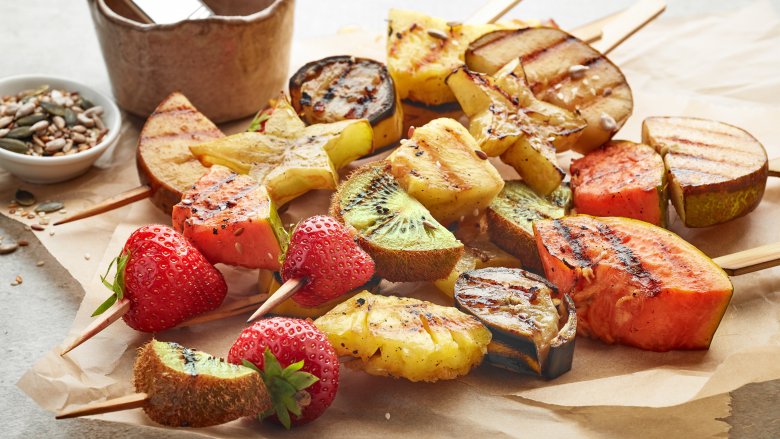 Shutterstock
I don't know about you, but I don't get particularly jazzed about fruit — I'd prefer a plate of deliciously prepared veggies any day. But when fruit gets grilled, that's something I can get into. Rodale's Organic Life highlights some of the best grillable fruits, according to John Schlimm, author of Grilling Vegan Style.
Schlimm says that regardless of the fruit you select to grill, it should be coated with olive oil before it hits the hot grates. Indirect heat is best for fruit, which should be watched, as it doesn't take long to cook. So what are the best fruits to grill? Watermelon, peaches, plums, and even strawberries all get high marks, from Schlimm, who says you can enjoy them as-is, or added to your favorite salads.
Salads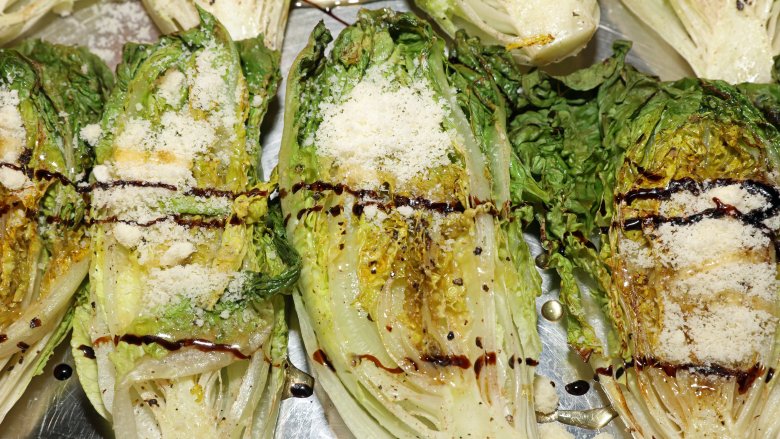 Shutterstock
Grilled salad? Has the world gone mad? Not quite.
It seems that leafy greens, when left intact, can stand up to the grill quite well, developing a smoky char that pairs beautifully with rich sauces and tangy vinaigrettes. Don't believe me? Check out this list over at Buzzfeed that features 39 drool-worthy salads that all feature greens or other ingredients that were made on the grill. There are definitely some that I cannot wait to try, like a grilled kale salad with ricotta and plums, grilled romaine and red bell peppers, and a grilled pineapple and cucumber salad. My favorite even made the cut, a grilled sweet potato and scallion salad that I picked up years ago from a Bobby Flay cookbook.
Cheese
No, not that kind of grilled cheese.
I'm talking about putting cheese directly on the grill. But only certain types of cheese will stand up to that kind of pressure. Serious Eats shares their best ideas for how to grill cheeses, choosing steaky, firm cheese like the Greek cheeses halloumi and kefalotyri, which develop a nice crust and soft, salty interior when cooked over indirect heat. You could also try a hearty slice of Italian provolone, or a packaged, Mexican "grilling cheese."
 And how about cooking an entire wheel of brie cheese on the grill? As you can see in this video, you top the cheese as you please, and wrap the wheel of brie in foil. Place it on a hot grill until nicely melted for a decadent and rich cookout treat.
Quesadillas
Even easier than grilling a pizza, grilled quesadillas give you that charred, crispy edge that I know I crave, and can really perk up some old flour tortillas that have stayed too long in the fridge.
Watch this video to catch the master of Mexican flavors, Rick Bayless, craft his own backyard grilled shrimp quesadillas with manchego cheese and smoky grilled red onion thrown on for good measure. Once you have this easy method down, you can top your quesadillas however you like. Mine would definitely get a smear of refried beans, sharp cheddar cheese, and plenty of grilled veggies... and don't forget the sour cream and guacamole for dipping!
Veggie steaks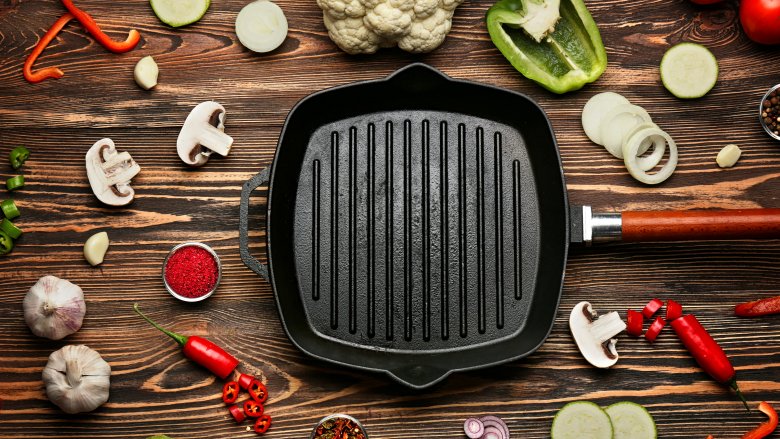 Shutterstock
It's certainly no secret that you can grill veggies, but it takes some really special veggies to have a meaty enough texture and flavor to take the place of a real steak on your dinner plate.
At Kitchn, thick slices of fresh cauliflower are doused with a smoky mix of chipotle chili powder, lime zest, and paprika, and placed on the hot grill. The caulisteaks are basted with honey, garlic, and olive oil until browned and tender at their center. The finishing touch is some fresh chopped cilantro and a squeeze of fresh lime juice.
At Minimalist Baker, giant vertical slices of eggplant get the Jamaican jerk treatment, with a homemade jerk seasoning marinade of tamari, coconut sugar, ginger, chili, cinnamon, coriander, and cayenne. The eggplant steaks are grilled and served atop a bed of rice.
Desserts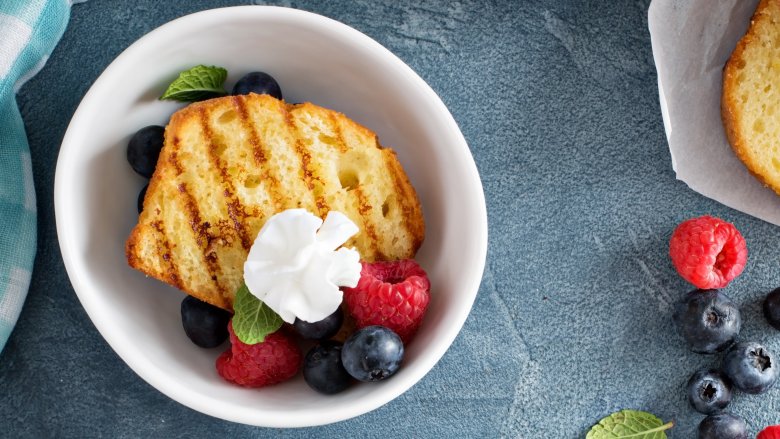 Shutterstock
You can't truly call yourself a grilling champion until you've mastered the way to prepare all facets of a meal on the grill... and that includes desserts.
Taste of Home has selected their top ten favorite recipes for creating decadent and sweet backyard grill desserts. Standouts include grilled angel food cake with strawberries, grilled banana splits, chocolate dessert wraps, and an ooey gooey pot of s'mores.
At Better Homes and Gardens, they're tossing whole glazed doughnuts on the grill, and dipping them in a bourbon-spiked mint julep dipping sauce.
With all these fantastic grilling ideas, there's no reason not to use the grill every night of the year!