What Celebrity Partnerships Actually Do For Fast Food Chains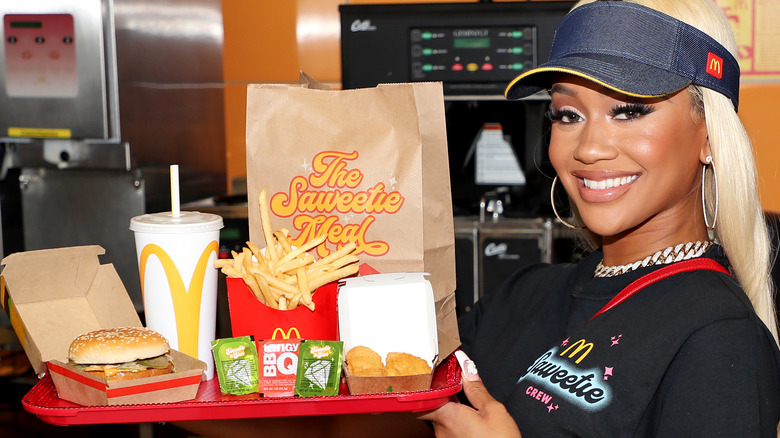 Jerritt Clark/Getty Images
Fast food chains such as McDonald's, Tim Horton's, and Dunkin' have all started embracing a trend that is perceived to be a game-changer in the industry: celebrity collaborations. Per Business Insider, many experts believe that celebrity-centric promotions can boost a brand's sales in powerful ways and help them appeal to more customers, especially younger ones who love to follow their favorite celebrities and influencers on social media.
McDonald's began this strategy in 2020 by working with Travis Scott to sell a meal that included some of the rapper's favorite items: a Quarter Pounder, medium fries with barbecue sauce, and Sprite. The company reported that its sales went up by nearly 5% in three months (via Eat This, Not That). The chain is pursuing the strategy again — this time for the holidays with singer Mariah Carey. Per CNBC, consumers will receive attractive deals for 12 days if they order through the McDonald's app. The special menu features the Big Mac, a sausage biscuit, McNuggets, and Carey's recommendation: a cheeseburger. 
McDonald's isn't the only brand experimenting with high-profile endorsements. As reported by The New York Times, Dunkin' worked with TikToker Charli D'Amelio on coffee drinks, Popeyes created a "hottie sauce" for rapper Megan Thee Stallion, and Justin Bieber and Tim Hortons recently released a new donut product called Timbiebs Timbits. So what do these celebrity promotions do for fast food chains apart from giving them a little extra clout?
Celebrity promotions give fast food chains free marketing
According to Vox, companies such as McDonald's have turned to celebrity partnerships to cope with the financial losses they experienced during the pandemic. As brand consultant Edward Cotton told Vox, "They're looking for the biggest bang for the buck and the simplest solution." According to Cotton, these celebrity collaborations work so well because they often don't require chains to spend time and resources on creating an entirely new menu item, as they can have influencers highlight existing products instead.
Per The New York Times, celebrity collaborations also give fast-food restaurants the opportunity to draw customers to the deals and loyalty programs on their apps through social media marketing. Through consumers' activity on apps like Instagram, companies are able to figure out what kinds of posts and push notifications encourage people to order more frequently from their restaurants. Plus, many social media users share photos of their celebrity meals, such as Megan Thee Stallion's Popeyes sauce or Saweetie's McDonald's meal, online, which is a form of free marketing.
Not all fast food chains are jumping on this trend, however. Thrillist reports that A&W came up with an entirely different campaign focusing on its staff members instead of famous people. The campaign called participating staff "the true stars of A&W" and was designed to boost employee morale amid labor shortages.