Jollibee's New Meal Is Perfect For Spice Lovers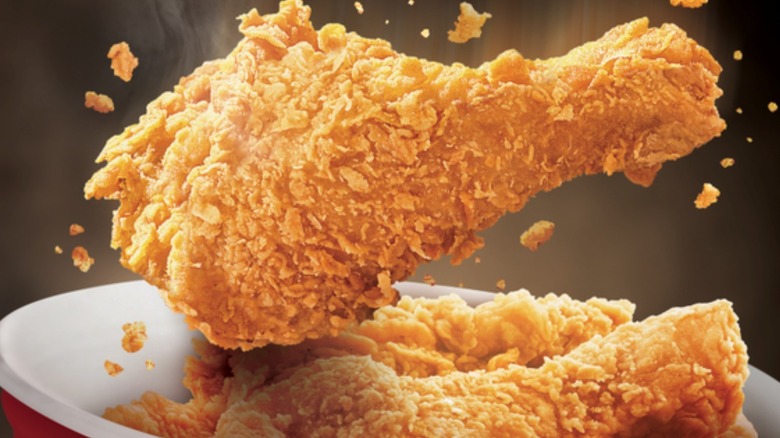 Jollibee
Few can argue that the Filipino fast food chain Jollibee has made its mark across the U.S. According to Thrillist, items like the Chicken Sandwich, Peach Mango Pie, and Chicken Dippers rank as some of the best foods at the restaurant, but can't hold a candle to the ChickenJoy. Some have compared this fried chicken to KFC and its side of gravy makes it stand out from the competition. Others have rated it as the best fried chicken product that you can get at a fast food chain, and even has the potential to take down giants like Chick-fil-A, per CNBC.
While many adore the ChickenJoy, those craving a spicier option now have a reason to celebrate. The chain has finally introduced a new version of the ChickenJoy with an extra kick of heat in the form of their Spicy ChickenJoy (via PR Newswire). The new product, which is available at Jollibee locations nationwide, features pieces of breaded, marinated poultry that come in two-piece meals, three-piece meals, six-piece buckets, 10-piece buckets, and family meals.
A new spicy Jollibee specialty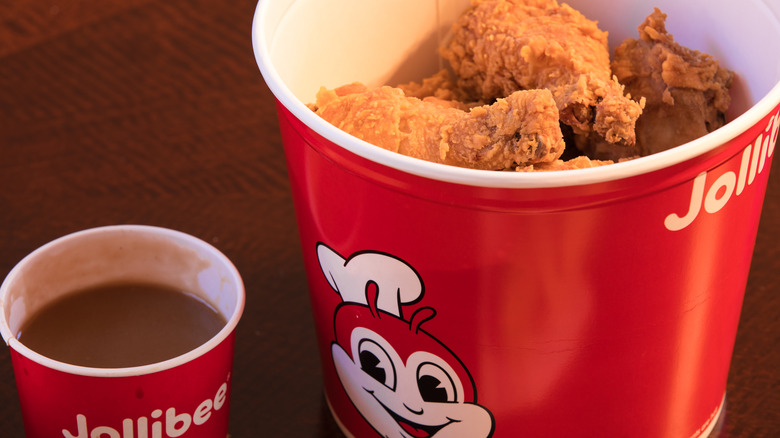 RYO Alexandre/Shutterstock
Anyone who has ever wanted an extra bit of spice during their Jollibee experience can now rejoice, as the chain offers the Spicy ChickenJoy starting at $5.49 and plans to keep it in rotation for the foreseeable future (per PR Newswire). 
While this product officially launched in the U.S. on December 8, many have tried it at other Jollibee branches across the globe in years past. One Singapore-based reviewer at Oo-foodielicious was able to sample this hot chicken in 2020. They enjoyed the heat locked in each bite and found that the signature gravy went well with the item. The official announcement made no mention of the meal coming with gravy this time around, so you might just have to get it on the side. 
If you count yourself as a fried chicken lover or someone who just wants more spicy options in their life, make sure to keep the Spicy ChickenJoy on your radar. With any luck, it might just live up to its potential to take down KFC or Chick-fil-A.