An Early Perkins Menu Featured This Unlikely Combo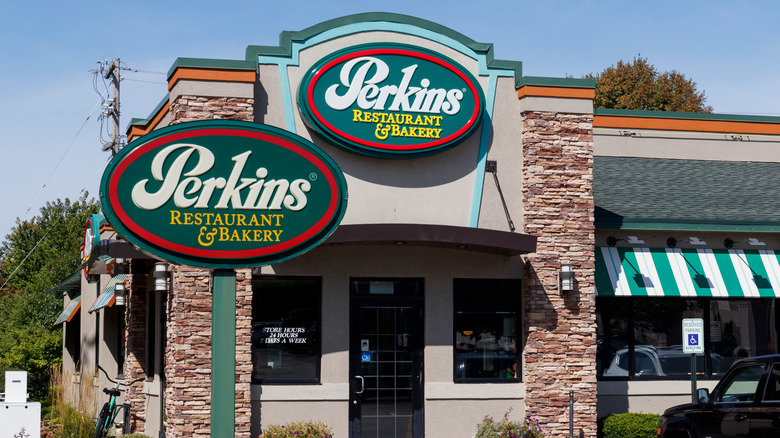 Jonathan Weiss/Shutterstock
Have you ever eaten in a Perkins Restaurant & Bakery? The popular breakfast chain has nearly 400 locations across 32 states (via ScrapeHero) and falls into the same category as Waffle House, IHOP, and Denny's.
According to Funding Universe, the restaurant was established in 1958 in Cincinnati, Ohio. Back in the day, early Perkins restaurants were particularly well known for their pancakes, offering up to two dozen varieties ranging from standard buttermilk to banana to a Swedish variety. Over the years, the breakfast menu has expanded greatly, now featuring loaded plates such as the "Tremendous Twelve," with three eggs, four buttermilk pancakes, potatoes, and four strips of bacon or four breakfast sausages, and a classic eggs Benedict with grilled ham and hollandaise (via Perkins Restaurant). But some old-timers might remember the old menu's interesting pancake varieties. In the '50s and '60s, the restaurant served some unexpected options you've probably ever heard of.
A little curried tuna with your pancake?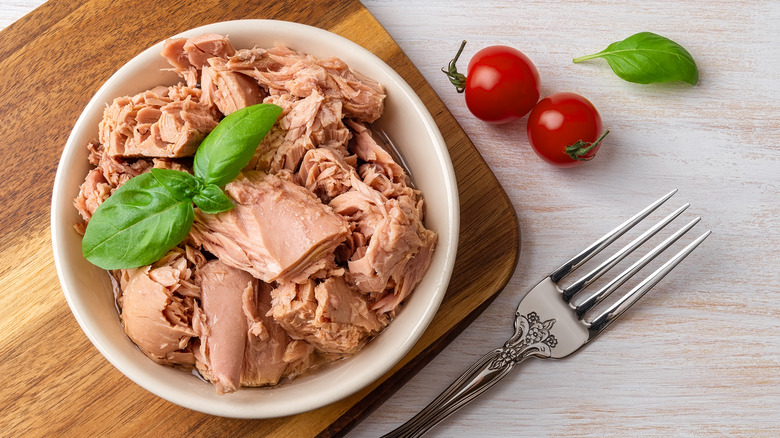 Maryia_K/Shutterstock
The Perkins Restaurant & Bakery chain got its start in 1958 as "Perkins Pancake House" (via Perkins Restaurants). Today, Perkins has scaled back to just a few pancake varieties on their online menu: buttermilk, blueberry, potato, and the occasional seasonal flavor. Do you wonder which pancake delights we could have enjoyed back in the '50s and '60s? According to Funding Universe, the breakfast restaurant was known for its lengthy menu of two dozen pancake and waffle varieties, including potato and banana options for pancakes, as well as coconut and butter pecan waffles.
One pancake combo that has us intrigued is "curried tuna," apparently an option on early Perkins menus. Now, we're not quite sure if the seasoned fish was heaped atop already-cooked pancakes or stirred into the batter, but our interest is definitely piqued. While the idea of fish at breakfast sounds a bit odd by today's standards, is it really all that different than enjoying some nice lox or whitefish salad on a bagel? We might just put away the syrup and bust out the tuna the next time we sit down to pancakes at home.