Here's How To Make Magnolia Bakery's Iconic Cupcakes At Home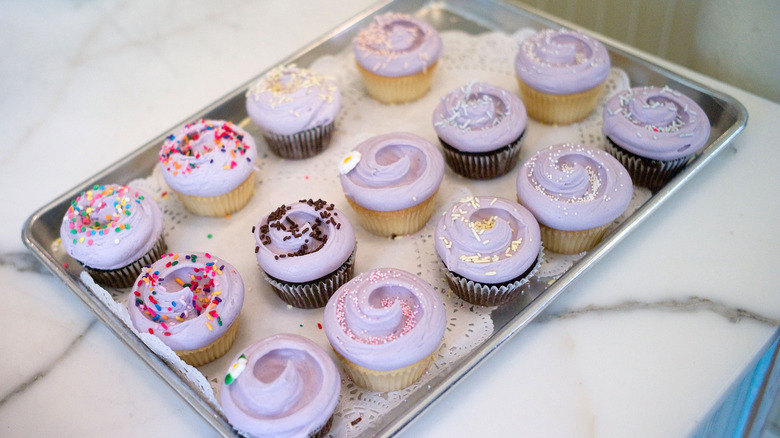 Ben Hider/Getty Images
Those of us who have been around a while might remember the time when "Sex and the City" was a thing, and when every shop or restaurant Carrie, Miranda, Charlotte, and Samantha patronized became hot and fashionable. In fact, well over a decade after the original series ended in 2004, New York City tourists were still making pilgrimages to actual eateries featured on "SATC." According to The Ringer, touring companies even sprouted up to support this specific fan tourism, including one called On Location, whose marketing director told the outlet that even in 2018, it was still conducting "10 tours per week" based on sites from the popular HBO show alone.   
On of the most popular locations is a tiny New York Bakery at Bleecker Street on the corner of West 11th Street, which became the backdrop for a 2000 episode titled "No Ifs, Ands, or Butts." Viewers were introduced to Magnolia Bakery, where Carrie and Miranda purchased vanilla cupcakes with dainty pink frosting. The pastry was immortalized in 2007 when the bakery decided to create the Carrie Cupcake. "We chose the same cupcake she's eating in the show — a vanilla cupcake with pink pastel vanilla buttercream — and added a classic daisy decon, one of our signature decorations," Magnolia chief baking officer Bobbie Lloyd told Insider.
But now, there's even more great news for both fans of the show and these sweet treats. 
Magnolia Bakery shared its Carrie Cupcake recipe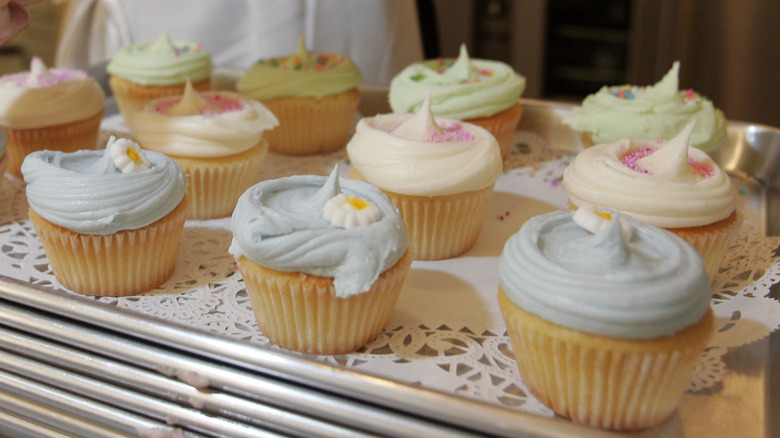 Bloomberg/Getty Images
There are numerous copycat Carrie Cupcake recipes online, but there's only one OG cupcake recipe — or as Magnolia chief baking officer Bobbie Lloyd told Insider of the bakery's best-seller, "This staple Magnolia Bakery product has been around for a quarter of a century, and we are sure it will be popular for years to come." But now, you don't have to trek to The Big Apple to get one (or let's be honest, several), as Magnolia recently shared its recipe with Insider, so we can make the treat at home. 
To make the Carrie Cupcakes you'll need cake flour, baking powder and baking soda, salt, whole milk, sour cream, unsalted butter, sugar, vanilla extract, and eggs. These components combine to make Magnolia's classic vanilla cupcakes. And the great news is there's no special technique beyond your standard separate mixing of dry ingredients and wet ingredients before slowly incorporating the latter into the former. The process for making the dessert's distinctive pink buttercream is slightly more detailed, and requires the addition on of the following ingredients in a particular order: unsalted butter, pure vanilla extract, powdered sugar, whole milk, and daisy sugar decorations.
As for the color of the frosting, you can mix it up with any food coloring you like — just be sure it matches with whatever pair of Manolo Blahnik heels you happen to be sporting around the kitchen that day!