Emeril Lagasse Posted This Short And Sweet Birthday Message To His Daughter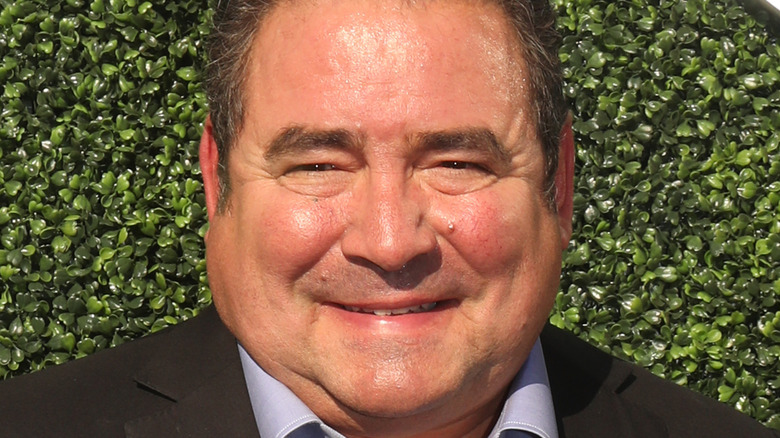 Leonard Zhukovsky/Shutterstock
Chef and food celebrity Emeril Lagasse's love for his daughter is so sweet. He recently posted a sweet birthday message to daughter Meril Lagasse on Instagram, writing, "Happy Birthday, Mookie! Love, Dad." Meril responded in a simply adorable fashion saying, "Love you!!" followed by two heart emojis. 
Fans are rightfully swooning over the father-daughter love from these two. Among a flood of well wishes and "happy birthdays," some comments note how the adorable young VSCO girl (via Instagram) has grown. Instagrammer Lindsay Bassett, who goes by goblinseekr, wrote, "Oh my! Merit [SIC] is so grown! I remember her as a munchkin when I worked at Delmonico and she wanted to make Shirley temples all the time. They grow so fast!" Jason Knowles, who follows under the name hard_target_training_group, also added, "Wow how time flies! She's all grown up. Hope you and Alden and family the best."
And speaking of growing up, many fans remember some of Lagasse's other loving tributes to his daughter as well.
Emeril and Meril make foodie magic
Emeril Lagasse shared the sweetest father-daughter pic of his up-and-coming foodie in 2004. Meril was young and pig-tailed, wearing her own chef's coat. Emeril wrote, "With my youngest daughter, Meril on the opening day of Meril. So proud," (via Facebook). In this case, Lagasse was referring to his new restaurant Meril, which he named after his daughter — it's also a play on his own name. It's definitely clear there is some family pride in this close group.
Meril the restaurant is described as Emeril's "latest concept and fourth restaurant in New Orleans" (via Emeril's Restaurants). Featuring his signature open kitchen style dining, the restaurant boasts a large selection of wine and craft cocktails and Emeril's favorite dishes, including "Wood Fired Flatbreads, Gulf Fish Tacos, Korean. Chicken Wings, and Fettuccine Nero."
Meril is Emeril's youngest daughter with Alden Lovelace (via People). The couple also shares son Emeril John Lagasse IV (E.J.), who is two years older than his sister. Emeril also has two older daughters from a previous marriage.