COVID Hasn't Stopped Spam From Breaking Sales Records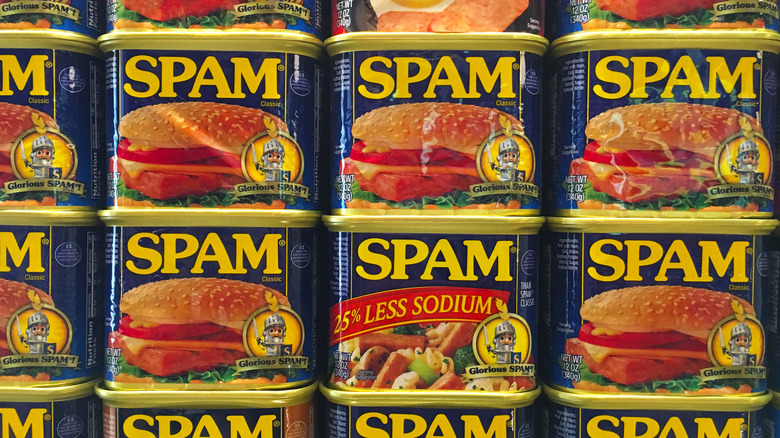 Steve Cukrov/Shutterstock
Restocking your Spam closet in 2021 may have been more time-consuming than ever. After all, the year started off with some unique challenges for Spam lovers. Back in January, grocery retailers like Costco and Sam's Club were limiting the number of Spam products customers could secure in one transaction. This was partly because Spam brand owner Hormel saw its safety stock depleted from production and supply issues related to the pandemic in 2020, according to Supply Chain Dive. It was also simply because shoppers were buying a lot of Spam.
It turns out, Spam has some qualities that make the canned meat product especially desirable during a pandemic (via Business Insider). On the surface, it's inexpensive and has a long shelf-life, but also there's a nostalgia element that seems to be working in Spam's favor, according to brand manager Brian Lillis, who said, "Its versatility makes it an easy tradition to pass down from generation to generation." This particular combination of qualities, much like Geoff Esper eating 13 cans of Spam in eight minutes at the 2021 Spamarama World Spam-Eating Championship (via Major League Eating), makes for shattered records.
Spam sales broke records this year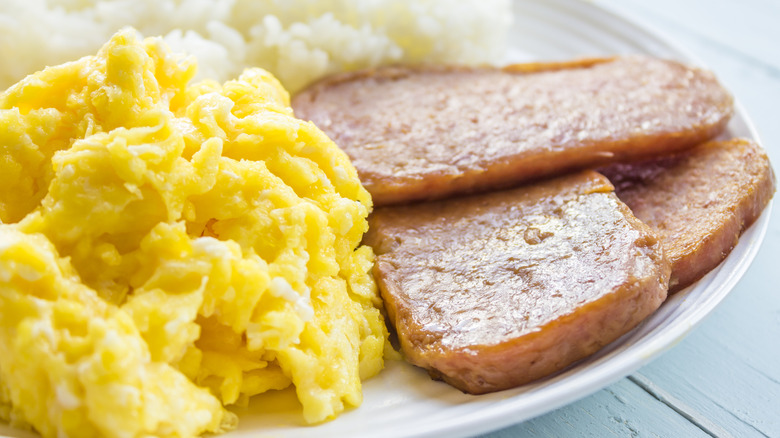 Leigh Anne Meeks/Shutterstock
It was a very good year for Spam. According to BBC, the Minnesota-based brand made a whopping $3.5 billion in sales, making for a record high for the seventh consecutive year. In the interest of keeping a good thing going, Hormel has also signed a five-year contract for pork supplies. This should limit the effect of supply chain issues, making it easier to stock up on all your Spam favorites.
BBC pointed out that residents of the continental United States aren't the only Spam buyers helping break records. According to the outlet, Spam is especially popular in the Asia Pacific region in places like Hawaii where Spam with eggs and rice is a welcome breakfast meal. Regardless of where you live, Spam fans will have something to look forward to soon. According to BBC, new Spam products are in the works. Fans would no doubt love to hear what Hormel will come out with next; in fact, that would be one Spam email we wouldn't even mind receiving.