This Is Giada De Laurentiis' Favorite Holiday Song
Kathy Hutchins/Shutterstock
"Chestnuts roasting on an open fire," Nat King Cole sings in "The Christmas Song." There's nothing quite like a holiday song to get you in the spirit of the season ... and make you extremely hungry. Roasted chestnuts do sound pretty good right about now.
If you were trying to guess your favorite chef's favorite holiday song, something with food in the lyrics would feel like a safe choice. Maybe you'd say "It's the Most Wonderful Time of the Year" and those "marshmallows for toasting." Another solid guess: "We wish you a Merry Christmas" and all the delicious talk of figgy pudding. Or maybe the classic latkes verse "We'll give you a treat/Dreidels to play with and latkes to eat" from "Hanukkah, Oh Hanukkah"?
While all of these seem like great choices for a food lover, if you're trying to guess Giada De Laurentiis' favorite holiday song, you're gonna have to think a little more niche. In fact, her favorite tune for this time of year is so specific, it'd be hard for anyone who doesn't know her personally to know the answer. Lucky for us, she recently divulged the song she can't get enough of during the holiday season. Keep reading to find out what it is.
De Laurentiis loves an Adam Sandler song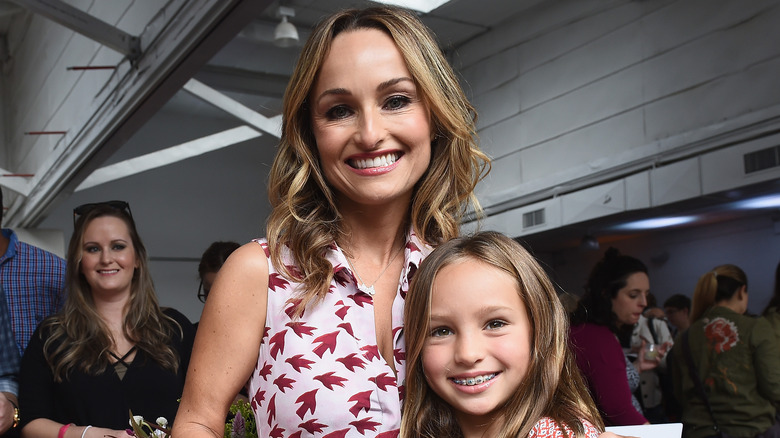 Ilya S. Savenok/Getty Images
According to an article in The Food Network, De Laurentiis' favorite song is ... drum roll, please ... "The Adam Sandler Hanukkah song." She followed up by saying that she and her daughter Jade sing it every year. If you've never heard the song, it's probably because it stems from an SNL sketch where Sandler deemed there weren't enough Hanukkah songs, so he wrote one with lyrics detailing a long list of famous Jewish people. If we've piqued your interest, he's also got a Christmas song and a Thanksgiving song. 
De Laurentiis, who divorced from Jade's father after 11 years, recently shared a sweet moment on her Instagram showing her and Jade decorating a Christmas tree in their home with the caption, "Beginning to look a lot like Christmas #mommymoments." And from the smiles on their faces, it's clear both were having a pretty great night. 
Though Hanukkah is over for this year (via Almanac), we can only hope she and Jade got the chance to sing their favorite song together while getting into the holiday spirit.