The Celebratory Reason Michael Jordan Will Be On Wheaties Boxes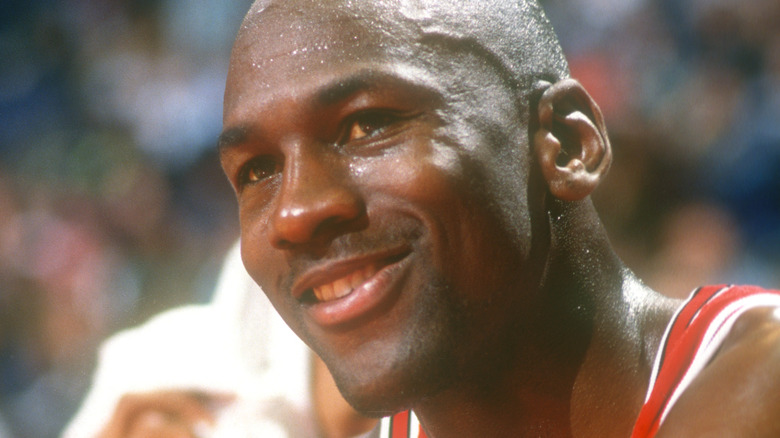 Mitchell Layton/Getty Images
If you happen to be in Charlotte, North Carolina, look out the window. You might see Bubba Wallace — "the first African American to win a NASCAR Cup Series race since 1963," according to a press release from General Mills — handing out special cereal boxes from a Wheaties-themed Toyota Camry. General Mills explains that those are Michael Jordan Gold Foil Wheaties Boxes that have been designed especially for the brand's celebrations of its 100-year anniversary. The gold foil boxes have sold out, but basketball fans can still get the regular orange Wheaties boxes featuring Michael Jordan in stores. 
"We are so proud to launch the next box in our anniversary series honoring one of the greatest sports stars and most-decorated Wheaties athlete in history," Kathy Dixon, senior brand experience manager for Wheaties, said. Old-school NBA fans may have seen His Airness defy gravity on a regular basis, ascending to heights that remain unmatched in the minds of some. The official NBA website describes him as "the greatest player the game ever has seen." Along with winning six NBA championships and just as many Finals MVPs as a Chicago Bull, Jordan was a 10-time league leader in scoring, a 14-time All-Star, and a member of the NBA star-studded 1992 Olympic Dream Team.
How Wheaties won champions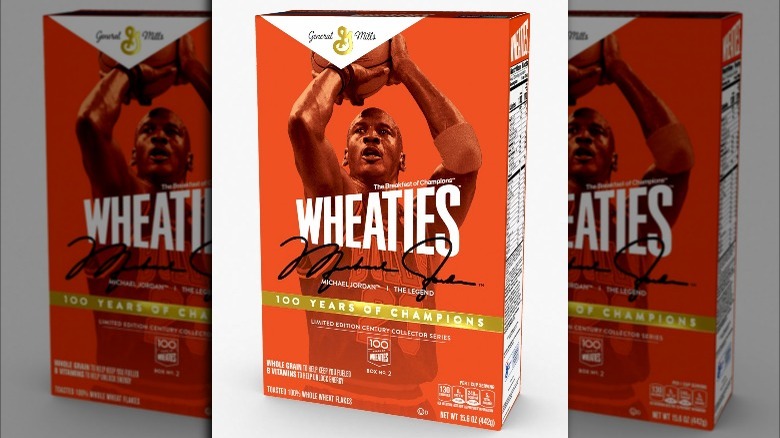 General Mills
In 2022, Wheaties will also partner with 23XI Racing, the racing organization Michael Jordan owns and for which Bubba Wallace drives. "To be able to honor MJ as part of the Wheaties 100th anniversary celebration and have Wheaties join the 23XI Racing family is special for our team," Wallace commented (via a General Mills press release). The Greatest cereal box series began in June with Muhammad Ali, according to The Shelby Report.
Issuing special boxes of sporting legends makes perfect sense for a cereal that is branded as "The Breakfast of Champions." But why is a cereal owned by General Mills laying claim to this title? Perhaps unsurprisingly, it has to do with successful advertising. Michael J. Lansing, a professor of history at Augsburg University, explained to Smithsonian Magazine that the cereal brand had to deal with the newest health fad of the 1920s: whole wheat flour. Dieticians were telling people that choosing whole-grain foods would improve their digestion. To illustrate how healthy its product was, Wheaties introduced Jack Armstrong, a fictional athlete. The company quickly realized, however, that its cereal could appear even more healthy by featuring real, successful athletes and sponsoring various sporting organizations. People would see them as healthy by association.
Now, about a century after Wheaties was founded, Michael Jordan appears on its boxes for the 19th time, firmly establishing Wheaties as the cereal of champions.