The Surprisingly Practical Reason So Many Old Diners Look Like Train Cars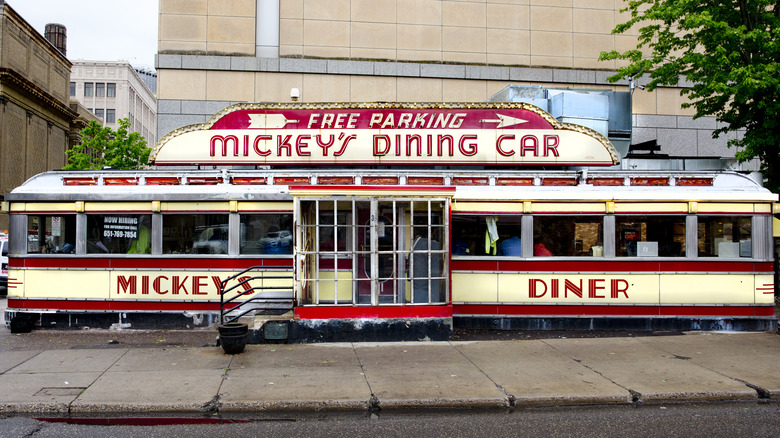 Iris van den Broek/Shutterstock
Although those clickbait news stories about how someone found a potato chip that's the spitting image of Jesus or witnessed George Washington reincarnated as a chicken nugget seem completely crazy, perhaps they're not as bizarre as they seem (via First We Feast). After all, we can all often look to the skies and see patterns in clouds and the stars.
The fact that food and drink can be formed into spectacular creations only adds to the evidence that impressively accurate cooking designs are possible. Skilled baristas applying their expert details to coffees and the extraordinary cakes featured on "The Great British Baking Show" are both examples of this.
Now consider the traditional 1950s American diner, complete with back-to-back seats, perfectly sequenced square windows, and a glimmering exterior. Have you ever noticed how much it looks like a train car? That's blown your mind, hasn't it? Step aside Kim Kardashian, we'll break the internet from now on.
Diners were heavily influenced by the style and sophistication of railroad dining cars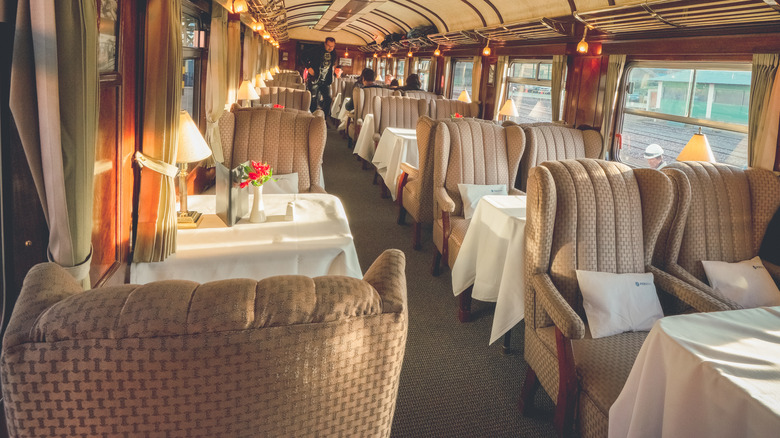 Avim Wu/Shutterstock
It's not a coincidence that so many diners have the uncanny resemblance to train cars — there are some significant reasons that explain the striking comparisons. To start with, we have to take a look back to the 19th century.
According to Reader's Digest, the late 1800s saw many people rely on horse-drawn food wagons for convenient, mobile meals. However, these were significantly less sophisticated than the glamorous dining cars providing tasty cuisine to high numbers of passengers using the railroads. As such, Atlas Obscura explains that companies began constructing pre-built dining cars that were then shipped out to serve hungry customers in towns and cities.
Atlas Obscura further notes that these were often transported by rail, resulting in their size being constrained to that of a normal rail car. The same attractive designs of train dining cars were also maintained, including compact seating plans, metallic styles, and curved roofs. The only difference between railroad dining cars and the pre-constructed eateries was their eventual name — diners.