Dunkin' Coffee Is More High-Quality Than You Thought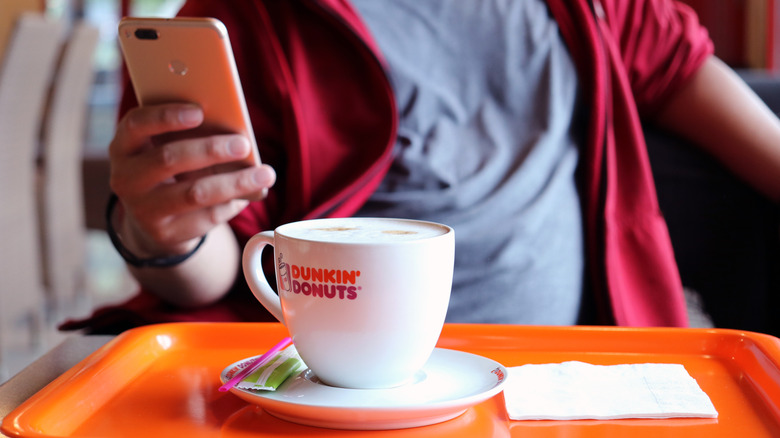 septian intizom armedi/Shutterstock
What words generally come to mind when thinking about Dunkin' Donuts coffee? Do you think premium, superior, and gourmet, or are you more likely to think fast, convenient, and inexpensive? Well, the good news is there is no reason to choose, as Dunkin' Donuts is as serious about their coffee as they are about their famous donuts. They are serving up some tasty coffee to please their customers far and wide and have a tried and true system that ensures that there is quality and integrity in every cup (via Dunkin' Donuts).
The commitment to coffee is not only about the excellence of the beans; There is also a strong focus on sustainability, as well as accountability for how and where the coffee is sourced. They joined The Sustainable Coffee Challenge in 2018, which is a group of government agencies, companies, and research institutions who have committed to making coffee the world's first 100% sustainable agricultural product (via Tea & Coffee Trade Journal).
What types of coffee can you find at Dunkin'?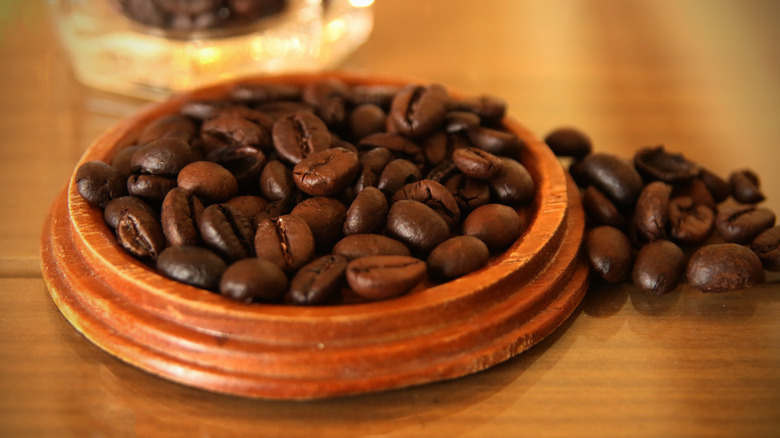 promsri/Shutterstock
Everyone knows that a good cup of coffee starts with the beans, and according to their website, Dunkin' Donuts uses 100% Arabica coffee beans. A member of the Rainforest Alliance since 2010, the beans receive a certification that recognizes environmental sustainability that empowers farmers by allowing them to negotiate for themselves in the global marketplace and improve their livelihoods. They then work with farmers in Mexico, Brazil, Columbia, Peru, Nicaragua, Guatemala, and El Salvador, where the beans are harvested and sorted for quality before being delivered to each location.
You can typically find their Rainforest Alliance Certified™ Dark Roast coffee, Cold Brew, and Macchiato, as well as their signature Original Blend, Original Blend Whole Bean, Decaf, Dark Roast, French Vanilla, and Hazelnut coffee for sale on Dunkin' Donuts' website. It's no wonder they have bragging rights for selling approximately 2 billion cups of hot and iced coffee per year (via mudman).
Where can you find Dunkin' coffee?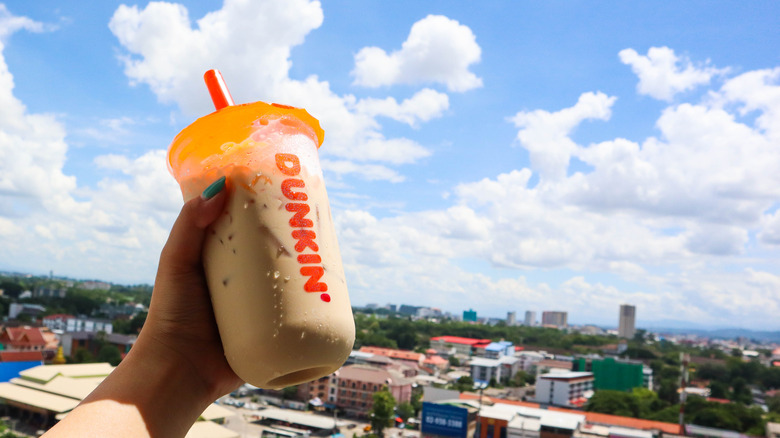 bbearlyam/Shutterstock
The big question is what is needed to get a Dunkin' Donuts coffee fix? The simplest and easiest way is to visit one of their many store locations. Currently, there are more than 12,000 Dunkin' Donuts restaurants in 45 countries around the world (via Dunkin' Donuts). There you will find a menu offering a plethora of hot and cold coffee drinks, that are served with a smile and go down smooth each and every time.
You don't stick around and become as successful as Dunkin' Donuts without innovating, and when it comes to that department they are well ahead of the game. The addition of an online store called Dunkinathome makes satisfying coffee cravings easier than ever. There you can find their delightful coffees ground or whole bean, freeze-dried or in cold brew packs, and even find their signature Dunkin' K-Cup® pods available at your fingertips so you can enjoy them anytime.