Instant Noodles Fans Need To Know About This Museum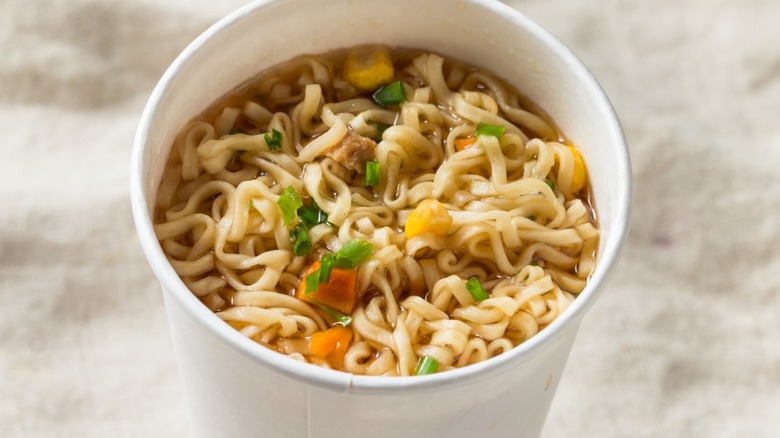 Brent Hofacker/Shutterstock
If you've ever wanted to participate in a Cup Noodles tasting room or dreamed of creating your own flavor of instant noodles, now's your chance! Cup Noodles fans now have the opportunity to get up close and personal with the instant ramen brand at the official Cup Noodles Museum based in Japan. Opened by its parent company, Nissin Food Company, Cup Noodles Museum is an interactive gallery where instant noodle enthusiasts can learn more about the history of ramen noodles while engaging in hands-on and tasty food workshops (via Japan-guide).
Since its grand opening, Cup Noodles Museum has expanded to three locations. According to HuffPost, the Momofuku Ando Instant Ramen Museum opened its Osaka location in 1999. After seeing the success and increasing interest in instant noodles by customers in Japan and around the world, Nissin Foods broke ground on a second location in Yokohama. On March 5, 2021, in celebration of Father of Instant Ramen and Nissin Foods founder Momofuku Ando's 111th birthday, the Japanese food company announced via press release that Cup Noodles Museum was adding another location to its repertoire. The 10,000-square-foot museum officially opened in Hong Kong later that month and features six brand new exhibits, including one exclusive to that location (via Time Out). Of course, the museums in Osaka and Yokohama have lots of experiences to offer as well.
Cup Noodles Museum, Osaka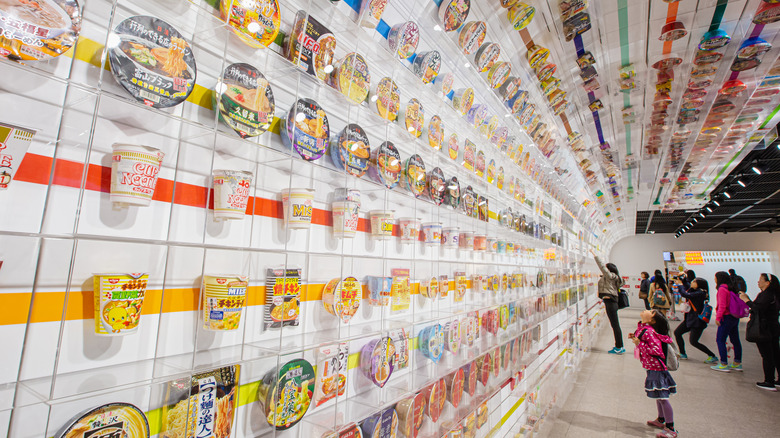 Supachai Panyaviwat/Shutterstock
There's a reason why Cup Noodles Museum has become one of the top travel destinations in Japan — it's something you truly can't experience anywhere else in the world. If you want the ultimate experience, then you'll want to visit the Osaka location. The city is not only home to the very first Cup Noodles Museum, but also considered the birthplace of instant ramen (via Osaka).
According to the official Cup Noodles Museum website, there are over 10 exhibits and attractions ranging from hands-on workshops, to a theater, to a tasting room. Those interested in learning more about the history of Cup Noodles will enjoy The Birth of Chicken Ramen, which features a recreation of the work shed where the first instant noodles were invented; Momofuku Ando and the Story of Instant Noodles, a life-size instant noodles timeline; and Traces of Momofuku Ando, a gallery of visual achievements and artifacts from the Cup Noodles founder himself. 
There are also interactive exhibits such as the Chicken Ramen Factory, where visitors learn how to make the flavored instant noodles by hand. Other hands-on activities include My Cup Noodles Factory (customize your noodles), Magical Table (test your Cup Noodles knowledge), and Tasting Room, which allows visitors to try different types of flavored instant ramen not native to Osaka. There is also a colorful Instant Noodles Tunnel, which displays all 800 Cup Noodles packaging labels to ever hit shelves.
Cup Noodles, Yokohama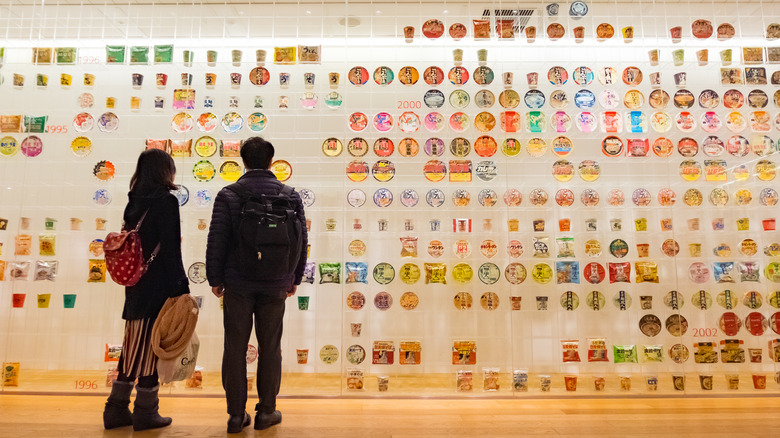 Nor Gal/Shutterstock
Similar to the Osaka location, Yokohama's Cup Noodles Museum offers a Chicken Ramen Factory, My Cup Noodles Factory, a theater, a recreation of Momofuku's work shed, and a visual timeline exhibit (via Cup Noodles Museum). However, there are five attractions exclusive to the Yokohama location.
Those searching for the perfect Instagram photo spot will want to make the Cup Noodles Park a top priority. The exhibit was constructed in a ginormous athletic facility and built to look like a real-life manufacturing and packing house. It aims to show visitors Cup Noodles' assembly process from start to finish through the perspective of a noodle. Other visual displays you can check out are the Instant Noodles History Cube, which is a redesigned version of Osaka's Instant Ramen Tunnel, and Creative Thinking Boxes, a modern art exhibit detailing Momofuku Ando's life work. The Cup Noodles Marble Coaster is another sightseeing display. Played every three minutes, a huge cup of Cup Noodles unleashes 4,000 marbles that flow down the coaster through different levels and obstacles, meant to mimic the different stages of the manufacturing process.
Be sure to come hungry because last but certainly not least is the Noodles Bazaar World Noodles Road. Described as an Asian night market, the food attraction's menu is inspired by the different noodles Momofuku Ando tasted while embarking on his own tour de noodle in Asia in search of the origins of noodles. Food is available for purchase.