Alex Guarnaschelli's Tabletop Bundt Maker Has Fans Jealous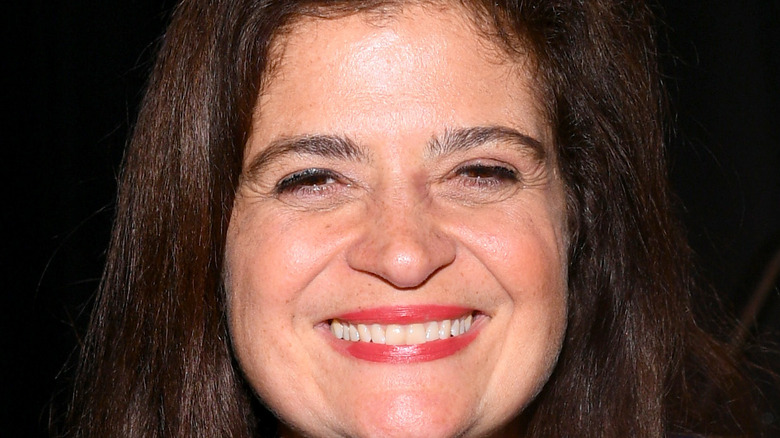 Dave Kotinsky/Getty Images
Alex Guarnaschelli, also known as ICAG (Iron Chef Alex Guarnaschelli), is known for her cooking expertise. She has her own restaurant, Butter, in New York City; she's one of the original judges of Chopped (per her website); and it's estimated that she's appeared on more than 600 episodes of Food Network shows over the years (via Variety). Basically, when she talks, fans listen, and they were all ears when the chef and television personality shared a video of her newest creation on Instagram: the "Alex by Dash Electric Flip Bundt Cake Maker," a tabletop Bundt cake maker.
Guarnaschelli posted the video to promote her appearance on QVC, where she was going to be promoting the device, which costs $54.95. According to her Instagram post, the product requires "No oven. No mess," but churns out "Perfect 8-inch cakes every time!" Fans on IG seemed fascinated. "Whaaaat?! How long does it take to bake a cake in it?" asked one fan (Guarnaschelli replied "15-20 minutes depending on what it is"), while another asked "Can you use a standard box cake mix?" ("Yes," replied Guarnaschelli). But it turns out the device does more than just bake cakes.
It makes more than just Bundt cakes
The Bundt cake maker doesn't just make cakes, which takes it out of "single use item" territory and moves it squarely into the convenient appliance realm. What else can it make? According to Guarnaschelli, "Meatloaf? Yes. Frittatas? Yes. Cinnamon rolls or biscuits? YES." She adds that everyone needs this product for the holiday season.
Some people had already gotten in on the action. "I can't wait until tonight, have already ordered one (don't tell my husband)" one fan commented, followed by a couple of crying-while-laughing emojis. Others were feeling inspired by the possibilities. "I want to fill that with eggs and make a Bundt omelet," said one aspiring chef. But the most poignant comment helped summarize what it is about Guarnaschelli that fans connect to so much: "Thank you for being a chef and also enjoying/not dogging fun kitchen gadgets like this!! We non-chefs like to hear you're real people in your home kitchens on occasion, too!"