Dickey's Barbecue Pit Teamed Up With Fritos To Create This New Taco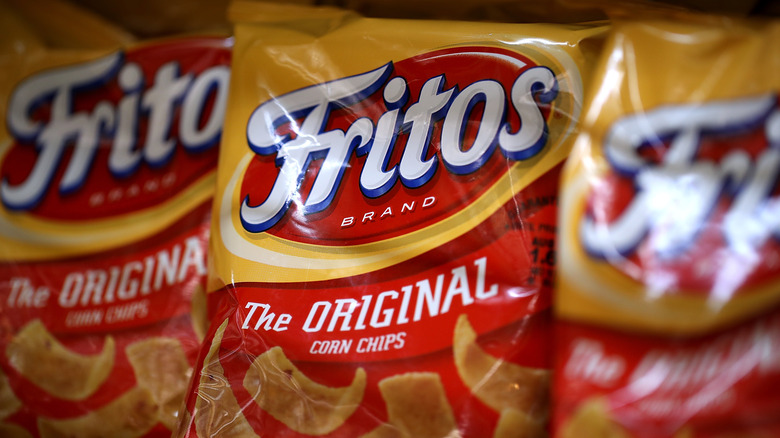 Justin Sullivan/Getty Images
When you eat at Dickey's Barbecue Pit, some items hit the spot and some meals miss the mark. According to Thrillist, the sausages, macaroni and cheese, pork ribs, coleslaw, and pecan pie all have the potential to please diners, but their brisket, sweet potato casserole, and potato salad all fell flat. One reviewer noted that the challenges this barbecue chain faced stemmed from using the same menu across the country and whipping up slow-cooked specialties that don't lend themselves toward consistent replication. But this franchise now aims to take their mission of serving up consistent barbecue a step further by teaming up with a snack food brand.
Chew boom reports that Dickey's Barbecue Pit now plans to offer their spin on a walking taco with some help from Fritos. This new item, which should grace participating location menus until February 2022, consists of Texas-style brisket chili, Poblano Queso, shredded cheddar cheese, and green onions on top of a mound of Fritos corn chips. The entire meal then gets served inside a Frito's branded taco bag. The item runs alongside a similar promotion encouraging diners to try the same brisket chili with beans as a side dish. This inventive dish falls in line with a long history of chains partnering with snack food brands and has the power to strike up images of Taco Bell's Doritos Loco Tacos (via Thrillist).
What is a walking taco?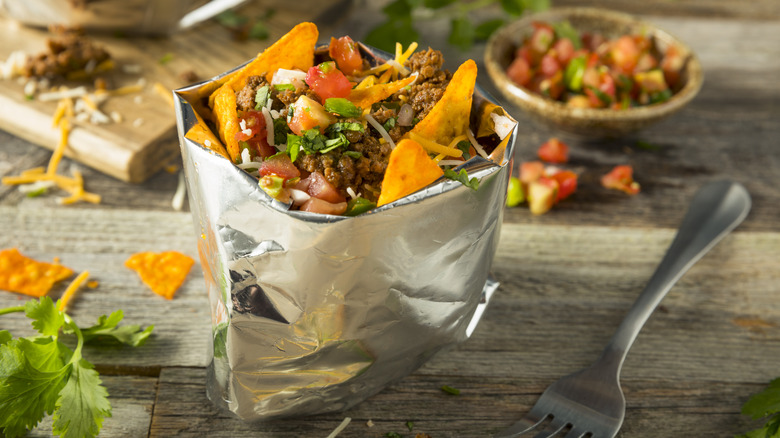 Brent Hofacker/Shutterstock
Dickey's Barbecue Pit has started advertising the Fritos "walking taco," a type of item you might have never come across. According to Taste of Home, a walking taco consists of chili ingredients like ground beef, ranch-style beans, and tomatoes that get cooked together on your stovetop and then poured over a freshly opened bag of corn chips. While many might opt to make this dish at home, some restaurants have started selling this novelty and serving their mix of toppings over Doritos, Cheetos, or Fritos chips, per TNT Walking Taco.
Through the collaboration with Fritos, Dickey's might have tapped into a brand new food trend that has the power to win over anyone who needs a quick bite. With any luck, the walking tacos might just take off, and you may even have the chance to sample these hot items in your area soon. Just make sure to grab plenty of napkins, as these particular items look challenging to eat without making a mess.