The Classic Holiday Treat You Won't Believe Chrissy Teigen Has Never Tasted - Exclusive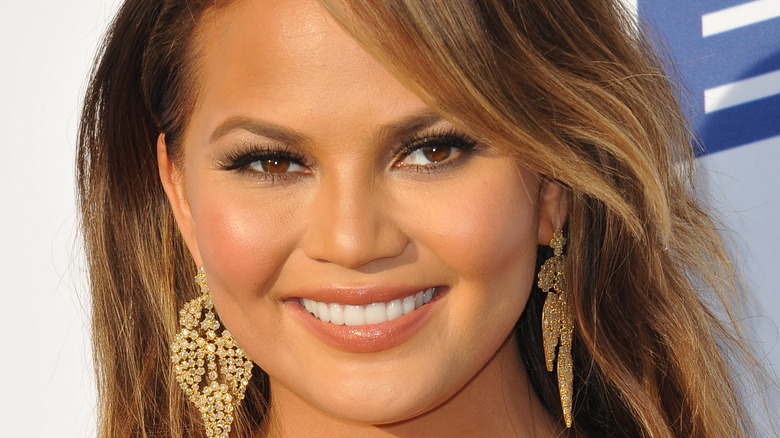 Jaguar PS/Shutterstock
Chrissy Teigen is the undisputed maestro of next-level hot chocolate. Take, for example, her recipe for hot cocoa with cereal marshmallows and dark rum-infused whipped cream, which you can recreate thanks to Cravings. Or, if you prefer a more PG version, consider making your cocoa with melted chocolate instead of powder and topping that with whipped cream and Teddy Grahams á la Teigen — another recipe that you'll find on Cravings. See? Queen.
The star has also been known to add nutmeg to her cocktails for a little extra zing ... and not just during the winter holidays, but year-round (at least according to what she once told Real Simple). Here's a woman whose holiday drink prowess rivals even Comfort Food Empress Ina Garten's candy-cane peppermint hot chocolate (available via Barefoot Contessa) and holiday-inspired pomegranate gimlets, which The Kitchn can't get enough of this time of year. Yet, incredibly, there is one holiday classic that Teigen has yet to sip on, although — as she admitted in an exclusive interview with Mashed — "It's right up my alley."
Chrissy Teigen has never tried eggnog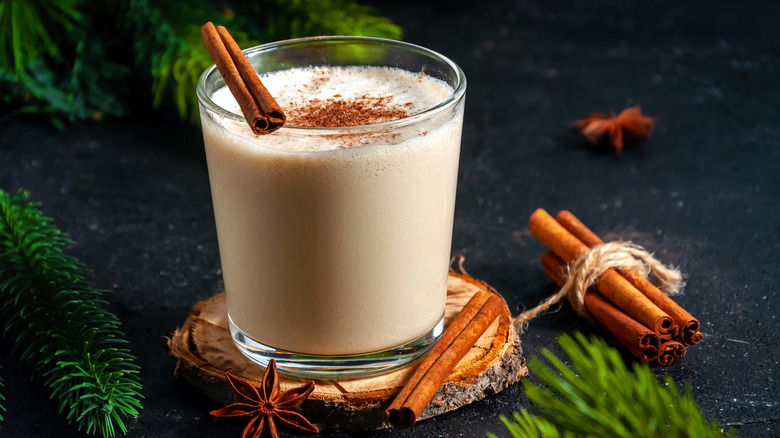 Svetlana_Belozerova/Shutterstock
Chrissy Teigen's husband John Legend, for the record, likes eggnog. "I don't ever really crave it, but it's like, it kind of is nostalgic," Legend exclusively admitted to Mashed. "And it reminds you that it's Christmas." Teigen, however, has never thought to taste the controversial holiday drink. "I've never had [eggnog] before," she divulged. "It wouldn't be something that I wouldn't have liked though, for sure ... It's right up my alley, but it also just screams hangovers for me."
The supermodel and best-selling cookbook author might have quit drinking, but — as Legend thought to remind her — that's no excuse for never trying the Christmassy drink. "You don't have to spike it," he told Teigen during their exclusive interview with Mashed. "You can have a virgin eggnog." To which she quipped back: "Oh, no. I'd rather be on a mission if I were going to choke down eggnog." So, there you have it — Teigen: 1, Legend: 0.
For more holiday recipe suggestions from Chrissy Teigen and John Legend, check out 12daysofchexmas.com, where you'll find Chrissy & John's Specially Curated 12 Days of Chexmas Holiday Countdown and other Chex holiday recipes. You can also tap into hosting hacks, crafts, and a gift guide, and be entered for a chance to win John and Chrissy's Ultimate Holiday Gift Haul, valued at over $500, by scanning QR codes on limited-edition holiday boxes of Chex cereal or by heading directly to the website.