Read This If You've Ever Wanted Mountain Dew Sneakers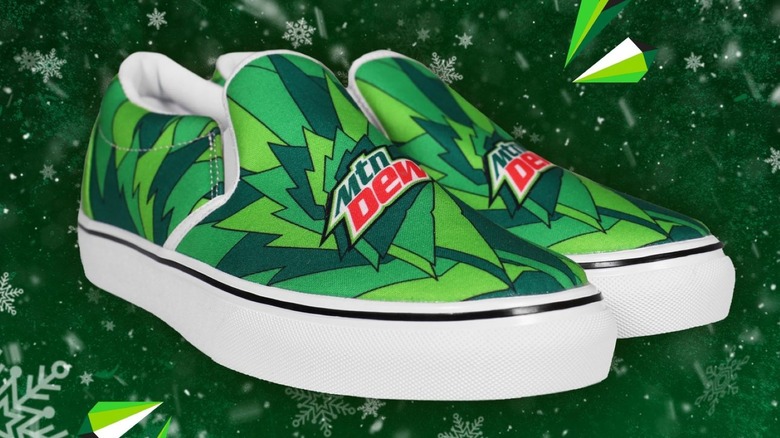 Mountain Dew
Sometimes, you need to show the world just how much you love your favorite soda. In a recent Instagram post, Mountain Dew shared a video of a Yeti hiding behind a Christmas tree while a group of people wearing Mountain Dew-themed clothing open presents filled with even more branded items. The post is captioned, "You never know when unexpected guests (or abominable snowmen) will stop by this holiday season. So, make sure you're prepped and ready with awesome gifts by checking out our latest drop of new MTN DEW holiday gear at The Dew Store," and contains a list of products now for sale by the brand, including ties, socks, and more. 
While a Mountain Dew bow tie could tempt the most devoted fans, the sneakers may turn out to be the most coveted item on the list. The footwear was listed for $63.50 on the Mountain Dew online store, but unfortunately for fans, they are already sold out.
Shoes for the ultimate Mountain Dew fan are hard to find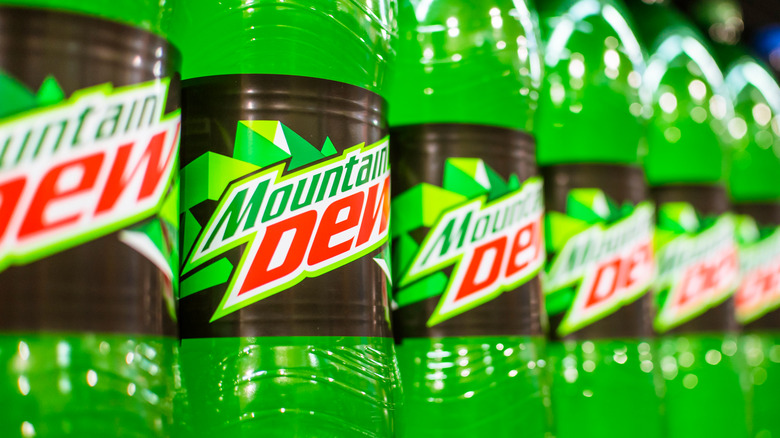 MDV Edwards/Shutterstock
It's surprisingly rarely to see official Mountain Dew-branded shoes. Sole Collector reports that the soda company released footwear as recently as 2020, but scoring a pair was not an easy feat. Fans who wanted these exclusive shoes had to complete an elaborate scavenger hunt through Philadelphia, aided by clues posted to Twitter. These shoes came about through a collaboration between Under Armour, Joel Embiid, and (of course) Mountain Dew. 
If you count yourself as a serious sneakerhead or Mountain Dew superfan, you're probably already drafting an email to the soda company asking when these shoes will be back in stock. With any luck, the brand will take pity on its biggest supporters and release more pairs for sale. If not, there's always the resale market ... although we're willing to bet these will going for a lot more than $65 secondhand.