Here's How KFC Japan Made Deep-Fried Soup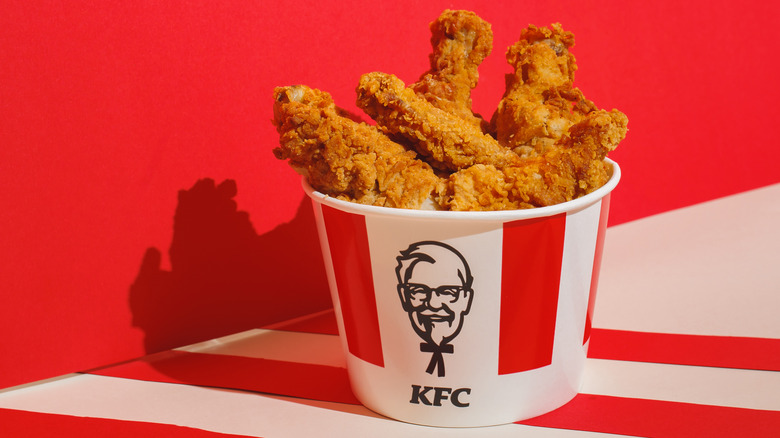 Pavlovska Yevheniia/Shutterstock
When Colonel Harland Sanders opened the first KFC franchise in the 1950s, the "Finger Lickin' Good" slogan was born (via Biography). And while the tagline was pulled temporarily in 2020 due to trying to keep with COVID protocols (per CNN), it has long been used to promote KFC's secret recipe of 11 spices and herbs. This famous recipe is so guarded, in fact, that according to NBC, the company claims that the original recipe from 1940 as written down by Sanders "is locked up in a digital safe that's encased in two feet of concrete and monitored 24 hours a day by a video and motion detection surveillance system."
But, the chicken chain hasn't always stuck to just chicken. In fact, it has promoted some pretty unusual items ... and not all of them edible. According to Food & Wine, KFC has produced everything from fried chicken pizza crust in the Philippines, to chicken-scented sunscreen. And Food Beast lists the shrimp burger from KFC China and the creamed corn and Philly cream cheese chicken sandwich from KFC Mexico as some other bizarre menu additions.
But, KFC Japan really takes the lead in the most unusual limited-edition meal.
KFC Japan introduced deep-fried soup nuggets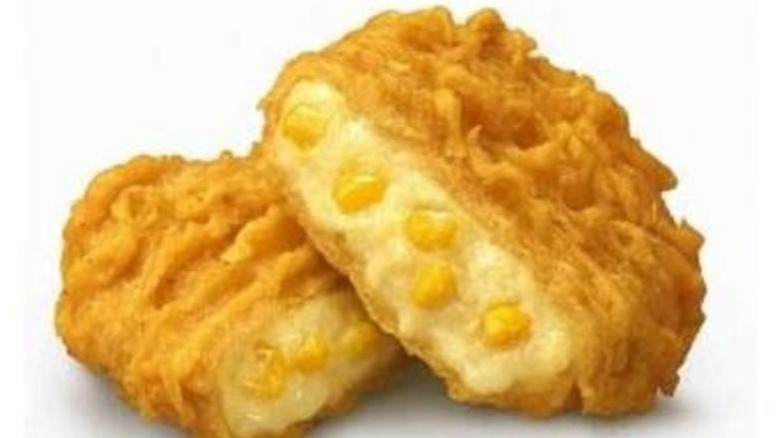 KFC
Back in 2013, KFC Japan jumped on the popular corn potage trend that was big then, and added deep-fried soup to its menu (via Delish). According to Master Class, corn potage is similar to a corn chowder and contains creamed corn, chicken broth, onions, milk, cream, and butter. Delish states that the food fad was kicked off by popsicle brand Gari Gari-kun that had added a corn potage flavor to its line of frozen treat products. It was such a hit that stores had trouble keeping it in stock. The soup then soon became a staple on Japanese café menus. 
While it's marketed as deep-fried soup (and really what could be more delicious than that?), KFC's concoction was really just breaded corn fritters with a "soft and creamy" center. According to The Huffington Post, the nuggets were made by covering a ball of corn potage in a batter and then deep-frying them in hot oil. SoraNews24 also explains that, according to a KFC Japan press release, the recipe they used was inspired by a recipe for potato and bacon fritters that was originally featured in Colonel Sanders' autobiography. For now the item has only been seen in Japan but maybe it'll make it to the States soon if we're lucky.