Chipotle Is Opening Its First Drive-Thru Only Location In This State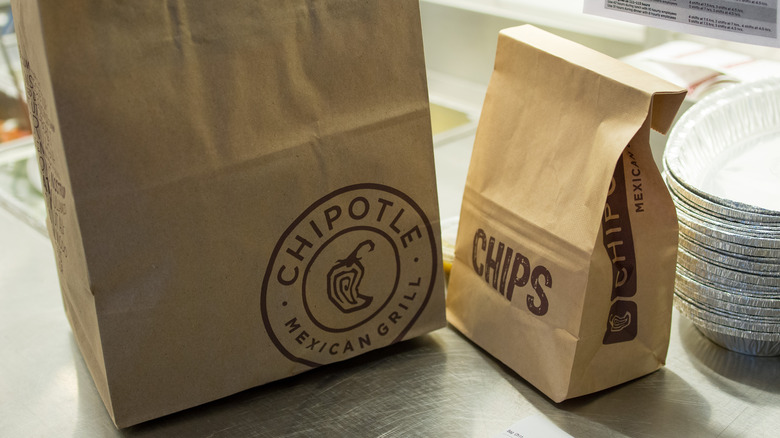 Bloomberg/Getty Images
Chipotle is known for its innovation in the fast-casual restaurant realm. By keeping their menu small, the ingredients fresh, and all of its restaurants company-run rather than franchised, they aim to have a more cohesive company culture (via The Balance Small Business). And the brand's latest innovation is something that's keeping in line with modern times: They're opening up a combo drive-thru/walk-up restaurant. While drive-thrus aren't new to most fast food restaurants, the difference here is that this restaurant will be utilized for picking up digital orders only.
The company announced via a press release that the first Chipotlane Digital Kitchen drive-thru restaurant will be opening in Cuyahoga Falls, Ohio, later this month. This special location will have a Chipotlane drive-thru lane (a model the brand has been testing out recently), as well as a walk-up window, but there won't be any dining room space inside the restaurant. The idea is that customers will digitally place their orders on the official Chipotle app or website, or through a partner like Grubhub, and then can pick up their to-go items at the walk-up window or at the drive-thru. Though there won't be any indoor dining space, there will be an outdoor patio area.
Why is Chipotle opening a pick-up only restaurant, anyway?
The reasoning behind the newest Chipotlane Digital Kitchen is simple. It will reduce the time customers and delivery drivers have to spend waiting in line, and the kitchen will be streamlined to work with digital ordering systems. Apparently, the company's other Chipotlane locations have been doing quite well — according to the recent announcement, a rep said, "Our portfolio of approximately 300 Chipotlanes perform with the highest margins across the board," so they wanted to double down on the experience with this new model for a digital order-only, pick-up only restaurant.
Chipotle isn't the only restaurant that's seen the benefit of having a drive-thru, especially during the pandemic. In December of 2020, it's said that 44% of restaurant orders that were not placed inside a restaurant were made in a drive-thru lane, and though the numbers are expected to go down when the pandemic is over, experts agree that "people are just used to doing things differently now," and that a "drive-thru is a constant necessity" (via CNBC). It looks like Chipotle is banking on the fact that lots of diners would prefer to order ahead and then pick up their food via the drive-thru or walk-up window rather than dining in, but only time will tell if this gamble will pay off and if this new model will expand behind the single location in Ohio.