Pioneer Woman Fans Are In Love With This Friendly Store Dog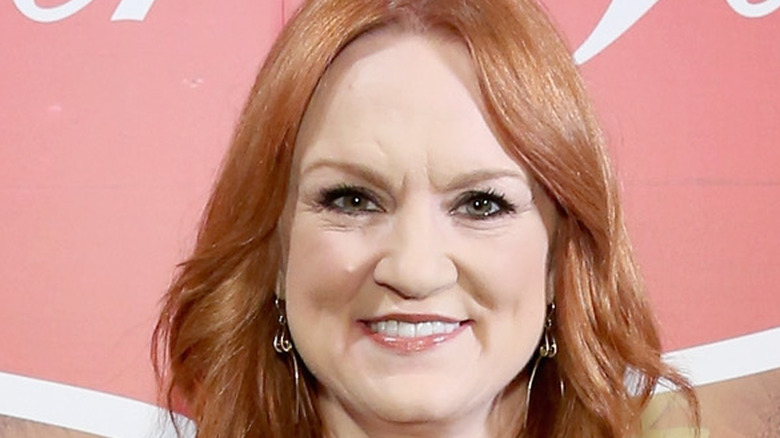 Monica Schipper/Getty Images
Ree Drummond, also known as The Pioneer Woman, has long entertained fans with stories of family life. Her recent Instagram post is no different. As she shared in the caption, posted while on vacation, "I'm leaving Vail early in the morning to drive home, so tonight I took Mauricio to a store in the village to try on a jacket I wanted to get my brother-in-law Tim for Christmas so I could gauge the right size." And while fans are always thrilled to hear updates like these, this one added a heartwarming surprise in the form of a sweet four-legged encounter as she's seen in the video on the store floor petting and shaking "hands" with the friendliest Golden Retriever.
As Drummond continued in the caption, "But then we met Trek, the store dog, and it was all over for me. Tim who??? I've never heard of the man," she joked. Drummond makes no secret that her four-legged pets are also part of the family, and fans seemed to be just as enamored with this pup. One person commented, "It's the paw on your arm for me," while The Pioneer Woman replied, "YES!! I couldn't take it!!"
Meanwhile another follower suggested an idea we can all get on board with, saying, "This needs to be a requirement for stores everywhere! I would be going every single day!"
The Pioneer Woman truly is a dog lover
The Drummond family's love of dogs is no secret. As of 2020, the family has made a loving home to seven pups of all breeds, though there's a large percentage of Basset Hounds (via The Pioneer Woman blog). As Drummond shared in that article, "I've loved Bassets all my life. Their excess skin, floppy ears, droopy eyes, and hilarious personalities keep me entertained and make my heart leap." As of publication, her brood includes 9-year-old Walter, 2-year-old Henry, and 1-year-olds Fred and Rusty (all Basset Hounds). In addition, there's also 6-year-old Yellow Labradors Lucy and Duke. Finally, there's 4-year-old German Shepard Presley.
It's quite the pack, but is there room for a Golden Retriever like Trek, too? One fan posted on Drummond's Instagram video, "So now you're gonna drive home and buy yourself a Golden, and Tim goes cold all winter then?" to which Drummond replied, "Haha, pretty much!!" Mama Ree was only kidding, though, right? Well, maybe there's room in the lovable farm dog pack for one more.