How To Serve Champagne The Right Way On New Year's Eve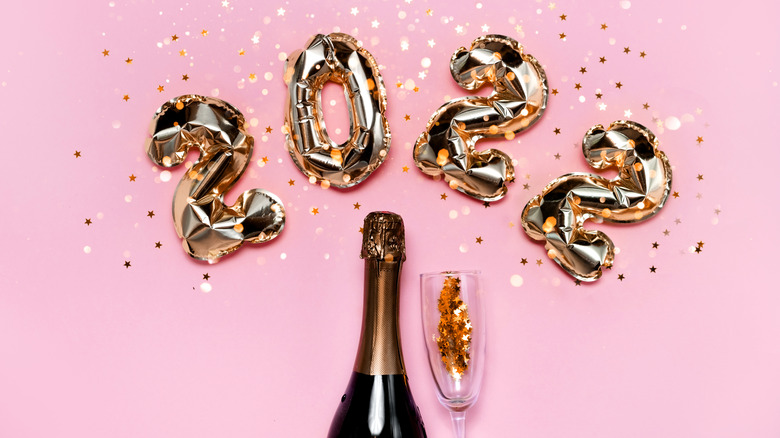 elina.nova/Shutterstock
Have you figured out how you're going to ring in 2022? New Year's Eve is only a couple of weeks away, and whether your plans include sitting at home watching the ball drop on television, gathering with friends for a cocktail party, or splurging on a fancy restaurant meal, chances are — if you imbibe — that one special holiday beverage will be fizzing away in your hand all night long: Champagne, of course. According to WalletHub, more than 360 million glasses of this festive sparkling wine will be consumed in the United States on December 31 (and into the wee hours of January 1).
A still-pricey item that for many centuries could only be afforded by literal royalty, champagne has come down considerably in price but is still associated with the rich and famous, which explains why we traditionally pop bottles only for special occasions (via LiveScience). But, given that we often indulge in bubbly only during fancy events, and not for everyday meals, we can sometimes forget exactly how to open the fizzy stuff, how to pour it, and so on. Here's the scoop on how to best serve champagne and other sparkling wines so that they taste their best this holiday.
Keep the champagne cold - but not too cold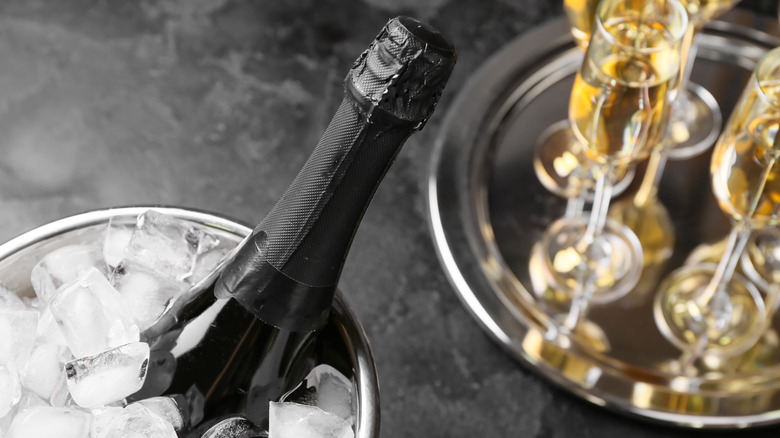 Pixel-Shot/Shutterstock
With New Year's Eve coming in hot, it's time to get your champagne cold. According to former sommelier Mathew Woodburn-Simmonds, co-founder of Home Coffee Expert, temperature is probably the single most important factor when it comes to serving champagne the right way.
"Champagne should be served around 46 degrees," he told Mashed. "If it is too cold, then you'll lose all the subtle complex flavors that you're paying the extra money for over a cheap bottle of fizz." In fact, Woodburn-Simmonds noted that chilling a low-budget white wine as cold as possible is even a handy hack for disguising its low quality.
If you're wondering how to walk the line between cold, delicious champagne and too-cold, flavor-muted champagne, Woodburn-Simmonds advised to combine fridge time with some room-temp time. "You can chill in the fridge and then leave out for around 30 minutes before serving, and you should be about perfect," he said. So grab your 2022 glasses and make some room in the kitchen, because New Year's Eve is about to really pop off!