Everything You Need To Know About Costco's Candle Recall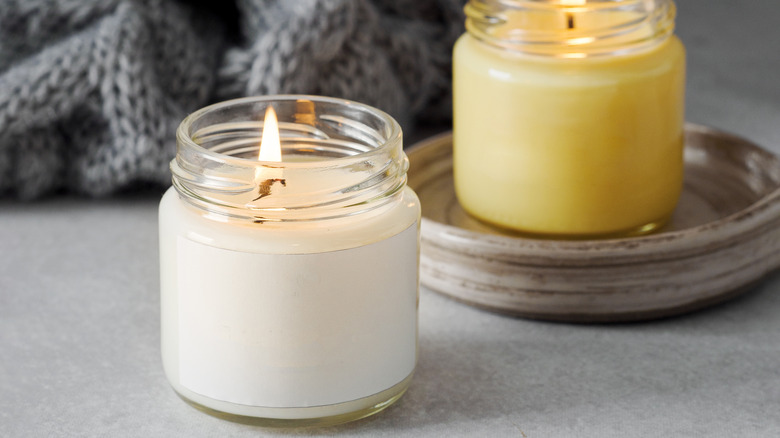 LNataly/Shutterstock
As a major supermarket chain, Costco has dealt with several recall incidents in the past: Last month, for example, the company had to recall two of Kraft Heinz's powdered drink mixes. According to Southern Living, it was suspected that the bottles contained small pieces of metal or glass, and consumers were asked to return the products to a Costco outlet near them. In August of this year, the company recalled the Fratelli Beretta Uncured Antipasto that included several cured ham products such as prosciutto, soppressata, salami, and coppa (via Eat This, Not That). Unfortunately, the items were believed to have led to dozens of salmonella cases.
Costco is currently addressing another recall that involves candles from a brand called Northern Lights. The product to look out for is the Alaura two-tone jar candle that was only sold at Costco, according to a statement on Northern Lights' official website. Per the announcement, Costco has reached out to all customers who have purchased the candles and notified them about the recall.
Why these Costco candles are unsafe to use
According to the United States Consumer Product Safety Commission, the Northern Lights candles from Costco were recalled on December 16 due to concerns about the jars, which can break when the candle is burned and pose a fire and laceration hazard. The Alaura two-tone jar candles are sold in a glass container with a metal lid and are available in two scents: Frosted Forest and Vanilla Biscotti. The candles were available at Costco outlets this year for $17 (via Nottingham MD).
Those who've bought the candles have been asked to avoid using them and take them back to a Costco warehouse for a refund. Customers who cannot head to Costco have the option of reaching out to Northern Lights per its website to understand the next steps and get a refund. Things look pretty serious: There have been at least 138 reports about the jar breaking and three incidents of laceration injuries.