Red Lobster's New Launch Is Perfect For Charcuterie Board Fans
Whenever you need to elegantly feed a ton of mouths or just want a meal that lets you slowly graze, nothing hits the spot like a charcuterie board. While these platters typically consist of a variety of dips, jams, and condiments in addition to a selection of cured meats, cheeses, crackers, and fruits, the horizons of charcuterie have expanded to include everything from candy to hot chocolate. Most recently, Red Lobster has offered its own take on the happy hour classic with an even more unconventional spread of ingredients. Say hello to the Sea-cuterie board.
In a press release, Red Lobster shared that its new DIY Sea-cuterie board, also dubbed the Sea-cuterwreath in honor of the holidays, redefines the traditional charcuterie board with a customizable selection of the eatery's classic items. Customers can create their own seafood platters with a selection of add-ons, including classic Cheddar Bay Biscuits, snow crab legs, and bacon-wrapped scallops. Round things out with popcorn shrimp or a lobster bake, then open each individually wrapped item and arrange them on a board to your liking at home — as this special is intended for takeout dining.
Try a Red Lobster Sea-cuterwreath for the holidays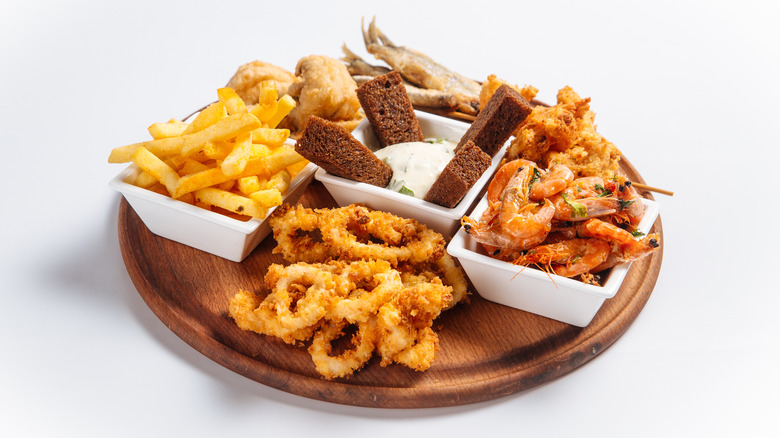 Hihitetlin/Shutterstock
It may seem like Red Lobster has started a whole new trend with these Sea-cuterie platters, but they're really a more accessible twist on the classic fine dining seafood tower. Instead of a selection of raw oysters and premium mussels that would be expensive and necessary to serve on ice, Red Lobster has created an array of warm offerings that can be heated at home and served on whatever dishes you have.
Red Lobster's Sea-cuterie boards are available to go or via touchless delivery, says the press release, making them an easy option for holiday entertaining. Plus, they're completely customizable, so your guests can help you decide what to include on the spread. To browse the seafood party menu and view instructions on how to build your own Sea-cuterwreath, go to the chain's website. It's unclear whether or not this newly announced item will stay on menus after the holidays come to a close, so if you're curious, make sure to give this Sea-cuterie spread a try while you can.