Baked Brie Recipe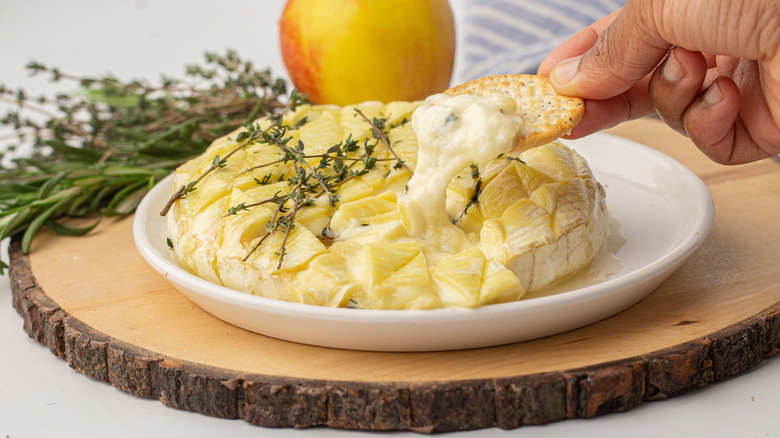 Susan Olayinka/Mashed
Cheese connoisseurs gather around. Are you eager to indulge in one of France's finest cheeses? Foodie, photographer, and recipe developer Susan Olayinka from The Flexible Fridge brings us a savory selection: a baked Brie recipe. This outstanding option makes a succulent appetizer for any holiday meal. About her canapé of choice, Olayinka shares, "It represents flexibility in eating. And it is so quick and easy to make."
Brie is a wheel-shaped French cheese, crafted from cow's milk. It's known for its rich, buttery center and a layer of edible rind that holds the cheese together. Delishably describes that Brie is warmed and then poured into a mold to achieve its notably round shape. With raw milk as the main ingredient, this cheese is regularly enjoyed fresh in its native land in central France. Authentic French Brie is not sold in the United States because it does not undergo pasteurization. However, the cheese is often pasteurized for preservation when it is made for export, so whichever Brie you can find will work wonderfully in this recipe. 
Gather the ingredients for this baked Brie recipe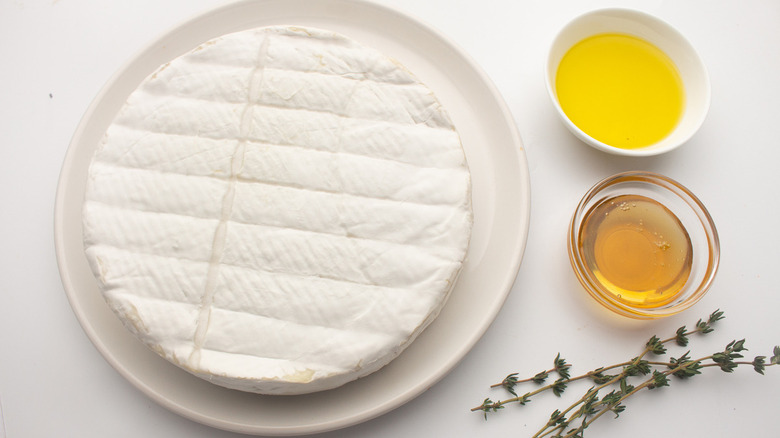 Susan Olayinka/Mashed
Brie serves as an ideal snack or first course for any exquisite dining spread. To begin the recipe, you'll need a wheel of mild Brie, 1 tablespoon of extra-virgin oil, 2 fresh sprigs of thyme, and 3 tablespoons of honey. Although you don't need much, this dish is rich and flavorful thanks to the combination of ingredients. Thankfully, that makes it easy to enjoy this tasty recipe anytime!
Preheat the oven and line your baking tray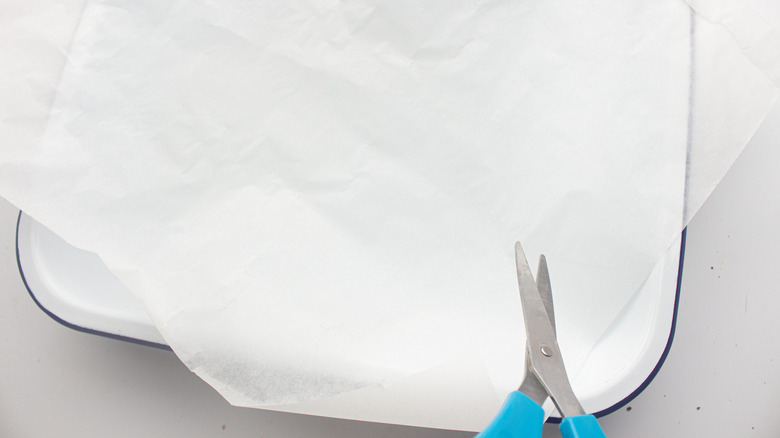 Susan Olayinka/Mashed
After assembling the ingredients, preheat the oven to 350 F. Next, find a suitably-sized baking tray and line it with parchment paper. For a uniform look while serving, you can cut away excess parchment paper to leave a circular margin. Once the tray is lined, place the wheel of Brie in the center.  
Olayinka says that her family is torn when it comes to this decadent cheese dip: "[It's] not for my family! Half of us love cheese and half of us hate it!" She adds, "so it's with sadness to say this won't be a part of our Christmas table." If you have a family of cheese lovers and they have yet to sample baked Brie, we encourage you to share this recipe with them.
Brush the Brie with olive oil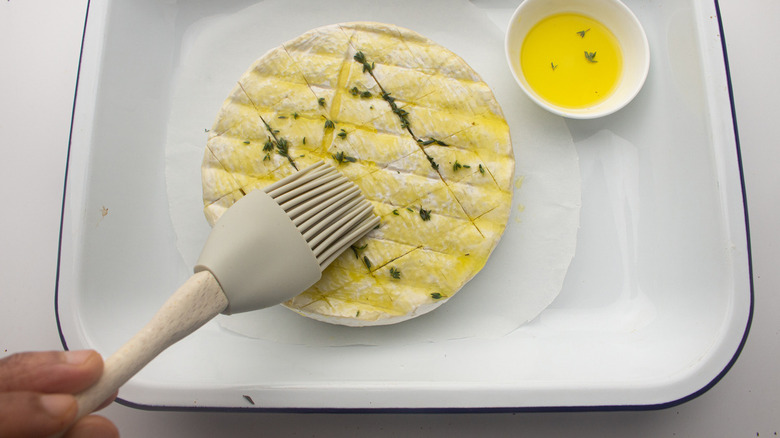 Susan Olayinka/Mashed
Next, take a sharp knife and score the top of the cheese in a criss-cross fashion. Then, garnish it with the fresh sprigs of thyme. Olayinka suggests placing the thyme into the slits so that the flavors can seep in. With a basting brush, coat the top of the Brie with olive oil. This guarantees the top will emerge soft after baking. We asked our developer what keeps the wheel of cheese from completely melting into a puddle as it bakes. She hypothesizes that "it is the rind that holds it together."
Drizzle with honey and savor this delicious baked Brie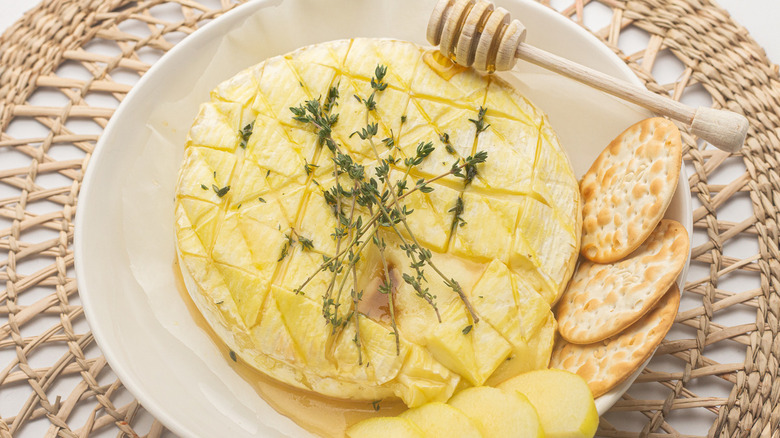 Susan Olayinka/Mashed
Now, place your baking tray in the preheated oven for 15 minutes. Once the Brie has finished baking, remove it and drizzle the cheese with honey to serve. Olayinka tells us this is most delectable when served, "Right away so the cheese is runny." Pair each savory bite with a sweet or salty accompaniment. 
Our developer recommends a few traditional accompaniments such as bread, crackers, apples, and grapes. Should it happen to cool and harden before it's gone, Olayinka indicates that it is simple to reheat: "You can stick it in the microwave once it cools."
Baked Brie Recipe
This decadent baked Brie recipe is the gooey cheese dip you've been dreaming about. Serve it with crackers and fruit for an easy and impressive appetizer.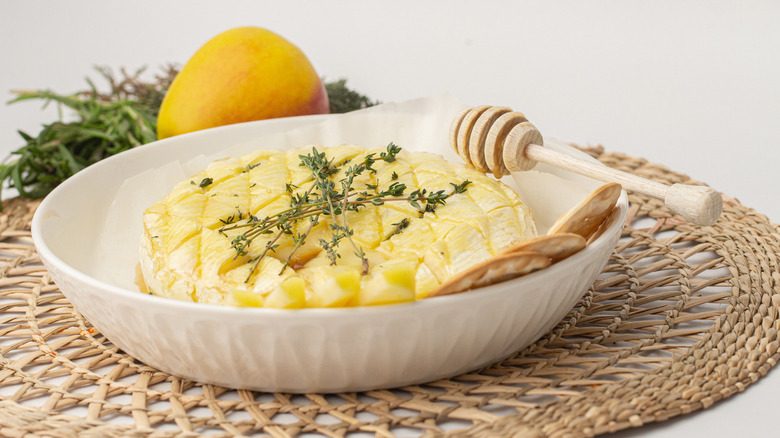 Ingredients
16.5 ounces Brie cheese (mild)
1 tablespoon extra-virgin olive oil
2 sprigs thyme
3 tablespoons honey
Directions
Preheat the oven to 350 F.
Place the Brie onto a lined baking tray.
Use a sharp knife to score it in a criss-cross fashion and place the thyme leaves into the slits.
Brush the top of the cheese with olive oil.
Bake the cheese for 15 minutes.
Take it out of the oven, drizzle with honey, and serve it with crackers or bread.
Nutrition
| | |
| --- | --- |
| Calories per Serving | 125 |
| Total Fat | 9.5 g |
| Saturated Fat | 5.6 g |
| Trans Fat | 0.0 |
| Cholesterol | 31.2 mg |
| | |
| --- | --- |
| Total Carbohydrates | 3.7 g |
| Dietary Fiber | 0.1 g |
| Total Sugars | 3.6 g |
| Sodium | 196.4 mg |
| Protein | 6.5 g |