Instagram Is Drooling Over Geoffrey Zakarian's Favorite Desserts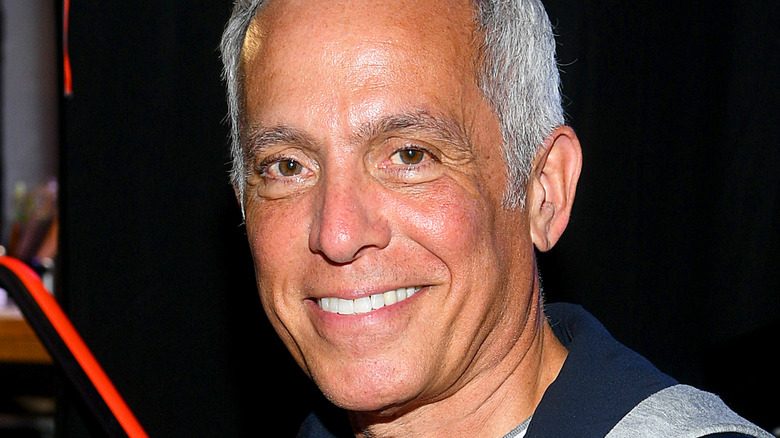 Dave Kotinsky/Getty Images
Who better to get restaurant advice from than a renowned chef? Geoffrey Zakarian's Instagram followers certainly seem to share this philosophy, and we don't doubt that they pay extra close attention when the celebrity chef is willing to dole out a recommendation. After all, Zakarian's impressive bio boasts a 30-year culinary career serving in a range of capacities, including working as a chef in prestigious kitchens like the ones pumping out the quality fare at Le Cirque and Patroon, competing on and winning "Iron Chef," and co-hosting the Emmy-nominated show, "The Kitchen" (via the chef's website). We think it's pretty safe to say the man knows his food.
Lucky, Zakarian recently shared a video featuring decadent desserts from one of New York's iconic restaurants, Balthazar. The Iron Chef has been a long-time supporter of the restaurant, once describing it in an interview with New York Lifestyles Magazine as "Paris in the heart of New York." Not surprisingly, Zakarian knew just what sweet dishes to order up to make his followers salivate.
Zakarian's choice desserts are pavlova and profiteroles
Geoffrey Zakarian recently posted an Instagram video featuring some enticing footage of two desserts: a glistening, berry-topped pavlova and a plate of puffy profiteroles catching a velvety stream of chocolate. He captioned the sugary spectacle: "Holidays for me are not without my two favorite desserts: Pavlova and Profiteroles. Always the best @balthazarny #balthazar." (Profiteroles, in case you need a quick brush up on your desserts, are cream puffs that have a filling made of custard, cream, or ice cream and are topped with chocolate, per Chefs Pencil, while pavlova is a meringue shell with cream and fruit on top, per The Culture Trip). Naturally, viewers couldn't help but swoon.
Zakarian's post received some deserving "Omg"s, including the responses, "Omg!!! My favorite!!!" and "Omg that looks sooooo good!!!" Instagrammer @prmilligan may have summed up people's thoughts nicely with their response, "Those look amazing!!" One of Zakarian's co-hosts from "The Kitchen" even weighed in on the sweet-tooth triggering post. Katie Lee Biegel responded succinctly with "Simply the best." Is it even possible that two celebrity chefs could be wrong about the same dessert choices? We're not sure, but we're certainly willing to test it out.